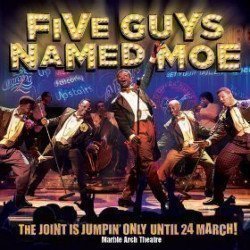 Five Guys Named Moe
Tickets
Marble Arch Theatre
Book

tickets
Press Reviews
SASS, SOUL, SEX APPEAL. Pure entertainment, total fun! WhatsonStage.com
Slick, breathtaking and ON THE MONEY! The Telegraph
A pop-up circus tent turned into a New Orleans jazz club. Brilliant numbers, great fun and so full of energy The Times
Tip-top brass with lots of sax! Daily Mail
Scorching and exuberant The Stage
Customer Reviews
What to expect:
Acting
Music
Costumes
Story
Lighting
Recommended for:
Anyone
Families
Teenagers
Couples
Theatregoers
based on 32 reviews
Must see
Fantastic singing and dancing, slick fast moving didn't want it to end.
Eileen London Box Office customer
Fantastic
Heather London Box Office customer
Foottapping
This show makes you want to sing along. It's a great musical for anyone who likes 30's Jazz.
CLIVE London Box Office customer
Fabulous show!
High energy throughout & great audience interaction. If you want the New Orleans atmosphere with outstanding dancing, singing & music this show is a must!
Melanie London Box Office customer
New Orleans on a blast!
Anne London Box Office customer
Great night
The whole ambiance of the theatre was fantastic! The staff were very helpful and friendly. The Actors were absolutely amazing, as were the band!!! Perfect theatre for this show, it felt like we were all in a nightclub. Thank you for a great night!!!
Alice London Box Office customer
Fun professional good feeling!,
Jane London Box Office customer
The performance was cancelled due to lack of cover for performers when ill. Amateur. Travelled all the way from Devon to London only to find there was no show.
Sue London Box Office customer
rad
Mikolaj London Box Office customer
Foot tapping, bouncing, funny show presented by very talented actors/musicians
Thoroughly enjoyable show. Having already seen this first time around I particularly enjoyed the layout of the theatre you really feel like you are in a Jazz club. The moving stage allows all aspects of the show to be enjoyed. Fantastic and cheap at the price compared to other musicals I have seen.
Ann London Box Office customer
Energetic and thoroughly entertaining
Katie London Box Office customer
A very entertaining evening
Claire London Box Office customer
Great show with very talented cast and lots of fun
Great show with wonderful cast and music. The energy and vitality all the actors brought to the stage was amazing. The stage setting was excellent and the use of the outer stage, which had moving parts was really well thought out. The band was very good and the mix of music and songs worked really well. Lots of fun things happen too. Won't tell you, you have to go and see it. Know you'll love it.
Joan London Box Office customer
Joyous
Jan London Box Office customer
High energy show with a great soundtrack
Matt London Box Office customer
Brilliant!
Sharon London Box Office customer
uplifting
great foe all ages, fabulous energy.
Caroline London Box Office customer
Memorable
Gillian London Box Office customer
Sightly underpowered revival
I felt rather underwhelmed by this revival. The band is great, but is hidden behind a curtain for most of the show. The pop-up venue (like a Big Top) is imaginative and part of the experience. But the singing is weak, possibly because headset mics and other technology makes it possible (though inadvisable) for less powerful voices to 'do'. A few non-Jordan songs are introduced, which jar somewhat. The story is non-existent, but you probably weren't expecting one. At the end of the day it's just a musical, and perhaps I should not have expected more.
Andrew London Box Office customer
Excellent and very different
Fantastic show and very different first show I have taken part in a conga to the bar at the interval. Definitely recommend this show.
Karen London Box Office customer
A must see vibrant toe tapping show
Peter London Box Office customer
A really fun evening
Excellent dancing, singing and a fabulously inventive venue. The audience never stopped smiling!
Chris London Box Office customer
03 Apr 2017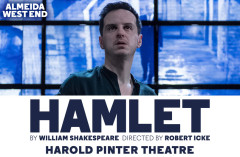 With the Almeida's acclaimed production of Hamlet about to transfer to the West End there's never been a better time for first timers to discover this fascinating play.
Some people are intimidated by the prospect of Shakespeare's dense text and this production is nearly four hours long, but don't be. There's seldom been a production that's clearer and easier to follow than this one plus you get to see one of our best young actors, Andrew Scott (Moriarty in TVs Sherlock) at his best.
Use the search box at the top left of this page to search for Five Guys Named Moe tickets availability.
Quick Facts
Largest Ticket Inventory in the West End
Real time seat availability
Your booking is processed directly into the box office reservation system
Collect your tickets from the theatre for free or get them posted to your address.

Theatre Address
Marble Arch Theatre
Marble Arch Theatre, Marble Arch, London, W1C 1CX GB