Marble Arch Theatre
Marble Arch Theatre, Marble Arch, London, W1C 1CX GB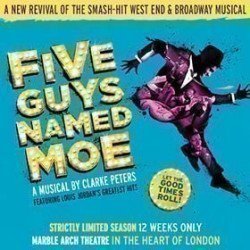 Five Guys Named Moe
Tickets
Marble Arch Theatre
Booking from: Tuesday, 29 August 2017
Booking until: Saturday, 25 November 2017
Book

tickets
Performance Times
Mon
Tue
Wed
Thu
Fri
Sat
Sun
14:30
14:30
19:45
19:45
19:45
19:45
19:45
19:45
Important Information
Please note: All tickets for Five Guys Named Moe will include a souvenir programme (worth £10) that will be handed out on arrival. All premium tickets will receive a glass of bubbly and table service before the show and during the interval.
Booking from:
Tuesday, 29 August 2017
Booking until:
Saturday, 25 November 2017
It's time to be transported back to the colourful, noisy jazz bars of 1940s New Orleans, complete with a feast of irresistible jazz hits by the legendary Louis Jordan. Is You Is or Is You Ain't My Baby, Early In The Morning, Choo Choo Ch'Boogie, Saturday Night Fish Fry, and a host more classic tunes are performed live on stage by an exceptionally talented band. It's the fabulous, glitzy Clarke Peters' musical Five Guys Named Moe, and it's produced to perfection by Underbelly Productions.
Clarke Peters is an incredibly talented creative type, an American actor, singer, writer and director who is probably best known over here for his role as detective Lester Freamon in the smash hit HBO TV series, The Wire. He also wrote this excellent musical play. It originally opened at Theatre Royal Stratford East way back in 1990, making such a big impact that it soon transferred to the West End where it played for four years before moving over the Atlantic in 1992 to thrill Broadway. Now it's back in London.
This time around the show was supposed to appear at a theatre on the Victoria Embankment, but sadly the original venue was dropped when locals living in the area objected. Thank goodness for the brand new Marble Arch Theatre, an innovative pop-up that has been designed with this production specifically in mind, which means it's absolutely perfect for the job. The venue has been inspired by the interior décor, look, feel and personality of 1940s New Orleans jazz bars, and the action spills out into the street around the venue before and afterwards.
The production is directed by Peters himself. By all accounts he's delighted about the whole thing, especially since the event marks his masterpiece's quarter century anniversary, and he has actually performed in it himself in the past. This fresh, re-imagined version is set to light up theatreland for a limited run from early autumn to late November 2017, a famously dynamic and energetic experience. The brilliant choreography is by Andrew Wright and the set and costumes come from Takis.
If you'd like to enjoy a uniquely exciting and inspirational musical extravaganza of an Olivier award winner this autumn, Five Guys is the perfect choice.
We have a great selection of cheap Five Guys Named Moe tickets. We can help you save up to 70% on Five Guys Named Moe tickets! If you're looking for discount theatre tickets have a look below for our latest offers for Five Guys Named Moe at the Marble Arch Theatre.
1

No Booking Fee

Tickets

from £10.00
Valid on all performances between 18 September and 21 October 2017. Book by 14 September.. Wednesday 20 September 2017.
03 Apr 2017 in News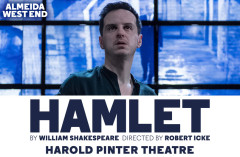 With the Almeida's acclaimed production of Hamlet about to transfer to the West End there's never been a better time for first timers to discover this fascinating play.
Some people are intimidated by the prospect of Shakespeare's dense text and this production is nearly four hours long, but don't be. There's seldom been a production that's clearer and easier to follow than this one plus you get to see one of our best young actors, Andrew Scott (Moriarty in TVs Sherlock) at his best.
Read more
Use the search box at the top left of this page to search for Five Guys Named Moe tickets availability.
Quick Facts
Largest Ticket Inventory in the West End
Real time seat availability
Your booking is processed directly into the box office reservation system
Collect your tickets from the theatre for free or get them posted to your address.

Theatre Address
Marble Arch Theatre
Marble Arch Theatre, Marble Arch, London, W1C 1CX GB
Next Performances