Charing Cross Theatre
The Arches, Villiers Street, London, WC2N 6NL GB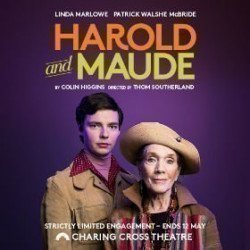 Harold and Maude
Tickets
Charing Cross Theatre
Book

tickets
Show Closed
This show is now closed.
Harold and Maude – isn't that a film? Yes it is! It came out in 1971, an American black comedy that combined romance with drama in a morbid but hilarious journey. It was written by Colin Higgins, who also wrote this play, so you know that it's going to be true to its roots. It got nominated for two Golden Globe awards when it first came out, one for each of the two leads.
What's the show about? Obviously, it's about a man called Harold and a woman called Maude. What else? Well, they first meet at a funeral… not the cheeriest of places. But Harold is obsessed with death and Maude is old, so it follows that she attends a lot of funerals. The two hit it off right away – Harold is taken by Maude's zest for life, her need to make the most of her remaining time on earth. It's always the most unlikely pairings that make for the most brilliant comedies – Harold and Maude is no exception.
Sounds like a laugh! Where is it on? It's playing from 19 February – 31 March 2018 at the Charing Cross Theatre, a brilliant place underneath London's Charing Cross Station. It's directed by their Artistic Director too, Thom Southerland, who is also directing the show beforehand – Andrew Lloyd Webber's The Woman In White.
Is Andrew Lloyd Webber involved in this one too?! Unfortunately, no. But Maude will be played by none other than theatre legend Sheila Hancock, which is pretty awesome! Sheila was last on the stage in London in 2016 – she starred opposite Jenna Russell in Grey Gardens at the Southwark Playhouse. Thom directed that too, so this pair have already got a great chemistry and working relationship.
Sheila has done so much more than this though – she's basically theatre royalty. She won an Olivier Award in 2007 for her performance in Cabaret and she's been nominated for four others in her career, as well as a Tony Award for her first ever Broadway performance back in 1966. Not only that, but she was in the original cast for both Annie and Sweeney Todd in London. Now that's quite a back catalogue!
As if I wasn't convinced already, but why should I go? If Sheila being back on stage, or Thom back in the driving seat, aren't enough to drag you along, Harold and Maude is a brilliantly uplifting story about living life to its fullest and making the most of what you've got. It's also all about being friends with people you never excepted to have a connection. It's laugh out loud and cry out loud in equal measure. And it's only on for five weeks, not a lot of time really!
Customer Reviews
What to expect:
Acting
Music
Costumes
Story
Lighting
Recommended for:
Anyone
Families
Teenagers
Couples
Theatregoers
based on 4 reviews
A bag of wild laughs
What a fab night out. I had never heard of the play but I loved it from the beginning to the end. So many belly laughs and a sad ending that I had not anticipated. Take it in your it's wonderful.
Robert London Box Office customer
Warm play about life
Lars London Box Office customer
Circle of life
This was a well,performed play Shelia Hancock exceptional playing the Viennese widow. Strongly supported be Bill Milner and the musicians . Unusual story a little bizarre we loved it.
Karen London Box Office customer
Sheila Hancock is sublime
Wonderful, clever production of a great play.
Graham London Box Office customer
Use the search box at the top left of this page to search for Harold and Maude tickets availability.
Quick Facts
Largest Ticket Inventory in the West End
Real time seat availability
Your booking is processed directly into the box office reservation system
Collect your tickets from the theatre for free or get them posted to your address.

Theatre Address
Charing Cross Theatre
The Arches, Villiers Street, London, WC2N 6NL GB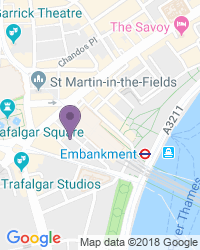 Facilities
Air conditioned
Bar
Disabled toilets
Restaurant
Toilets
Wheelchair/scooter access
Theatre Info
Capacity: 262
Year built: 1936