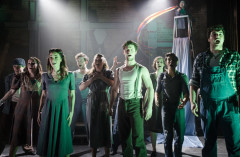 If you're a fan of the musicals of Stephen Sondheim such as SWEENEY TODD (recently at the London Coliseum) FOLLIES (about to be revived at the National Theatre) MERRILY WE ROLL ALONG (at the Harold Pinter Theatre a year ago) SUNDAY IN THE PARK WITH GEORGE (currently on in New York starring movie star Jake Gyllenhaal) and COMPANY (soon to be reinterpreted in the West End with a woman as the central character) you may enjoy the rare opportunity to discover an early work of his, ANYONE CAN WHISTLE, which I've just directed at The Union Theatre and which runs until March 8th.
It's part of my short season of two plays and a musical in which writers of the past reflect on some of the same issues we face today.
This January, with many of us feeling politically impotent in the face of dismaying election results, Chekhov's play THREE SISTERS felt unusually immediate in its depiction of the obsolete intelligentsia of 1900, and our production regularly sold out throughout the run.
Similarly, I've recently been struck by the topicality of Sondheim and Arthur Laurents' 1960's absurdist comedy ANYONE CAN WHISTLE. An early and legendary flop for the maestros, it ran for a mere 16 performances.
There's been much speculation as to the reasons why but top of the list has to be that it's... well... absolutely bonkers! And in a Broadway season which included the premiere of musical theatre masterpieces FIDDLER ON THE ROOF and HELLO DOLLY it may have been easily misconstrued and dismissed as the ramblings of smug young men on some very good drugs.
I've chosen to revive it now, at the start of the Trump presidency, because I believe the time may have finally come for a spiky cartoon of a show about greed and narcissism in high office, in which half the electorate view the other half as certifiably insane.
Finally, at the Finborough in April, as Europe lurches alarmingly to the right and Trump threatens compulsory registration of Muslims, I'll be directing Arthur Miller's play about the early registration of Jews in Nazi-occupied France, INCIDENT AT VICHY.
Meanwhile back to ANYONE CAN WHISTLE. It's a political allegory in musical comedy form that tells the story of a town that's gone bankrupt because its only industry is manufacturing something that never wears out. In order to revive her town Mayoress Cora Hoover Hooper and her town council fake a miracle - water flowing from a rock - to attract tourists. When patients at the local mental hospital escape and mix with the townspeople and tourists, chaos ensues whilst J. Bowden Hapgood, a fake psychiatrist falls in love with Fay Apple, a nurse at the asylum who has disguised herself as a miracle verifier sent from Lourdes.
Sondheim describes it in his book FINNISHING THE HAT as "My first commercial failure and, after reading the mostly dreadful notices, I expected to feel devastated. Instead, I felt only disappointment: disappointment that the show would close almost immediately and therefore that more people who might enjoy it would not have the chance to see it. I was buoyed by the realization that I had loved writing it and that I was happy with the result. Smart-ass though it may have been, Whistle was unconventional and inventive and, above all, playful. It gave me my first chance to write extended song-forms involving dialogue, as in "Simple," and allowed me to use pastiche for comment on character and style, as in Cora's songs and "The Cookie Chase"— devices I continued to experiment with subsequent shows. It was a laudable attempt to present something off-centre in mainstream musical theatre".
The show contains a raft of classic Sondheim numbers including Me and My Town, Anyone Can Whistle, There Won't be Trumpets, Everybody Says Don't and With So Little to be Sure Of.
In my production FELICITY DUNCAN plays the unscrupulous mayoress. Her major musical theatre roles include Liza Minnelli in Bill Kenwright's tour of the new Richard Harris comedy Liza, Liza, Liza, Rosie in the International tour of Mamma Mia and Anya in Fiddler on the Roof at the London Palladium opposite Topol. OLIVER STANLEY plays the quirky psychiatrist Hapgood. He played his first lead role last year as Lord Marlborough in my musical Princess Caraboo at the Finborough Theatre and is a regular soloist with The Musical Theatre Orchestra. RACHEL DELOOSE plays the rebellious psychiatric nurse Fay Apple. She played her first lead role last year as Sonia in the Toyah Wilcox musical of Crime and Punishment at the Scoop a role she will reprise later this year in the forthcoming film.
Playing towns folk and asylum inmates are - JAMES HORNE (Schub) RICHARD FOSTER KING (Detmold) MARK GARFIELD (Cooley) CHRISTOPHER LAISHLEY (Magruder) with ALESSANDRO LUBRANO, JOE MILLER, MICHAEL LARCOMBEABBEY ADAMS, ISABEL WROE WRIGHT, KATE HURLEY, NATALIE THORN, MITCHEL LAITHBURY, JOEY WARNE, LAURA PICK, TOM MUSSELL, VICTORIA-LOUISE CURRIE.
8th February – 11th March 2017. More info and tickets: http://www.uniontheatre.biz/anyone-can-whistle.html