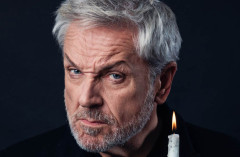 The London Theatre Orchestra have been presenting a concert version of this U.S. musical for several Christmases now with various guest stars as Scrooge.
I haven't seen it but know they're thoroughly good news. It was originally established as a forum within which professional musicians could play through full orchestrations of great shows together, for pleasure, in their spare time. They've also explored new work too, I was lucky enough to hear a song of mine given their big orchestra treatment and it was a spine tingling moment that will always stay with me.
In recent years they've been presenting their work in public concerts, usually one offs, but this year the covid Crisis has left many West End theatres empty allowing for a slightly longer run than usual at the Dominion Theatre.
This will be a brand new staging.
It's the second version of A Christmas Carol that's been announced in recent weeks and follows the titillating news that a major star, yet to be announced, will take the lead role in an online production from the Old Vic.
At the Dominion you can see Brian Conley play the miser, visited by four ghosts who attempt to change his ways.
Conley is a seasoned West End star whose played the leading role in shows like 9 TO 5, CHITTY CHITTY BANG BANG, OLIVER!, and HAIRSPRAY.
The producers are promising - Dickens' classic festive fable will come to life with a sparkling Broadway score, a symphonic 24 piece orchestra and an all-star West End cast.
I believe them. What a wonderful Christmas treat.