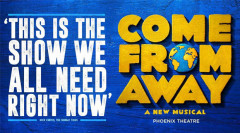 The multi award-winning London production of the global hit musical Come From Away will extend in the West End from September 2022 until the end of the year. It's the show's final extension, and the last performance at the Phoenix Theatre will take place on Saturday 7th January 2023. It means you've still got plenty of time to experience this popular, heart-warming, and highly unusual story.
Who's involved in Come From Away?
By the time the West End cast that made Come From Away such a huge hit takes to the stage for the final show, this critically acclaimed production will have played 1048 times in London. There have been 47 performances in Dublin and it has won a host of major UK theatre Awards including Olivier, Critics' Circle and What's On Stage Awards for 'Best Musical'.
The current London cast of Come From Away includes Jenna Boyd (Beulah and others),James Doherty (Claude and others), Mark Dugdale (Kevin T/Garth and others), Alice Fearn (Beverley/Annette and others), Kate Graham (Diane and others), Robert Hands (Nick/Doug and others), Jonathan Andrew Hume (Kevin J/Ali and others), Gemma Knight Jones (Hannah and others), Kirsty Malpass (Bonnie and others), Harry Morrison (Oz and others), Emma Salvo (Janice and others), Lejaun Sheppard (Bob and others), with Chiara Baronti, Ricardo Castro, Stuart Hickey, Alexander McMorran, Sarah Morrison, Lucy Park, Jennifer Tierney and Matthew Whennell-Clark
The Come From Away band includes Alan Berry (Musical Director/UK Musical Supervisor), Matt Bashford (Whistles/Irish Flute/Uillean Pipes), Aoife Mairead Ní Bhriain (Fiddle), Oli Briant (Electric/Acoustic Guitar), Justin Quinn (Acoustic Guitars/Mandolins/Bouzouki), Joey Grant (Electric and Acoustic Bass), Ray Fean (Bodhrán/Percussion), Ian Whitehead (Drums/Percussion), Huw Evans (Associate Musical Director), Andrew Barrett for Lionella Music, LLC (Electronic Music Design), Phij Adams (Associate Keyboard Programmer), Ryan Driscoll (Music Preparation), and David Gallagher (Orchestral Management)
The Come From Away creative team includes Irene Sankoff and David Hein (Book, Music and Lyrics), Christopher Ashley (Director), Kelly Devine (Musical Staging), Ian Eisendrath (Music Supervision and Arrangements), Beowulf Boritt (Scenic Design), Toni-Leslie James (Costume Design), Howell Binkley (Lighting Design), Gareth Owen (Sound Design), David Brian Brown (Hair Design), August Eriksmoen (Orchestrations), Pippa Ailion CDG and Natalie Gallacher CDG (Casting), Joel Goldes (Dialect Coach), Michael Rubinoff (Creative Consultant), Bob Hallett (Newfoundland Music Consultant), Shirley Fishman (Dramaturg) and Tara Overfield (Associate Director and Choreographer UK).
Come From Awayis produced in the UK by Junkyard Dog Productions and Smith & Brant Theatricals. The European premiere of Come From Away was co-produced with the Abbey Theatre, Ireland's National Theatre
Buy Come From Away Tickets
Buy cheap Come From Away tickets online via our site for exceptional service. Pick the seats you love best using our Phoenix Theatre seating plan. Then simply show your etickets at the door on the day.
About the Phoenix Theatre
The Phoenix Theatre spent some time, in the early days, as a Music Hall. Called The Alcazar it was a long, thin hall with three stages. The audience would wander from one to the other, as each act finished and the next began. When it became the Phoenix, in 1930, it was just one of several new West End theatres opening in the same month. Past shows at the Phoenix Theatre include Once, Blood Brothers, and Guys and Dolls.