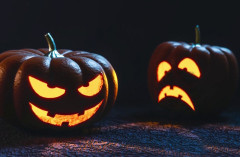 With Halloween fast approaching there's plenty of opportunities to enjoy a spine tingling night in the West End.
Theatre is essentially storytelling and everyone loves a ghost story. At this season of spookiness why not spend an evening with the WOMAN IN BLACK at the Fortune Theatre? The celebrated novel by Susan Hill and the basis of two less then celebrated movies makes for great play. On the stage of an abandoned playhouse a young man hires an actor to help him make sense of a chilling encounter he's had in an isolated manor house. The two play all the roles employing sound effects, gloomy lighting and a few unexpected theatrical effects to weave an extraordinarily powerful tale that often has audiences screaming out loud at the bumps in the night.
Musical theatre can also be good at the horror genre. The great granddaddy of them all is Andrew Lloyd Webber's PHANTOM OF THE OPERA, still packing in the crowds at Her Majesty's theatre with the story of a deformed creature who kidnaps a beautiful young girl and causes chaos at the Paris opera house. There's plenty of creepy special effects as this phantom appears and disappears unexpectedly and there's the celebrated moment when a vast chandelier threatens to fall on you from above.
The creepiest pop video of all times has to be the one the late Michael Jackson created for his hit Thriller. Employing the sonorous tones of vintage horror film star Vincent Price it tells the story of a bizarre date in which a girl discovers her boyfriend is not all he seems, on a dark country road. Zombies appear and creep her out with dance moves that have become iconic in themselves. You'll find an homage in THRILLER live the Jackson tribute show at the Lyric Theatre.
There's lots more magic and special effects in the smash hit HARRY POTTER AND THE CURSED CHILD at the Palace Theatre. This two part play tells the story of the adult Harry, surely the worlds favourite wizard, as he embarks on a brand new adventure defeating the forces of darkness, and critics have loved it.
There are witches galore in WICKED at the Apollo Victoria Theatre which has long appealed to young women with its tale of two girls training in the magic arts and the unlikely friendship that develops between the most popular class member and a green outsider. The two, of course, grow up to be Glenda and the Wicked Witch of the West in THE WIZARD OF OZ.
If you prefer your magic to be more family friendly don't forget there's still time to catch the hilarious magical exploits of Aladdin's genie as DISNEY'S ALADDIN wraps up its long and spectacular run at the Prince Edward Theatre.
London Theatre has plenty to leave the house for this Halloween!