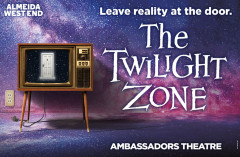 I'm sad to report that FOXFINDER, the eerie new play that showed such promise on its fringe premiere, just didn't attract enough good reviews to attract an audience in the West End despite a star cast. It'll be closing at the Ambassador's Theatre on 20th October.
Taking its place will be the joyfully juvenile musical comedy, EUGENIUS, which has been developed over several concert presentations and two runs at the Other Palace. It has an 1980s inspired score and aesthetic and tells the story of a geeky kid whose life spirals out of control when his superhero drawings might become the basis of an action movie.
Critical reaction has always been distinctly mixed with on line reviewers enjoying it far more than print critics, however it must have enough fans to justify this move. I love it when a show succeeds based on public affection rendering the grandest critics irrelevant and the EUGENIUS producers are very good at whipping up the hype.
One of them, the actor Warwick Davies said last week – "With many fans – or, rather, Eugenies – seeing it multiple times, their love for the show, the characters and earworm songs created a wonderful online community and the social media reaction has completely blown us all away. That buzz and army of supporters is now propelling us to the heart of the West End and we look forward to seeing audiences on their feet at every performance, punching the air and singing in unison, 'Go Eugenius!'."
There'll be a new cast for the West End transfer to the Ambassadors Theatre where it will run From 27 October to 10 November. All seats will be priced at £25.
We can exclusively reveal that the venue's next show will be a transfer from Islington's Almeida Theatre of THE TWILIGHT ZONE.
This hit production takes material from the classic TV thriller and moulds it into a funny and unsettling evening of twisted Americana. Creepy small town events unravel before your eyes in an ingenious, staging that's full of witty, low-tech special effects and theatricality.
The American writer Anne Washburn has adapted eight episodes from the iconic TV series. She came to prominence with an extraordinary and devise play, MR BURNS, in which figures in a dystopian future regard a dimly remembered episode of the Simpsons as a creation myth. It was such a crazy off-the-wall idea that she's the perfect choice for weaving the story strands into a satisfying whole, ensuring there's plenty of twists in the classic sc-fi horror plot lines.
Combining the creepiness of the source material with the pleasures of retro kitsch and the humour of knowingly camp theatricality, this was a very popular Christmas show in 2017.
It looks set to be a guaranteed treat this winter too.