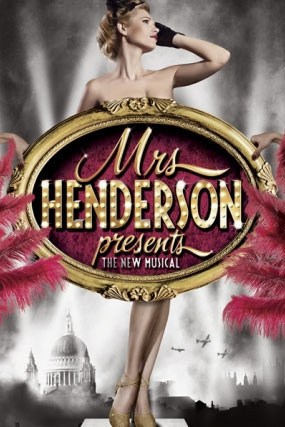 Not one but two West End leading ladies have been cast in the upcoming musical version of Mrs Henderson Presents. Emma Williams and Janie Dee will lead the cast when the production opens at Bath Theatre Royal from 14 August 2015, before a scheduled transfer to the West End.
The new musical is based on the much-loved 2005 film version of Mrs Henderson Presents that stared Will Young, Bob Hoskins and Judi Dench. It tells the true story of a maverick old widow named Laura Henderson who owned and operated an infamous naked review at the Windmill Theatre in 1940s London.
Directed by Terry Johnson, the man behind the incredibly successful West End and Broadway revival of La Cage Aux Folles, Mrs Henderson Presents, is a collaboration between George Fenton, Simon Chamberlain and Don Black.
Emma Williams, who will take on the role of Maureen is best know for her leading roles in Love Story and Annie Get Your Gun. Janie Dee will play the title role of Mrs Henderson. Dee is about to appear in the Young Vic's revival Eugene O'Neill's Ah, Wilderness!, and her previous West End credits include Noises Off and Blithe Spirit.
The supporting cast of Katie Bernstein, Matthew Malthouse, Rhiannan Chesterman, Sarah Bakker, Lizzy Connolly, Samuel Holmes, Lauren Hood and Victoria Hay will join Williams and Dee on stage.
Mrs Henderson Presents runs at the Bath Theatre Royal from 14 August to the 5 September 2015. The West End theatre that is due to house the production and the exact dates of the transfer have yet to be announced.