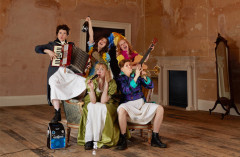 Isobel McArthur's 'unique and audacious' retelling of Jane Austen's classic love story is currently in previews at the Criterion, having wowed the critics and audiences at Glasgow's Tron Theatre. The fight over men, money and microphones has never been so much fun than this irreverent yet truly affectionate adaptation stacked with pop tunes. We think Jane Austen herself would adore this musical – and she'd love these awesome set-up images, too.
Who's involved in Pride & Prejudice (Sort Of)?
Five actors, who between them play all the other characters as well, play the young female servants who retell the tale we all love. They also play musical instruments, which is pretty impressive! Take a look at the set-up photos from the previews and treat yourself to a tiny taste of the fun to come. This really is a dazzlingly good piece of musical theatre.
Photos taken by David Bowie photographer Tony McGee
The play's writer and director Isobel McArthur once again plays Darcy and Mrs Bennet
Tori Burgess is Lydia and Mr Collins
Christina Gordon is Lady Catherine de Bourgh and Jane
Hannah Jarrett-Scott plays Charlotte Lucas and Charles Bingley
Meghan Tyler plays Lizzie Bennet
Directed by Isobel McArthur and Simon Harvey
Comedy staging by Jos Houben
Design by Ana Inés Jabares-Pita
Lighting by Colin Grenfell
Musical supervision by Michael John McCarthy
Sound design by Michael John McCarthy and Luke Swaffield for Autograph
Choreography by Emily Jane Boyle.
David Pugh presents Tron Theatre Company, the Royal Lyceum Theatre Edinburgh and Blood of the Young's production, along with the co-producers Birmingham Repertory Theatre, Bristol Old Vic, Leeds Playhouse, Northern Stage, and Oxford Playhouse
Buy Pride & Prejudice (Sort Of) Tickets
Book your Pride & Prejudice (Sort Of) tickets online with us and choose the best seats with our Criterion Theatre seating plan. We'll send E-tickets to your email address – simply present them at the door on the day to find out what really happened to Darcy and Jane!
About the Criterion Theatre
The Criterion Theatre is known and loved for actively encouraging better engagement in the arts via community and education projects. As well as educating audiences for the future they're busy supporting and developing new talent, and creating opportunities for that talent to thrive. Past shows at the Criterion Theatre include a nine year run by the Reduced Shakespeare Company, The 39 Steps, and The Comedy About a Bank Robbery.