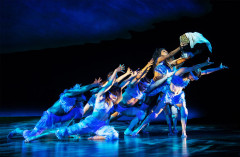 The story is heart-warming and powerful. The sets are thrilling. The costumes are inspiring, and the actors and singers are extraordinary! This is The Prince of Egypt, it's on at the Dominion, and we have some fantastic brand new photographs for you, only just released. You'll see Oliver Lidert acing his role as Jethro, Nardia Ruth as Nefertari, and more.
Who's involved in The Prince of Egypt?
See below to enjoy new production photos from the show, revealing the sheer magic of this 'huge popular hit' (NBC) in brilliant colour. This is one of the biggest musicals ever staged, with a vast cast and an epic creative team. The choreography is 'astonishing', according to The Guardian. The music has been called 'miraculous' by Time Out. Here's the full cast from today onwards:
Luke Brady plays Moses
Liam Tamne is Ramses
Christine Allado is Tzipporah
Alexia Khadime is Miriam
Joe Dixon plays Seti
Debbie Kurup is Tuya
Oliver Lidert is Jethro
Mercedesz Csampai plays Yocheved
Adam Pearce is Hotep
Nardia Ruth is Nefertari
Silas Wyatt-Barke is Aaron
The remaining cast, all equally talented, are: Simbi Akande, Casey Al-Shaqsy, Jordan Anderton, Joe Atkinson, Danny Becker, Felipe Bejarano, Pàje Campbell, Catherine Cornwall, Adam Filipe, Soophia Foroughi, Natalie Green, Jack Harrison-Cooper, Kalene Jeans, Christian Knight, Jessica Lee, Daniel Luiz, Jay Marsh, Scott Maurice, Carly Miles, Alice Readie, Samuel Sarpong-Broni, Christopher Short, Molly Smith, Marco Venturini, Ricardo Walker, Niko Wirachman and Sasha Woodward together with young performers Chenai Broadbent, Cian Eagle-Service, Maiya Eastmond, Jersey Blu Georgia, Taylor Jenkins, George Menezes Cutts, Iman Pabani and Vishal Soni
Buy The Prince of Egypt Tickets
Book The Prince of Egypt tickets online with us and choose the best seats with our Dominion Theatre seating plan. We'll send your E-tickets to your email address – show them at the door on the day of the performance to enter the magical world of The Prince of Egypt.
About the Dominion Theatre
The Dominion Theatre was built on the site of a Leper Hospital and the famous Meux Brewery, outside which eight people once died in an extraordinary beer flood. What a way to go. Until the 1980s it was a popular cinema. Now it's loved for housing massive musicals like this one. Past shows at the Dominion Theatre include We Will Rock You, the Queen Musical, Elf The Musical, Evita, and Irving Berlin's White Christmas.