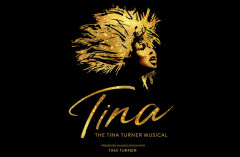 Update for The Tina Turner Musical at the Aldwych Theatre
Tina Turner is a legend, a strong woman, an extraordinary talent and a true survivor. This splendid musical reveals her remarkable life. Produced in association with the artist herself, it's booking until 26th June 2022. A dazzlingly good, widely acclaimed music treat, it returns to the Aldwych Theatre. The full cast has just been announced – will the show continue to break all box office records like it did before the pandemic? Probably.
Who's involved in Tina – The Tina Turner Musical?
This musical is already a legend in its own lifetime. The show's comeback mirrors Turner's own comeback, from an early pop music career through a violent marriage and out of the other end to become a woman who fearlessly defied racism, sexism and ageism. Now she's the Queen of Rock n' Roll, loved and respected the world over. This musical celebrates her resilience, her triumph over adversity, her ongoing success. Tina, we love you!
Aisha Jawando and Jammy Kasongo play Tina and Ike
Chanel Haynes plays Tina at some performances
Joe Evans plays Phil Spector and the lyricist Terry Britten
Irene Myrtle Forrester plays Tina's Grandma GG
Francesca Jackson and Alice Bailey Johnson play Ike and Tina's manager Rhonda Graam
Rhianne-Louise McCaulsky is Tina's sister Alline Bullock
Matt Mills plays Tina's father Richard Bullock
Posi Morakinyo is Tina's first love Raymond Hill
Garmon Rhys is Tina's Manager Roger Davies
Joseph Richardson plays the record company Marketing Manager Erwin Bach
Madeline Appiah is Tina's mother Zelma
The ensemble members are Lori Barker, Kelly Hampson, Chris Grahamson, Paul Mukembo, and Alex Okoampa
The Ikettes are played by Samara Casteallo, Mia Musak and Anu Ogunmefun
The swings are Derek Aidoo, Joshua Da Costa, Livvy Evans, Raquel Jones, DeeArna McLean, Michael Thomas, Saran Webb and Samuel J Weir
The children's cast includes Tia Murrell, Rae Ann Quayle, Poppy Cunningham, Shai Codrington, Sophia Anne Angiama, Mia Jones, Elias Agbodan George, Remi Dabiri-McQuaid, and Romell Barrocks-Bedeau
Buy Tina Turner Musical Tickets
Book your Tina Turner Musical tickets online with us and secure the perfect seats through our Aldwych Theatre seating plan. We'll send E-tickets to your email address, which you simply present on the day of the performance.
About the Aldwych Theatre
The Aldwych Theatre is in Aldwych in the City of Westminster, Grade Two listed and seating around 1200 people. It's the perfect venue for a musical extravaganza, and was host to the brilliant Dirty Dancing from 2006-2011. Past shows at the Aldwych Theatre include Top Hat, Stephen Ward, Beautiful: the Carol King Musical, and od course Tina The Musical, which first appeared here in 2018.