Lyric Theatre
29 Shaftesbury Avenue, London, W1D 7ES GB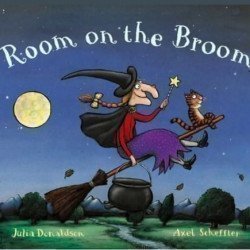 Room On The Broom
Tickets
Lyric Theatre
Running time: 55 minutes
Book

tickets
Show Closed
This show is now closed.
A seasonal treat for kids – It's Room On The Broom!
Room On The Broom returns to London's glittering West End from November 2012, originally a popular children's book by Julia Donaldson and Axel Scheffler, the writing team behind The Gruffalo and The Gruffalo's Child.
Julia Donaldson is also the creator of children's favourites A Squash and a Squeeze, Monkey Puzzle and Taby McTat. Axel Scheffler has illustrated several of Donaldson's books as well as countless other kids' classics across Europe and beyond. Together they create hilarious, endearing and unforgettable characters that youngsters find thrilling, inspirational and very, very funny.
Room On The Broom - The story
Meet the witch and her cat, the stars of the show, who are eventually joined by a dog, a bird and a frog in a series of unexpected adventures that take place when the witch's hat, wand and bow are blown away by a howling gale. She's determined to get them back. After all, what is a witch without her pointy hat? And so begins a wacky tale packed with giggles and excitement, perfect for children and full of wonderfully colourful characters. It even includes a dragon!
Will there be room on the broom for everyone? There's only one way to find out…
Who loves the show?
This funky, fun stage show is perfect for children aged three years old and upwards. It's energetic, engaging and charming, and at an hour long it's the perfect length for youngsters to enjoy without getting bored and fidgety.
Room On The Broom theatre tickets for every budget
We offer excellent and varied seat and ticket availability with a wide choice of seat options, with premium and full price tickets as well as discount Room On The Broom tickets. Why not treat your little ones to a genuine West End show and introduce them to the delights of live theatre?
Customer Reviews
What to expect:
Acting
Music
Costumes
Story
Lighting
Recommended for:
Anyone
Families
Teenagers
Couples
Theatregoers
based on 30 reviews
Colourful and entertaining
Great show for young kids. Went with a 2.5 yr old and a 4 yr old. They were both enthralled for the whole show. At 50 mins it's a good time
yvonne London Box Office customer
Perfect for fans of the book
Mark London Box Office customer
Sweet
My son loved it. My daughter was initially scared but seem to enjoy it once she got into it. Very friendly environment.
gaby London Box Office customer
Birthday Treat
Good Show thought the witch could of had more of an exagerated redder longer plait. And behind the moon at end of show shadow of the broom and co flying
Anonymous
A must see
Myself my wife and my 4year old son went to see the show and we all loved it
Anonymous
Room On a Broom Review
Thought it was a bit amateurish in parts and the campers were a bit silly in what they were doing Very noisy children who were far too young to take to a theatre
Anonymous
Totally disappointing
We were so looking forward to this show as my two children love the story. The play was really poor, the actors corpsed on stage and really messed up . The music was rubbish, the scenery un imaginative. The whole thing was very amateurish and totally not worth the money.
Anonymous
Kelly, Lincoln
Good show, could have done with maybe a little more audience participation, seeing as it is for little ones.
Anonymous
Room on the broom
As you would expect from the name, perfect for kids.
Anonymous
Close to the book
One of my sons all time favourite. Well transposed. Few hints moments towards the adults for a quick chuckle.
Anonymous
Great !
Great seats Row B stalls. Actors worked so hard throughout.. great adaptation from the book..very cleverly done...We loved it
Anonymous
Room on the broom
Good show for families including children as young as 3. The script plays massively with the sub text but did include all the original text. The use of puppets and physical ensemble work were both strong.
Anonymous
Room On The Broom
cheaper tickets would be better as it was only 55mins and kids dont sit still for to long
Anonymous
Excellent show for kids
Great show that gets the kids involved and is the just about the right length for a 3 year old to sit through and not get too fidgety!
Anonymous
Grandchildren's birthday present
My grand-children thoroughly enjoyed this - very entertaining (ages 3 and 5)
Anonymous
Room on the Broom
Very enjoyable for my 3 grandchildren, aged between 8 and 5. I was worried it would be too young for the older ones, but they loved it.
Anonymous
Entertaining, well acted and not too long
Took 2 of my children aged 3 and 6 to see the show and they both loved it, especially being fans of the book. The show is about an hour long, which is just right for kids I feel. The cast are very interactive, playing hide and seek in the audience before the show started. Very personable people and the use of puppets for some of the animals was excellent. Despite misgivings beforehand I found myself focussing on the puppets and not the people operating them. Entertaining and full of laughs for children and adults, even I thoroughly enjoyed this outing. Very well done and high praises for a wonderful afternoon out for the children, bringing the story to life with songs, music and great acting!
Anonymous
For young children
Little ones will need to sit on adult's knee as seats not raked back
Anonymous
Wonderful adaptation
Anonymous
Excellent - clever, witty, wonderfully performed - adaptation of the book
Anonymous
Great shows for kiddies!! they loved it!! just need a high seat for the toddlers
performance great, but teather not! children paid as adults and finish seating in the parents laps because they can see!! its not fair
Anonymous
Use the search box at the top left of this page to search for Room On The Broom tickets availability.
Quick Facts
Largest Ticket Inventory in the West End
Real time seat availability
Your booking is processed directly into the box office reservation system
Collect your tickets from the theatre for free or get them posted to your address.

Theatre Address
Lyric Theatre
29 Shaftesbury Avenue, London, W1D 7ES GB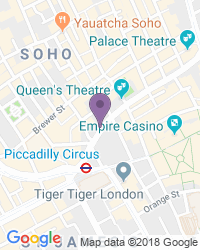 Facilities
Air conditioned
Bar
Disabled toilets
Infrared hearing loop
Member of Q-Park scheme
Toilets
Wheelchair/scooter access
Theatre Info
Capacity: 959
Year built: 1888