Royal Albert Hall
Kensington Gore, London, SW7 2AP GB
Now showing at the
Royal Albert Hall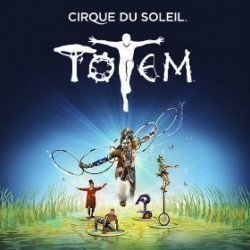 Booking until: Tuesday, 26 February 2019
If you have ever been to the circus, Totem is nothing at all like ordinary circus performances. In fact it's nothing like any circus on earth. Like everything this supremely talented bunch of people do, it is sheer, pure, unadulterated magic, and it'll leave you breathless. Don't miss Cirque Du Soleil performing their latest and greatest show, Totem.
Royal Albert Hall history
From the outside
A beautiful sight from the outside with its intricate friezes and arched windows, this is one of Queen Victoria's reign's greatest architectural achievements. The Royal Albert Hall is a magnificent circular building inside and out, with curious suspended plates on the ceiling to marvel at.
Royal Albert Hall architecture and history
The Royal Albert Hall must be one of London' most famous landmarks, as well as being one of the city's most diverse venues. Dreamed up after the roaring success of the Great Exhibition in 1851 by its namesake Prince Albert, Queen Victoria's beloved husband, it was built using the profits from the exhibition itself. The crown bought the so-called Gore Estates to create this permanent public space for culture. But the Prince died before the building was completed. Opened by Victoria in 1871, it has played a vital part in the capital's entertainment calendar ever since.
Sadly, while it was a gorgeous space to look at, based on a Roman amphitheatre, the acoustics at the Albert Hall were terrible and took a century to put right. Even so, it has hosted a startling number of amazing performances of every kind, from Wagner's music to Greco-Roman wrestling, an indoor marathon, the Ford Motor Show and a speech by scientist Albert Einstein about the benefits of freedom.
In the 1900s the venue's fame as a variety venue continued and it hosted odd, weird and wonderful performances and events including mass baptisms, the Miss World pageant, sumo tournaments, countless live music gigs from internationally renowned pop stars like Eric Clapton, who plays there every year, and The Beatles. It even saw the launch of the fifth Harry Potter novel.
Luckily, unlike many London theatre venues, the Royal Albert Hall remained undamaged throughout the second World War Blitz, mainly because German pilots used it as a handy landmark.
Plenty of famous speakers have made a lasting impression there, including Winston Churchill, Nelson Mandela, Stephen Hawking, the Dalai Lama and Bill Clinton.
Today the Royal Albert Hall is probably most famous for the annual BBC Proms, which have used it as their home since 1941. The building recently enjoyed a comprehensive renovation and today is one of the country's best known and loved venues.
Past shows at Royal Albert Hall
The Royal Albert Hall has been home to some of the world's most famous, plays, dance, live music, classical concerts, speeches, events, exhibitions, contests and more. Wagner, Verdi, Elgar and Rachmaninov, Frank Sinatra, Liza Minnelli, Oscar Peterson, The Who, Jay Z, Kaiser Chiefs, the Killers…. The list goes on and on!
Royal Albert Hall access
There are 14 wheelchair spaces plus seats for companions in the ground floor stalls and a few elevator chairs at the back of the stalls. There are also six spaces for wheelchairs in the circle in sections P, R, V and X, plus 4 more in the gallery's unreserved standing area.
Royal Albert Hall tickets
We're a top destination for a wide variety of seat types and prices, with excellent availability on the full range of Royal Albert Hall tickets.
Theatre Address
Royal Albert Hall
Kensington Gore, London, SW7 2AP GB +44 (0)20 7492 0813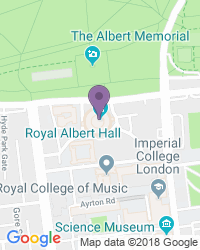 Facilities
Air conditioned
Bar
Disabled toilets
Infrared hearing loop
Restaurant
Toilets
Wheelchair/scooter access
Theatre Info
Capacity: 5544
Year built: 1871