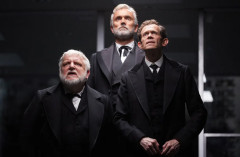 During a politically turbulent year, London has once again played host to an eclectic mix of theatrical productions and despite continuing monetary constraints, has enabled many and diverse creative talents, to flourish.
Among the plethora of new and revival plays and musicals at fringe and West End venues this year, here is this reviewer's personal Top 10 which deserve mentioning.
The Lehman Trilogy - which transferred to the Piccadilly Theatre for a fantastic final flourish from May to August.
The team which brought Betrayal and the entire Pinter at The Pinter Season to the West End.
A Midsummer Nights Dream at The Bridge Theatre where Bunny Christie's extraordinary staging and design, nearly stole the show.
Arcola Theatre for an exceptional season of engaging, inventive and challenging productions, most notably: Sitting, Until the Flood, Hoard, Riot Act, and Beryl.
Downstate - Steppenwolf trail-blazed their brand of taboo-tackling theatre at the Dorfman.
Jesus Hopped the "A" Train at the Young Vic.
Small Island - the National (Olivier) Theatre's long-awaited adaptation of Angela Levy's masterpiece.
How Love is Spelt - a notable debut by Larner Wallace-Taylor in the central role of Peta at Southwark Playhouse.
Soho Cinders - Styles and Drewe's made over fairytale, generating tears and laughter at Charing Cross Theatre.
Hansard - biting, political, sabre rattling from a polarised married couple at National's Lyttelton.
As we anticipate the potential impacts which Brexit may bring, one thing is certain - the West End will continue to set the standard for theatre, with Pretty Woman, Sunday In The Park With George, Hello Dolly and To Kill A Mockingbird already announced for 2020. Fringe venues and regional houses up and down the country continue to encourage and develop raw talent, ensuring that a bumper crop of creative professionals join the ranks of talent which continually inspire and produce superlative, imaginative work, ensuring British theatre remains the envy of the world.
Happy theatregoing to you all in 2020.