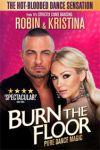 Offers Available
Up to 47% off
Passionate about Latin and ballroom dance? You'll absolutely adore this superb show that's been thrilling audiences across the planet since 1999, years before Strictly Ballroom hit our screens and took Britain by storm. It's a fast-paced, colourful and sumptuous virtuoso performance by a collection of the finest international dance champions, set to be a huge stage hit.
Tickets from £27.00
Booking from: Wednesday, 6 March 2013
Booking until: Sunday, 1 September 2013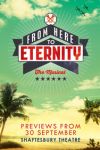 James Jones' 1951 runaway hit novel was made into the famous Oscar-winning film starring Burt Lancaster, Montgomery Clift, Deborah Kerr, Donna Reed and Frank Sinatra. Now the delightful Sir Tim Rice has collaborated with a host of top theatre talent to deliver the musical. Rice has written the song lyrics, set to beautiful show tunes by the newcomer Stuart Brayson. Brilliant!
Tickets from £19.00
Booking from: Monday, 30 September 2013
Booking until: Saturday, 26 April 2014