Ambassadors Theatre
West Street, London, WC2H 9ND GB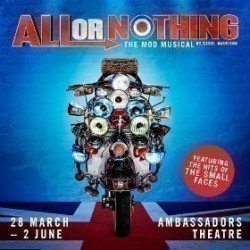 All or Nothing The Mod Musical
Tickets
Ambassadors Theatre
Book

tickets
Show Closed
This show is now closed.
Another jukebox musical, completing a five-week run at the Arts Theatre, transfer to the West End. All Or Nothing, alternatively known as the Mod musical, is the story of the Small Faces and moves to the Ambassadors Theatre for nine weeks from 28 March.
What is Mod?
Mod is a fashion made popular in the 1960s, although it began in London in the late 1950s. Mod was a music and fashion combination – tailor-made suits, soul and RnB music and scooters. And of course, drugs. It had a rival subculture gang, the rockers, with which it clashed and skirmished throughout the 1960s. The Small Faces and The Who epitomised the Mod musical taste; pop art, Twiggy and Mary Quant's miniskirts led the fashion and art charge.
OK, so who are the Small Faces?
The Small Faces are a band made famous in the 1960s by being the musical faces of the mod culture. Songs such as Itchyoo Park, All Or Nothing and Tin Soldier are among their most famous hits. The band comprised of front man (and lead in the musical) Steve Marriott, Ronnie Lane, Kenney Jones and a fourth, originally Jimmy Winston and then Ian McLagan.
And All Or Nothing is about their life?
Exactly. It's told from the perspective of Marriott's ghost (he died in a fire in his home in Essex), with The Bill actor Chris Simmons playing the frontman. Writer and director Carol Harrison, best known for her turn in Eastenders, plays Kay Marriott and Stanton Wright, Stefan Edwards, and Alexander Gold play the above band members respectively.
We have a great selection of cheap All or Nothing The Mod Musical tickets. We can help you save up to 70% on All or Nothing The Mod Musical tickets! If you're looking for discount theatre tickets have a look below for our latest offers for All or Nothing The Mod Musical at the Ambassadors Theatre.
1

No Booking Fee

Tickets

from £27.50
Valid on all performances until 12 May 2018.. .
Customer Reviews
What to expect:
Acting
Music
Costumes
Story
Lighting
Recommended for:
Anyone
Families
Teenagers
Couples
Theatregoers
based on 21 reviews
A must see
Absolutely brilliant show, would watch it again and again, seating was good , sat in E3&4 ,sad to see it end ,both Steves Sam & Chris were brilliant
Janice London Box Office customer
Nostalgic brilliant
Wendy London Box Office customer
Third timef
Fantastic show,musicians excellent,a touch of comedy. Anyone that wants nostalgia for the 60s it's a must.
Linda London Box Office customer
The show was brilliant, great music, great story line, took our 16 year old daughter, she's now a Small Faces fan.
Anne London Box Office customer
Brilliant
Brought back so many happy memories as the 60's was my era when I was a teenager. ...won't be another era like it ! We need more shows like this...thankyou
Helena London Box Office customer
A live history lesson to be learnt of sixtees groups who were fleeced by so called managers lineing their own pockets.
We saw a combination of most of the groups in the mid sixties,live,and the small faces were one of them. This was our era,teenagers looking for anything different,and music was our escape. All of these songs tell a story of life at that time,and they were mostly sad songs,of lost love,or friends . This real life production tells how this group progressed,with two very tallented song writers,who were manipulated by their manager-managers. Life has not changed,young artists BEWARE,life is cruel on the other side.
peter London Box Office customer
Thoroughly entertaining
Should be playing to bigger audiences
Debbie London Box Office customer
Great live music
Loved the show for the story and music and the actors and musicians were fantastic
Julie London Box Office customer
Just brilliant
Don't miss it !!
Andrew London Box Office customer
magical
robert London Box Office customer
Fun and entertaining
Julie London Box Office customer
Good music, a bit slow at first
Not suitable for young children, quite a lot of swearing. The story was a bit boring at first but the music made up for that.
Alison London Box Office customer
Disappointed
There was a lot of music with which I was unfamiliar, which surprised me. The base was very strong as some parts but otherwise the sound was good. I thought I would have been wanting to get up and dance in the aisle but it just didn't do anything for me.
Margaret London Box Office customer
A fantastic show.
We booked this show because we were a part of the sixties era and we really liked the Small Faces music. The show far exceeded our expectations. The acting and music was great. It was interesting to have the ghost of Stevie telling the story. Samuel Pope delivered a super representation of Steve Marriott. In fact all the cast did justice to this musical. We thought the Ambassadors theatre was small and intimate. Our seats were in the stalls and we had a great view of the show. I'm disappointed to see that the show ends in June as I'm coming back to London in Sept and would have gone again. Best wishes to the cast for the future.
Lorna London Box Office customer
the best
good all round show
david London Box Office customer
Sooo funny. Side splitting!!
Must see!
Chris London Box Office customer
Enjoyable
Really enjoyed this performance. I wouldn't recommend people take young children as the language is quite colourful. The music was good.
Susan London Box Office customer
Fantastic
Great show. Story telling & music first class.
Lorna London Box Office customer
Nostalgic
Abi London Box Office customer
30 Mar 2018
After a long tour and a limited run at The Arts Theatre, ALL OR NOTHING, the Mod musical, transfers to the Ambassadors Theatre. Thanks to the small size of this West End theatre, the show retains an intimate feel and the audience are fully immersed into the music and journey of pop group The Small Faces.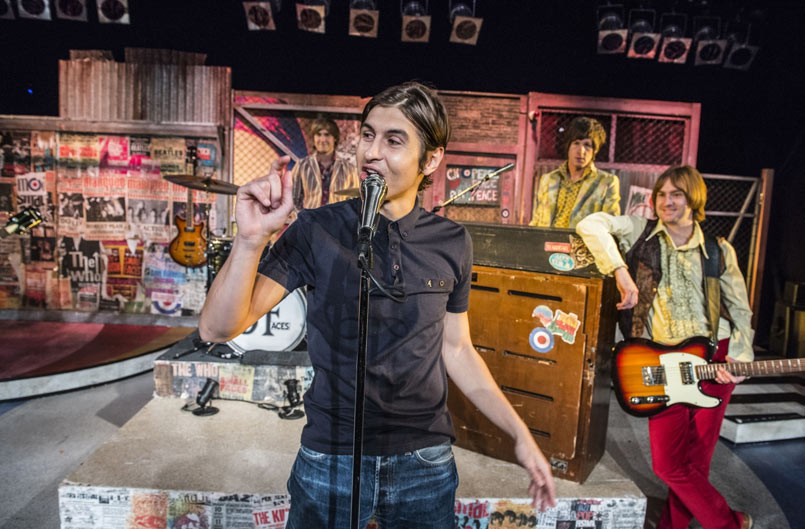 Alfie Harrison-Foreman in All or Nothing at the Ambassadors Theatre
Use the search box at the top left of this page to search for All or Nothing The Mod Musical tickets availability.
Quick Facts
Largest Ticket Inventory in the West End
Real time seat availability
Your booking is processed directly into the box office reservation system
Collect your tickets from the theatre for free or get them posted to your address.

Theatre Address
Ambassadors Theatre
West Street, London, WC2H 9ND GB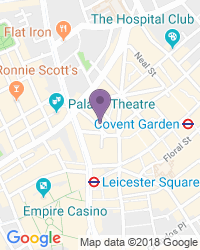 Facilities
Air conditioned
Bar
Infrared hearing loop
Member of Q-Park scheme
Toilets
Theatre Info
Capacity: 400
Year built: 1913