Quick Facts
Largest Ticket Inventory
in the West End
Real time
seat availability
Choose
your seats
Your booking is processed directly into the box office reservation system
This show is now closed.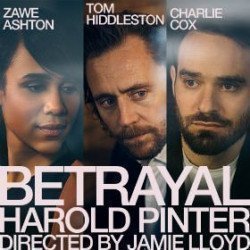 Betrayal
Tickets
4.7/5
-

based on

75

reviews
Starring: Tom Hiddleston, Charlie Cox, Zawe Ashton
About Betrayal
Performance Times
Starring:
Tom Hiddleston, Charlie Cox, Zawe Ashton
Betrayal description
Betrayal – Starring Tom Hiddleston
If you haven't caught any of the Pinter masterpieces being shown at the Harold Pinter theatre in the legendary Pinter at the Pinter season, now's the time to make amends. This time around it's Betrayal, one of the playwright's best-loved pieces, and it's due to thrill audiences in the West End from early March 2019. If you're in the mood for a genuine theatre classic, walk this way.
The play stars the exceptionally talented Golden Globe and Olivier Award winning actor Tom Hiddleston, who lights up the Jamie Lloyd Company's revival. It's on for a strictly limited 12 week season, so secure tickets while you can.
Betrayal is a 1978 Pinter play regarded by critics as one of the British playwright's very best dramatic works. You'll love the typical Pinteresque dialogue, a brilliant exercise in economy. The characters' hidden emotions and veiled motivations are mercilessly revealed. Their self-absorbed one-upmanship is highlighted. Their face-saving is cruelly shown for what it is, along with their remarkable skill for self-deception. And as you'd expect the overall impression is one of a wickedly clever intellect at work, typically, wonderfully Pinter from start to finish.
The story
The play is actually inspired by Pinter's long extra-marital affair with BBC TV presenter Joan Bakewell, which lasted for seven years between 1962 to 1969. And the plot details all the different ways that betrayal can take place within a seven year-long affair between married people.
The plot concerns two couples - Emma and Robert, Jerry and Judith. Jerry and Emma have been carrying on a love affair for five years and Robert doesn't know a thing about it... or so they believe. They're cuckolding Robert and betraying Judith. Emma admits the affair to Robert, but carries it on anyway. There follows a comedy of relationship errors that takes you backwards in time to unfold the affair in reverse. Scene one covers the period after the affair is over, 1977, and the last scene ends when the affair begins, in 1968.
It's poetically precise. It's richly funny. It delivers an extraordinary emotional tour de force. This seven year romance delivers what The Telegraph calls "the greatest, and the most moving, of all Pinter's plays". And it marks the culmination of the Jamie Lloyd Company's ground-breaking Pinter at the Pinter season.
Tom Hiddleston is known and loved for his role of Loki in the Marvel Cinematic Universe. He also made a massive impact in BBC TV's series The Night Manager. The rest of the cast are to be announced. A great play, a great venue, an astonishing experience... don't miss it!
Who is this show for?
Being a richly intelligent comedy of sexual manners, this show isn't recommended for children.
Betrayal reviews
4.7 out of 5
based on

75

reviews
What to expect:
Acting
Music
Costumes
Story
Lighting
Recommended for:
Anyone (37%)
Families (40%)
Teenagers (44%)
Couples (81%)
Theatregoers (97%)
Latest customer reviews

Wonderful
Reviewed on 08 June 2019 by Elira, Luxembourg, Luxembourg

good!
I've liked so Much this show
Reviewed on 06 June 2019 by Maura, San Martino In Rio, Italy

unusual modern play but not suitable for family
Reviewed on 01 June 2019 by Claudia, Hamilton Parish, Bermuda

Intelligent and funny
Reviewed on 30 May 2019 by Carole, Paris, France

Great show
We came from Italy for this show. Theatre is very well organized they even serve drinks at your seat! You can hire binoculars for 1 pound. The actors play their roles convincingly and connected with audience. Very talented and sensitive. I found Charlie Cox amazing. Tom Hiddleston is so smart and creative in theatre, a little bit performing with soft voice.
Reviewed on 30 May 2019 by Laura, Pisa, Italy

Intense
Reviewed on 29 May 2019 by Oyku, Ankara, Turkey

Don't miss it
Careful attention to Pinter's material by three clearly seasoned actors. Beautifully done. Audience enraptured from the start. Could have heard a pin drop as it should be. Loved it! Thanks to all concerned. In London from Bermuda for one week and this was the only play I wanted to see.
Reviewed on 28 May 2019 by Karen, Paget, Bermuda

Creative
Reviewed on 24 May 2019 by Patricia, Ellenbrook, Australia

Slow moving, but thoughtful, not much room for actors to shine
The play works backward through an affair. The reaction of the characters is hardly typical. The actor do well with a limited and slow moving script. Doesn't leave you satisfied, but a thought provoking play.
Reviewed on 22 May 2019 by David, Christchurch, New Zealand

I was hoping for somethig more
Very good actors but the story was nothing new and it was boring
Reviewed on 21 May 2019 by Sara, Scarperia San Piero, Italy

Interesting reverse story
Reviewed on 19 May 2019 by Debra, London, United Kingdom

Funny and sad at the same time!
Reviewed on 18 May 2019 by Meike, Hamburg, Germany

Sensational production!
You know you are watching a sublime performance when you get goosebumps! The stage setting was minimal, which was the right effect for the show. Tom, Zawe and Charlie have a mesmerizing chemistry together and their acting just sucks you into the story. Thank goodness there is no interval in this show, as it would break the tension you are feeling as the betrayal between the three unravels in front of you. I loved this production, especially the reverse chronology. It is a must see for any theatregoer!
Reviewed on 16 May 2019 by Claire, Broadstairs Kent, United Kingdom

British Theatre at its very best- superb acting!!
Reviewed on 15 May 2019 by Eileen, Ra'anana, Israel

Mesmerising
I was enthralled by the dialogue and characters throughout the play. The cast were extraordinary!
Reviewed on 15 May 2019 by Dawn, Singapore, Singapore

It is delightfully funny and makes you little sorrow.
I loved it! It was surprisingly funny yet moving. The actors were delighful ro watch!
Reviewed on 11 May 2019 by Sasikala, Petaling Jaya, Malaysia

Reviewed on 11 May 2019 by Vanessa, Brentford, United Kingdom

Amazing!
Great actors and amazing story.
Reviewed on 11 May 2019 by Carolina, Leganes, Spain

Brilliant
Loved the show, very intense performance
Reviewed on 10 May 2019 by Lisa, Nottingham, United Kingdom

Thought provoking
Great show with brilliant actors. Minimal Stage props lay bare the emotions of the characters, nowhere to hide. Slightly restricted view in the balcony but enough of a view to follow the story.
Reviewed on 09 May 2019 by Paula, 31 Park Lodge Avenue, United Kingdom

Enjoyed the pauses
It was worth flying from Japan to see this play. Amazing actors gave lives to the roles. I almost forgot to breath as the show went. The lighting was good too, sometimes the shadow was clear, sometimes vague as if it reflects the situation.
Reviewed on 04 May 2019 by Akiko, Osaka, Japan

Sharp Pinter at his best!
Reviewed on 03 May 2019 by Angeliki, Brussels, Belgium

Superb!
Betrayal is a fantastic play, brilliantly acted with a clever set design. I wouldn't have missed it for the world.
Reviewed on 02 May 2019 by Caroline, Towcester, United Kingdom

Slow, tedious, unpleasant characters.
Reviewed on 01 May 2019 by Jane, Portland, United States Of America

Minimalist scenes highlight great acting!
Reviewed on 30 April 2019 by Stacie, Nizhny Novgorod, Russian Federation

Compelling
Reviewed on 29 April 2019 by Christina, Berkeley, United States Of America

Interesting and different!
Fantastic performance!
Reviewed on 29 April 2019 by Erika, Santo Domingo, Dominican Republic

Touching
Reviewed on 27 April 2019 by Ines, Santa Coloma De Cervello, Spain

Exceptional!
If you can find tickets, don't miss it!
Reviewed on 24 April 2019 by Livia, Rome, Italy

Quirky show
Reviewed on 23 April 2019 by Audrey, London, United Kingdom

Great acting and story. Could do with a 15 mins interval
Reviewed on 20 April 2019 by Anneka, Northfleet, United Kingdom

A must see!
The absence of a detailed stage setting puts the focus on the acting. Ashton, Hiddleston and Cox were amazing! The 3 sides of the triangle are shown suberbly, demonstrating that betrayal is unending.
Reviewed on 19 April 2019 by Rena, Vienna, Austria

Superb, nuanced acting, marvelous text!
Reviewed on 17 April 2019 by Begoña, Seville, Spain

A brilliant, moving insight into the intricacies of the heart and human relationship.
Reviewed on 17 April 2019 by Maria Antonietta, Rome, Italy

Brilliant play, fantastic acting, beautiful staging
Reviewed on 13 April 2019 by Dorota, Warsaw, Poland

Can't ask for more
Brilliant performances, great adaptation. Can't fault it.
Reviewed on 11 April 2019 by Gideon, London, United Kingdom

Superb acting & directing sinking in a sea of annoyment .
Thé Play in its text and drama is outdated and meaningless . The classical mirror effect structure of this multi layered betrayal narration sinks more and more into the abyss of annoyment as scenes go by . The outstanding acting and stage directing unfortunately does not save the evening . One leaves with a split feeling , half bored half frustrated to see actors talents exhausting themselves in trying to raise interest .
Reviewed on 04 April 2019 by Remy, Paris, France

MUST see!
Reviewed on 30 March 2019 by Tanita, London, United Kingdom

Disappointed
Reviewed on 26 March 2019 by Maria, London, United Kingdom

Great!
Great play, great actors, and great stage
Reviewed on 20 March 2019 by Yovanka, Nottingham, United Kingdom

Go if you a theatre or/and a Tom Hiddleston fan
both actors were brilliant. the actress was a little bit lacking, in the sense, wasn't as effortless as the other two. that said, she did a brilliant job as well! I was just so taken by the performance. recommended!
Reviewed on 14 March 2019 by Sarah, Shanghai, China
02

Jan
2020

Critic Stuart King Looks Back on his 10 Favourite Productions of 2019
by Stuart King | Thursday, January 2 2020, 10:23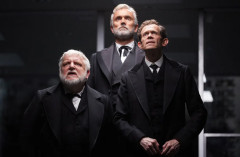 During a politically turbulent year, London has once again played host to an eclectic mix of theatrical productions and despite continuing monetary constraints, has enabled many and diverse creative talents, to flourish.
Among the plethora of new and revival plays and musicals at fringe and West End venues this year, here is this reviewer's personal Top 10 which deserve mentioning.
Critic Stuart King Looks Back on his 10 Favourite Productions of 2019
13

Mar
2019

Review: BETRAYAL at the Harold Pinter Theatre
by Stuart King | Wednesday, March 13 2019, 22:59
Tom Hiddleston (an international A-lister following his success in The Night Manager and portrayals of Loki in the Thor movies), headlines BETRAYAL - the final presentation and culmination of the Pinter at the Pinter season, which began back in September of last year.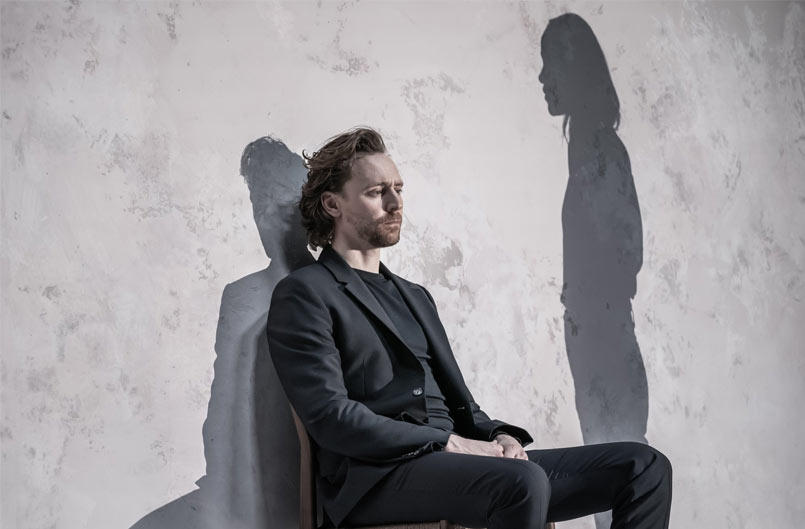 Tom Hiddleston in Betrayal at the Harold Pinter Theatre
Review: BETRAYAL at the Harold Pinter Theatre