2 Charing Cross Road, London, WC2H 0HH GB
Quick Facts
Largest Ticket Inventory
in the West End
Real time
seat availability
Choose
your seats
Your booking is processed directly into the box office reservation system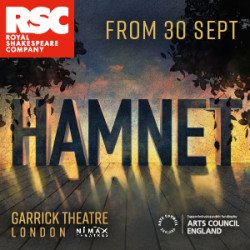 Hamnet
Tickets
4.1/5
-

based on

31

reviews

from

31

verified reviews
Booking until: Saturday, 17 February 2024
Running time: 2hrs 30mins (incl. interval)
Tickets from £30.00
Tickets refunded if your event is cancelled
Real time seat availability
Largest ticket inventory in the West End
Secure online booking
Information
Cheap Tickets
Reviews
News
About Hamnet Tickets
Hamnet description
Hamnet is based on Maggie O'Farrell's best-selling novel, a brand new play adapted by the award-winning playwright Lolita Chakrabarti. She was responsible for Life of Pi, Red Velvet, and Hymn, revealing the sheer quality of this fabulous play. Here, we pull back the curtain on the story of the greatest English playwright and Anne Hathaway, the woman who loved and supported him.
Hamnet Shakespeare was a twin to Judith, his sister, baptised on 2 February 1585. By the time Hamnet was four years old his dad was already famous. At age eleven the family buried Hamnet after he died of the plague. He was the only son of William Shakespeare and Anne Hathaway, and some Shakespearean scholars say there are strong connections between the boy's tragic death and the plays King John, Romeo and Juliet, Julius Caesar, and Twelfth Night.
At the time, in England, around a third of children died before aged ten. Child death was common but it was just as heartbreaking then as it is now. This play reveals how Hamnet's death impacted the greatest playwright England has ever seen.
What's the plot of Hamnet
The place is Warwickshire, the year is 1582. Agnes Hathaway is a natural healer, William Shakespeare is a Latin teacher. They begin a life together and have twins. When the plague kills eleven year old Hamnet, each of them has to handle their loss alone. But out of their terrible suffering came beauty.
The world premiere of Hamnet took place at the amazing restored Swan Theatre in Stratford-upon-Avon in April 2023. Now it's transferring direct to London's Garrick Theatre this autumn for a limited 14 week season, a love letter to 'passion, birth, grief and the magic of nature'.
The Hamnet West End cast is led by Madeleine Mantock from Charmed and The Long Song. She plays Agnes Hathaway. Joan is played by Sarah Belcher and Burbage / Father John by Will Brown. Hamnet and Thomas Day are played by Ajani Cabey and Eliza by Frankie Hastings. Ned is portrayed by Karl Haynes, Judith by Alex Jarrett, Jude by Hannah McPake and Mary by Elizabeth Rider. Tilly and Caterina are played by Rose Riley and Susanna by Harmony Rose-Bremner. Bartholomew is by Obioma Ugoala, William by Tom Varey, and John by Peter Wight.
The creative team is equally impressive: the director is Erica Whyman, the designer is Tom Piper and the lighting comes from Prema Mehta. The music is by Oğuz Kaplangi and the sound by Xana. Movement comes from Ayse Tashkiran and dramaturg from Pippa Hill. The fights are by Kate Waters. The casting director is Amy Ball CDG, the music director is Alice Brown, the associate designer is Pip Terry and the assistant director is Linda Miller.
Who is Hamnet for?
There isn't an official age limit yet, but keep your eyes open.
Buy tickets for Hamnet
Our website makes buying tickets for Hamnet super-simple and fast. We'll email your tickets to you so you can simply present them at the door on the day.
Useful Information
Booking until:


Saturday, 17 February 2024

Running time:


2hrs 30mins (incl. interval)
Performance Times
Next Performances for Hamnet at the Garrick Theatre
tomorrow
5th Dec 2023
7:30pm
Wednesday
6th Dec 2023
7:30pm
Thursday
7th Dec 2023
2:30pm
Thursday
7th Dec 2023
7:30pm
Friday
8th Dec 2023
7:30pm
Saturday
9th Dec 2023
2:30pm
Hamnet cheap tickets
We have a great selection of cheap Hamnet tickets. We can help you save up to 70% on Hamnet tickets! If you're looking for discount theatre tickets have a look below for our latest offers for Hamnet at the Garrick Theatre.
There are no special offers available at the moment but we still have great ticket prices for Hamnet at the Garrick Theatre.
Hamnet reviews
4.1 out of 5
based on

31

reviews
What to expect:
Acting
Music
Costumes
Story
Lighting
Recommended for:

Theatregoers (81%)
Latest customer reviews
An enthralling show!
Reviewed on 03 December 2023 by Nuala, Belfast, United Kingdom
A great production of a poignant story
Reviewed on 03 December 2023 by Lynn, Nottingham, United Kingdom
Second half upped a gear.
Enjoyable play and good acting - really engaged with "Ann". The second half brought together the Shakespeare's life into the great plays.
Reviewed on 25 November 2023 by Graeme, Troston, United Kingdom
Despite never having seen Hamlet (my wife did it for A-level and never wants to see the miserable play again), this was a very touching modern take on family life including stresses of working away, sacrifice, bereavement and ghastly in-laws. Hamlet only figures at the end, unlike Rosencrantz & Guildenstern are dead, but that's another story! Or does it only figure at the end?
Reviewed on 25 November 2023 by Norman, Newton Abbot, United Kingdom
Slob Marries Witch
Nothing hapened in the fist half, so we left and had a nice meal while everyone else was sitting though this dire bilge's act two. Drama free theatre and beyond awful.
Reviewed on 21 November 2023 by Peter, London, United Kingdom
All four of us enjoyed the show and thought it faithfully represented the book and we agreed it helped to have read the book first. It was a powerful emotional story well told and the staging captured the historical period well. We were all totally involved throughout and needed a few minutes at the end to return to ourselves!
Reviewed on 16 November 2023 by Angela, St Albans, United Kingdom
Slightly disappointing
The play was adapted creatively from the book but just didn't quite capture the magic of the book. It was ok but I wasn't gripped by it.
Reviewed on 08 November 2023 by Harriet, London, United Kingdom
Average
Reviewed on 07 November 2023 by Martina, London, United Kingdom
Hamnet
Reviewed on 29 October 2023 by Michael, Ely, United Kingdom
Fab adaptation of a great book.
We v much enjoyed this adaptation of a favourite book. The acting, esp of the character Agnes, was excellent. Staging imaginative & effective. Staff all good service.
Reviewed on 26 October 2023 by Susan, Nottingham, United Kingdom
Powerful show
Reviewed on 24 October 2023 by Stuart, London, United Kingdom
Superbly acted
Reviewed on 23 October 2023 by Susan, Windsor, United Kingdom
Must see for those who read the book and Shakespeare loversrs
Reviewed on 23 October 2023 by Ellis, Amsterdam, Netherlands
Family drama in a historical setting
Excellent acting and different perspective of the Shakespeare story
Reviewed on 22 October 2023 by Peter, Altrincham, United Kingdom
Book is better
Reviewed on 19 October 2023 by Amanda, Cambridge, United Kingdom
Lacklustre
Never got going , only the ending and when we were in London the rest felt belaboured sentimental and cliched
Reviewed on 19 October 2023 by Tag, Tunbridge Wells, United Kingdom
Good but lacks the sense of suffering you in the book
Reviewed on 16 October 2023 by Geoff, New Malden, United Kingdom
Disappointing
I loved Maggie O'Farrell's book but, sadly, the stage adaptation does not come close to capturing the magic of the novel. The play follows the plot of the book so closely that it misses the opportunity to bring the main characters to life. It's well acted - particularly the part of Agnes - but the script fails to deliver. A disappointing night out.
Reviewed on 12 October 2023 by Philippa, London, United Kingdom
Amazing cast
Reviewed on 12 October 2023 by Maria, Park Ridge, United Kingdom
The enjoyment of the production was marred by the poor visibility of the upper part of the stage set (not indicated in tickets) which was crucial to the plot and obviously designed for a different venue. We were sitting in the rear stalls (row U) It was also unpleasantly hot in the theatre. For these reasons we would not choose to attend a production at this theatre again despite enjoying this particular play.
Reviewed on 10 October 2023 by Robin, Haywards Heath, United Kingdom
All Shakespeare afficianos must see
The story is strong but the staging and lighting make it a separate art form from the novel and even those who have read will enjoy this on its own
Reviewed on 07 October 2023 by Bruce, Aspen, United States Of America
Excellent acting. Very moving
Reviewed on 07 October 2023 by Alastair, Carshalton, United Kingdom