20

Nov
2015

Review: THE ILLUSIONISTS at the Shaftesbury Theatre
by Phil Willmott | Friday, November 20 2015, 15:27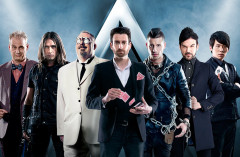 After decades in the doldrums, associated unfashionably with tacky variety shows from the 1970s, stage magic is very much back in the public eye with a whole generation of sexy young magicians turning acts like Dynamo, with his slight-of-hand street/wise act, into big celebrities.
The West End currently has two major magic shows, Derren Brown's at the Palace Theatre, and The Illusionists at the Shaftesbury Theatre.
Review: THE ILLUSIONISTS at the Shaftesbury Theatre
23

Jun
2015

The Illusionists comes to the West End
by Oliver Mitford | Tuesday, June 23 2015, 09:56
The most successful magic show in the history of Broadway is coming to London's Shaftesbury Theatre in November this year.
The Illusionists has toured to over 17 countries and stunned audiences in 71 different cities. The ever-changing cast of seven magicians, escapologists and illusionists whose talents make up the show has now been confirmed.
The Illusionists comes to the West End