Quick Facts
Largest Ticket Inventory
in the West End
Real time
seat availability
Choose
your seats
Your booking is processed directly into the box office reservation system
This show is now closed.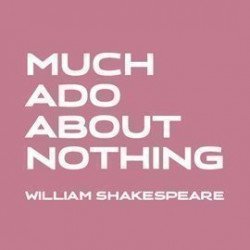 Much Ado About Nothing
Tickets
3.4/5
-

based on

19

reviews
About Much Ado About Nothing
Performance Times
Starring:
Mark Rylance
Much Ado About Nothing description
Much Ado About Nothing – Witty, argumentative and great fun!
In a real Shakespearian soap opera, the young lovers Hero and Claudio conspire to force the dedicated singles Benedick and Beatrice to acknowledge their real feelings and get married. At the same time others are conspiring to break Hero and Claudio up and ruin their romance. Will they wed? Or will two potentially beautiful love affairs end in tears?
Much Ado About Nothing - The story
The scene? Messina, on the Italian island of Sicily, at the palace of the Governor, Leonato. Leonato's sweet daughter Hero has fallen truly, madly and deeply in love with the soldier Claudio, and her feelings are reciprocated by the shy young man. Beatrice, Leonato's other daughter, is older, wiser and more cynical and despite her blossoming feelings for Benedick, another soldier and war hero, she refuses to admit to being in love.
Enter the villain Don John, who is jealous of Claudio's heroism and spends much of the play doing his best to ruin his relationship with the lovely Hero. Benedick and Beatrice don't need Don John's help – they are busy ruining their own relationship with endless quarrelling, arguing and back-biting.
Claudio rejects Hero at the altar, accusing her of being unchaste. The awful Don Pedro supports Claudio. Benedick, who was the most cynical early on, takes the side of Hero and his future wife Beatrice. Benedick challenges Claudio to a duel for slandering Hero. Leonato lies in public, stating that the lovely Hero has actually died of grief over the false accusations.
As the rumours, fibs, lies and exaggerations fly, Hero's innocence is brought to light by the ridiculous and unlikely hero of the play, Dogberry. The prickly Benedick and Beatrice end up falling deeply in love and the younger couple also stays together despite everyone's efforts. Against all the odds, both couples end up happily married.
If it sounds wonderfully chaotic and silly, that's because it is! Shakespeare outdoes himself in this play, putting the hapless Dogberry in the position of hero as he unwittingly discovers Don John's machinations and ends up saving the day. Like all Shakespeare's plays the language is rich and full of flavour, much easier to understand live on stage than in a dry book, hugely entertaining and a great introduction to Britain's best-loved fifteenth century superhero of a playwright.
Much Ado About Nothing theatre tickets – With that magic Mark Rylance touch!
Want premium, full price or discount Much Ado About Nothing tickets? We're proud of our excellent availability across every seat type and price. Walk this way for the best value tickets in town!
Much Ado About Nothing reviews
3.4 out of 5
based on

19

reviews
What to expect:
Acting
Music
Costumes
Story
Lighting
Recommended for:
Anyone (21%)
Families (21%)
Teenagers (32%)
Couples (32%)
Theatregoers (68%)
Latest customer reviews

Uninspiring
Lacked vitality - diction poor
Reviewed on 01 December 2013 by Anonymous

Huge disappointment
Not only was Vanessa Redgrave replaced by her stand-in but the whole wit of the play was stripped out by amendments to the original script. James Earl Jones mumbled along and lacked to give his roles any character at all. The remaining acting was mediocre. The transfer from Messina to England in 1944 with American GIs did not add anything but stripped the play off its wit by all the GIs speaking with American accents. Overall a huge disappointment.
Reviewed on 20 November 2013 by Anonymous

missing actress " Redgrave"
where was Vanessa Redgrave? We travelled from Spain to see this show and one of the lead actors was a no show, quite disappointing
Reviewed on 01 November 2013 by Anonymous

Dissapointing
If you wish to see several iconic actors then you won't be disappointed. If you want to see an enthraling Shakespeare production you will leave down hearted. It was very difficult to actually hear any of the actors lines and the whole performance was extremely turgid. Hardly anyone actually moved except for Hero's father, during a passionate speech. There wasn't one moment I felt drawn into their world. Don't bother seeing this play unless you want to see the stars on stage.
Reviewed on 28 October 2013 by Anonymous

Excellent B&B banter, setting, story and direction. Just about everyone within earshot noted at half-time that (row R, stalls) they were having trouble hearing all the words: a combination of speed of delivery, accents, enunciation (and the usual "takes 5 mins for ones ears and brain to adjust to Shakespearean English). I thoroughly enjoyed it though.
Reviewed on 23 October 2013 by Anonymous

Smoking Scenes should be forbiden on the stage, specacially because many teenagers are in the audience and also because it doesn't enhance the play.
Reviewed on 18 October 2013 by Anonymous

Smoking Scenes
Reviewed on 18 October 2013 by Anonymous

Much ado about nothing
Show was better than expected after bad reviews. Didn't think older actors worked with everyone else age appropriate
Reviewed on 16 October 2013 by Anonymous

Oh Dear
This is one of he greatest comedies ever written nd has wo great leads but it has no sense of comedy and a dreadful production by Mark Rylance who has ignored the verse, any sense of stging and managed to ask the actors to ignore the verse. The set is dreadful and not fit for purpose and there are no lighting chnges other than on and off. Other than that ....
Reviewed on 09 October 2013 by Anonymous

Surprisingly good
Surprisingly good after all the negtive comments in the recent press.
Reviewed on 24 September 2013 by Anonymous

Fantastic
Reviewed on 15 September 2013 by Anonymous

Revisiting Much Ado
The acting was superb on the part of the entire cast with outstanding performances - Tim Barlow and Peter Wright were a delight - and it was an enormous pleasure to watch Vanessa Redgrave so much at ease on stage and so convincing, indeed moving, as a beautiful, older Beatrice. I was, however, most unsure of the 1944 setting which I did not feel added anything new to the play as a whole. The set and costumes felt drab and although I felt happy and had had a lot of fun a more lavish and prettier set, with more of a carnival feel, would have added to this theatre-goer's pleasure.
Reviewed on 15 September 2013 by Anonymous