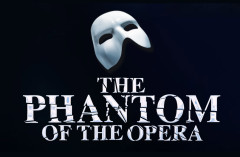 You will recall that the plot of the blockbuster musical begins when the Phantom, who is said to haunt the shadows of the Paris Opera House, takes exception to some of the decisions made by a new management.
Fortunately, the real-life musical continues to be run by superstar producer Cameron Mackintosh. But if the show's home, Her Majesty's Theatre, were to be haunted by a concerned ghost, there have been several recent changes which might cause him to raise an eyebrow. The first announcement that got West End tongues wagging has been news that the celebrated Phantom orchestra is to be reduced from 27 musicians to just 14. Instruments including the oboe, harp, percussion, trumpets and horns have been cut, and there will be a trimmed-down violin section.
Composer and producer have always taken great pride in the size of the show's orchestra and it's magnificent symphonic sound so its a bit of a shocker to discover that the orchestrations are to be adapted (presumably) to be played by a smaller line up.
But I don't think anyone, ghost or human, need worry too much. It is absolutely breath-taking the kind of orchestral effects that can be made by keyboards these days, far in advance of anything possible when Phantom was originally conceived. I have no doubt that the classic score will sound every bit as good as it always has. Technology moves on even in musical instrumentation and as Cameron Mackintosh has remarked, perhaps it is absurd to think that musicians and actors will carry on doing exactly the same thing year after year whilst everybody else's job changes with the advent of new technology.
Mackintosh has history of reworking his shows to either modernise them or make them slightly cheaper to run, depending on who you talk to. A process that usually comes from streamlining a cumbersome production in order to tour it.
There was some controversy last year when the original West End production of Les Miserable was exchanged for the touring version, meaning original creatives including director Trevor Nunn and designer John Napier saw a significant reduction in their incomes as ongoing royalties no longer had to be paid to them. The originating theatre company, the Royal Shakespeare Company also took a financial hit, as they no longer own a stake in the production.
At first glance it doesn't sound as if the re opening production of Phantom will be undergoing as radical a change. The original director and choreographer Hal Prince and Gillian Lynn are still credited as well as Maria Björnson for her magnificent set. However, a recent press release intriguingly states that the original production will not only be recreated but adapted by two contemporary practitioners, the choreographer Chrissie Cartwright and the director Seth Sklar-Heyn. A little further reading reveals that they've also been responsible for a touring version. It begins to look as if Macintosh is replacing the original production but keeping it quiet to avoid the outcry that surrounded the Les Mis revamp.
The publicists have been keen to emphasise Lloyd Webber's excitement that, for the first time since it opened, the production will feature an entirely new cast.
Usually with long running shows some artists opt to stay on after their 12 month contracts are up, some choose to leave and some are asked to stand down. But in this instance was everybody who performed in the original version let go in order that new artists could secretly rehearse a new version?
Whatever lies behind the complete recast these new actors will undoubtedly bring excitement and a freshness to the production.
They include established West End star Killian Donnelly as the Phantom, who has successfully headed musicals like Kinky Boots and Memphis to great acclaim. His version of the deformed creature is to haunt a Christine played by Lucy Saint Louis.
This will be the first time that the young singer will be played by a black performer either in the West End or on Broadway.
You can see the results of all this plotting and planning when Phantom returns to her majesty's Theatre on the 27th of July (tickets go on sale Tuesday 4th May).
Read my guide to All About the Phantom of the Opera.
I doubt any of this will distract from the fact that it is a magnificent beast of a show, still sumptuous to look at, still sumptuous to listen to, with a cracking story that carries you through right to the end.