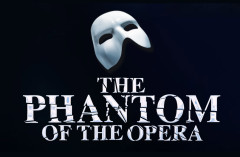 The West End's sumptuous, romantic, multi-award winning, and longest running hit Phantom of The Opera has announced that post Covid performances will begin on June 5th at Her Majesty's Theatre.
Great news because, infused with a whirl of big sweeping melodies by our greatest living composer, it's a gorgeous looking production immaculately maintained at the highest level.
You never need an excuse to see or revisit the Phantom. It's indisputably a jewel in the West End's crown. A perfect combination of concept, performance, story-telling, music and staging.
What's the PHANTOM OF THE OPERA story?
We're in ninetieth century France. As new management take over the running of the Paris Opera House as it's threatened by a mysterious "opera ghost" who has a habit of causing nasty accidents if his orders are not obeyed. The Phantom is obsessed with the beautiful young soprano, Christine and will stop at nothing to make her a star. She is swept away to the Phantom's lair on a journey that will see her discover his true identity, whilst her aristocratic lover, the dashing Raoul, fights to bring her back from the shadows and release the theatre from the grip of evil.
Music and well known songs in PHANTOM OF THE OPERA
A few of the musical numbers became hit singles for the original stars Michael Crawford and Sarah Brightman when the musical first opened and have since become stand alone favourites. You'll probably have heard the title song and the Phantom's big Number THE MUSIC OF THE NIGHT.
Who are PHANTOM OF THE OPERA's stars and creative team?
The producers tend to base their casting on excellence rather than celebrity so you'll always see immaculate disciplined performances. However the latest Phantom, Killian Donnelly, made a big impression when he starred in the recent West End hits, Kinky Boots and Memphis following TV talent show success.
Quite simply the original creative team were giants of late twentieth century musical theatre, including:
Director: Harold Prince
Prince directed the premiere productions of Cabaret, Sweeney Todd, A Little Night Music, She Loves Me, Company, Follies, Candide, Pacific Overtures, Evita and Parade.
Music, Stoy and Orchestration: Andrew Lloyd Webber
Other musicals include Aspects Of Love, Joseph and the Amazing Technicolor Dreamcoat, Jesus Christ Superstar, Evita and Love Never Dies.
Choreographer: Gillian Lynne
Lyrics: Charles Hart
Lyrics an Script: Richard Stilgoe
Designer: Maria Björnson (1949-2002)
Producer: Cameron Mackintosh
What do LONDON BOX OFFICE customers say about PHANTOM OF THE OPERA?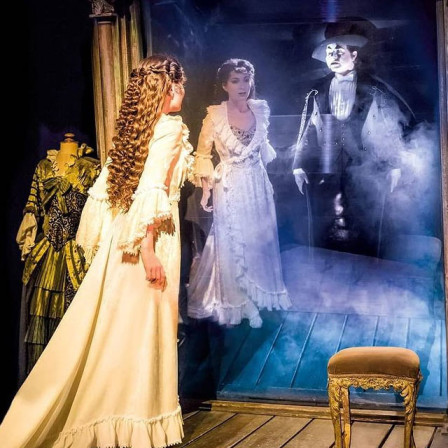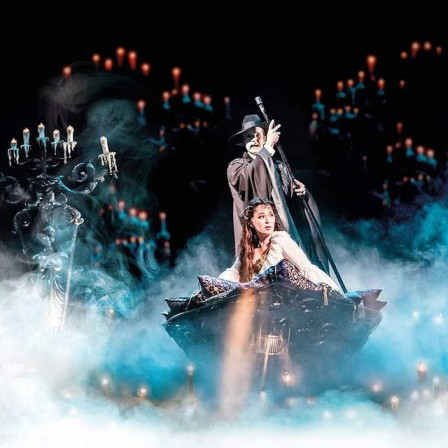 FAQ
When and where can I see PHANTOM OF THE OPERA?
The production will return to its original home HER MAJESTY'S THEATRE from June 5th. It's a beautiful Edwardian theatre that also has the advantage of being relatively small so the production feels more focussed than it would if it were in one of London's bigger spaces. As a result the chills and thrills can really make your spine tingle.
Who is PHANTOM OF THE OPERA for?
This will appeal to you if you love romantic music, gothic spectacular and appreciate first class West End performers, direction, design and composition. Suitable for anyone over the age of 14.
Where is HER MAJESTY'S Theatre?
The full address is Her Majesty's Theatre, Haymarket, St. James's, London SW1Y 4QL
The nearest underground stations are Piccadilly Circus (Piccadilly and Bakerloo lines) and Charing Cross (Northern and Bakerloo lines).
Is there a dress code for PHANTOM OF THE OPERA?
No, dress comfortably and as you would for any public space.
Quick facts about PHANTOM OF THE OPERA
Andrew Lloyd Webber's musical version of The Phantom of the Opera is one of the most successful pieces of entertainment of all time, produced in any media.
To date it has played to over 140 million people in 35 countries.
The box office revenues are higher than any film or stage play in history, including Titanic, ET, Star Wars and Avatar.
There are 130 cast, crew and orchestra members directly involved in each performance plus 230 costumes, 14 dressers, 120 automated cues, 22 scene changes, 281 candles and uses 250 kg of dry ice and 10 fog and smoke machines.
The show has won over 70 major theatre awards including 3 Olivier Awards, an Evening Standard Award, 7 Tony Awards including Best Musical, 7 Drama Desk Awards and 5 Outer Critic Circle Awards.
The original cast recording was the first in British musical history to enter the charts at number one. Album sales now exceed 40 million
On 9 January 2006 the New York production overtook Cats to become the longest running show in Broadway history with its 7,486th On 7 July 2014 it celebrated its 11,000th performance on Broadway.