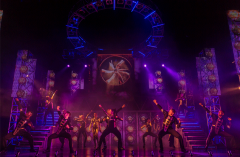 THRILLER LIVE, the long running West End concert/musical celebrating the life and music of Michael Jackson is still one of London's most popular shows and it's about to sail confidently into its tenth year making it the 6th longest running musical currently playing in the West End.
190,000 extra seats have been released for dates right up 7 April 2019 and we're promised extra treats, to be announced, to celebrate Michael Jackson's 60th birthday in August and THRILLER LIVE'S 4,000th West End performance.
The production also announces new cast members for the Apollo Theatre (dancers Leona Lawrenson, Mari Macleod, Matt Vjestica and Vivian Gayle) for what the PRs describe as "A spectacular concert- style show that celebrates Michael Jackson's enduring musical legacy and ground-breaking dance moves".
They go on to remind us "Thriller Live is unlike other West End musicals. There is no script or story, it is instead a eye-popping celebration of Michael Jackson's music and dance legacy, bringing to life on stage his distinctive high-energy dancing and the pulsating sound of many of pop's greatest hits. The show changes each year with new numbers added, and features specially created video footage and effects and dazzling choreography by the show's award-winning director, Gary Lloyd".
The lead vocalists for their tenth year will be Wayne Anthony-Cole, Charlotte Berry, Jason Brock, Vivienne Ekwulugo, Haydon Eshun, Tyrone Henry, John Moabi, Cordell Mosteller, Stefan Sinclair, Florivaldo Mossi who'll be joined by dancers Brett Baxter, Shakara Brown, Peter Cleverley, Ella Coghill, Jamal Crawford, Aisling Duffy (Resident Director) Joel Ekperigin, Jamie Mason, Ashley–Jordon Packer, Ella Redhead, Emma Jane Smith, Sophie Usher, Jorgia Vaughan.
Meanwhile the THRILLER LIVE World Tour continues with dates across the UK, Germany, Poland, Kuwait and Dubai through to summer 2019.
This hit show looks set to run for as long as people cherish the music and memory of Michael Jackson so we can expect it to be providing West End audiences with feel good, undemanding entertainment for a long time to come.
Why not revisit the evergreen hits of pop royalty soon. It's the perfect night out with which to let your hair down and sing and dance a long as first class performers bring everything to fresh and vigorous life.
It's a great way to celebrate a birthday, or for an office night out and you'll be singing the infectiously catch tunes for weeks afterwards and maybe busting out a few of the dance moves at the bus stop.