Quick Facts
Largest Ticket Inventory
in the West End
Real time
seat availability
Choose
your seats
Your booking is processed directly into the box office reservation system
This show is now closed.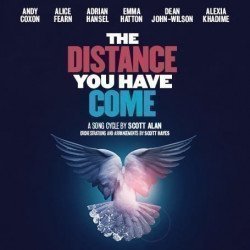 The Distance You Have Come
Tickets
About The Distance You Have Come
The Distance You Have Come description
The Distance You Have Come – A beautiful brand new musical experience
Like so many things, this gorgeous song cycle seems to mean even more in the covid world we're living in, a world that has made everything about life feel more precious. It's on at the Apollo Theatre, and it's set to delight adult audiences with its frank and very lovely exploration of the lives of six people, each of whom is searching for their own unique version of happiness.
What's the plot of The Distance You Have Come?
Each day sees every one of us making a series of decisions. Some are important, others fleeting and small, but together they create the mosaic of life, driving lifer's ever-changing patchwork. On our journeys of self discovery we do our best to juggle life, love and loss. We choose our own pathways and we meet people along the way who change the course of our futures.
This is the world explored by The Distance You Have Come, a song cycle of Scott Alan's best-loved and most highly acclaimed music. The tunes are sung by some of the West End's finest voices, led by Alan himself, the award winning composer and lyricist. Together you'll explore a year in the lives of six people, which intertwine to create all the joy and heartache of the human condition as they search for happiness.
Covering themes that include depression, heartache and love, the show follows the characters' ups and downs in a plot that's both moving and heart-warming, told via the songs' extraordinary lyrics. This is a sparkling new musical that collects Alan's best-loved works together for the very first time, and it's set to be a huge hit.
Who stars in The Distance You Have Come?
The show is produced and presented by Sevans Productions and Krystal Lee, written and directed by Scott Alan. The Orchestrations, arrangements and musical direction is by Scott Morgan and the stellar cast is made up of Andy Coxon, Adrian Hansel, Emma Hatton, Jodie Jacobs, Dean John-Wilson and Alexia Khadime.
Andy Coxon has delighted audiences in Beautiful – The Carole King Musical, and Hair. Adrian Hansel wowed us with his roles in Starlight Express and Hairspray. Emma Hatton has played in Evita and Wicked, and Jodie Jacobs in Rock of Ages and Little Shop of Horrors. We've loved Dean John-Wilson in King and I and Aladdin, and the wonderful Alexia Khadime is a veteran of Wicked, The Lion King, and Book of Mormon.
Who is The Distance You Have Come for?
This show contains adult themes, so isn't suitable for children.
Buy tickets for The Distance You Have Come
When you buy The Distance You Have Come tickets from us, you don't just enjoy great value for money. You also get the chance to choose the seats you love best with our Apollo Theatre seating plan, designed with theatre lovers in mind. Will we see you soon?