32-36 Charing Cross Road, London, WC2H 0DA GB
Quick Facts
Largest Ticket Inventory
in the West End
Real time
seat availability
Choose
your seats
Your booking is processed directly into the box office reservation system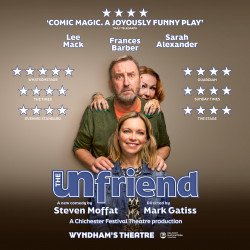 The Unfriend
Tickets
4.8/5
-

based on

21

reviews

from

21

verified reviews
Opens: Saturday, 16 December 2023
Booking until: Saturday, 9 March 2024
Running time: 1h 55m (incl. interval)
Tickets from £25.00
Tickets refunded if your event is cancelled
Real time seat availability
Largest ticket inventory in the West End
Secure online booking
Information
Cheap Tickets
Reviews
News
About The Unfriend Tickets
The Unfriend description
The Unfriend – A new comedy by Stephen Moffat
It began life at Chichester's respected Festival Theatre, where it enjoyed a sold-out run so popular it's moving to London. We're delighted to welcome The Unfriend to the capital, transferring to the Wyndham's Theatre for a strictly limited season. Welcome to yet another brilliant Chichester Festival Theatre production, designed to delight you every step of the way from 16th December to 9th March 2024.
Get The Unfriend theatre tickets from us to experience this riotous dark comedy from the respected writer Steven Moffat, directed by the brilliant Mark Gatiss. Together they make up the award-winning team behind BBC's Sherlock. The cast includes award-winning comedian and actor Lee Mack who will lead the cast as Peter. Joining the cast is Sarah Alexander (Jonathan Creek) as Peter's Wife Debbie and Nick Sampson (Witness for the Prosecution). Frances Barber returns to the play the role of Elsa Jean Krakowski.
What's the plot of The Unfriend?
Peter and Debbie are on holiday celebrating their anniversary. While away on their cruise they make friends with Elsa. She's a lusty, Trump-loving widow from Denver, USA, and while she's far from WOKE, she's also quite wonderful. They agree to stay in touch because that's what the Brits say when we meet new people on holiday.
When, horror of horrors, Elsa actually invites herself for a break at their place, they decide to look her up online and see if there's anything they need to know. Whoops... it's too late but they discover the truth about Elsa Jean Krakowski, and she is deadly dangerous. It might have started life as a casual holiday friendship, now it's a disaster that threatens the lives of their teenaged children. Murder is on the way over the Atlantic – how will the family survive? Peter and Debbie are left to handle the ultimate challenge of the modern world. How on earth do you protect the things you love from deadly peril while remaining polite?
The Unfriend is designed by Robert Jones with lighting by Mark Henderson, sound by Ella Wahlström, video design by Andrzej Goulding, and casting by Charlotte Sutton CDG. The show comes with five stars from What's On Stage plus four stars each from The Daily Telegraph, Sunday Times, The Guardian, The Stage, and The i.
Who is The Unfriend for?
This is an adult black comedy, so please use your judgement when thinking about bringing children.
Buy tickets for The Unfriend
Our website makes buying tickets for The Unfriend super-simple and fast. We'll email your tickets so you can simply present them at the door of the venue on the day.
Useful Information
Opens:


Saturday, 16 December 2023

Booking until:


Saturday, 9 March 2024

Running time:


1h 55m (incl. interval)

Age restrictions

Performance Times
Next Performances for The Unfriend at Wyndham's Theatre
Saturday
16th Dec 2023
7:30pm
Monday
18th Dec 2023
7:30pm
Tuesday
19th Dec 2023
7:30pm
Wednesday
20th Dec 2023
7:30pm
Thursday
21st Dec 2023
7:30pm
Friday
22nd Dec 2023
7:30pm
The Unfriend cheap tickets
We have a great selection of cheap The Unfriend tickets. We can help you save up to 70% on The Unfriend tickets! If you're looking for discount theatre tickets have a look below for our latest offers for The Unfriend at Wyndham's Theatre.
No Booking Fee
PAY NO FEES Valid Monday - Thursday performances 1 January - 8 February 2024. Book by 5 December 2023.
The Unfriend reviews
4.8 out of 5
based on

21

reviews
What to expect:
Acting
Music
Costumes
Story
Lighting
Recommended for:

Anyone (81%)

Families (81%)

Teenagers (81%)

Couples (90%)

Theatregoers (95%)
Latest customer reviews
Great laugh, good evening out.
Reviewed on 11 April 2023 by Joycelyn, Essex, United Kingdom
Very entertaining, a.good night out+
Reviewed on 28 March 2023 by Michael, Bend, United States Of America
Fabulous show in a great setting
Reviewed on 26 March 2023 by Katherine, Ashtead, United Kingdom
Clever nad funny
Good acting, very witty and funny. An enjoyable day/evening out.
Reviewed on 25 March 2023 by Arta, London, United Kingdom
This was the funniest show we have seen in a long time.The acting was sublime. The story was great .We could not stop laughing from beginning to the end.Fantasic.
Reviewed on 24 March 2023 by Denise, Scarborough, United Kingdom
Very funny farce and frenetic
Fast faced and hilarious, great acting
Reviewed on 10 March 2023 by Steven, Hants, United Kingdom
Superb dark comedy
Reviewed on 09 March 2023 by Alistair, Nottingham, United Kingdom
Funny as f
Dark comedy at its best. Clever, clever writing, but you'd expect nothing less. Nicely topical. Brilliantly delivered by fantastic cast. Laughed so much. Would happily go again.
Reviewed on 06 March 2023 by Annette, Tranent, United Kingdom
Belly Chuckling!
Really enjoyed this show, laughed out loud throughout - will appeal to all theatregoers - and teenagers would enjoy it too!
Reviewed on 03 March 2023 by Phillip, Romford, United Kingdom
Absolutely brilliant
Very funny. Great characters and script. Really good storyline and twists. Right out of the No 9 stable and that's a very high bar. Loved it
Reviewed on 26 February 2023 by Gary, Whitstable, United Kingdom
Funny as hell ?
Reviewed on 24 February 2023 by Eveli, Kangru, Estonia
Unfriend- funny goings on at Number 9
A comedy that makes you chuckle - especially if you're a parent of a teenager- and doesn't resort to cheap laughs through language or sex!
Reviewed on 23 February 2023 by Steve, Bury Saint Edmunds, United Kingdom
Great show
Reviewed on 17 February 2023 by Jenny-marie, Maidstone, United Kingdom
Dated
Dated humour. More suitable for a summer reportary seaside theatre show than West End London.
Reviewed on 16 February 2023 by Bridie, Chiswick, United Kingdom
Witty funny
Very pleasant evening! The plot is witty, the set is well designed, the cast is really good,... A very nice play indeed
Reviewed on 15 February 2023 by Jordael, Caudan, France
Funny & unexpected
A fun, engaging afternoon
Reviewed on 04 February 2023 by Jenna, Biggleswade, United Kingdom
Funny, good story
The play is very amusing, well written and entertaining. A lovely evening out, would definitely recommend
Reviewed on 24 January 2023 by Cynthia, Rickmansworth, United Kingdom
Classic silly sit com
Reviewed on 21 January 2023 by Lynn, Milton Keynes, United Kingdom
Enjoyable show. Well written, well acted and very funny.
Reviewed on 18 January 2023 by Asha, London, United Kingdom