Belvedere Road, London, SE1 7PB GB
Quick Facts
Largest Ticket Inventory
in the West End
Real time
seat availability
Choose
your seats
Your booking is processed directly into the box office reservation system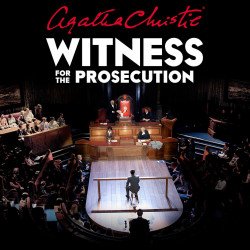 Witness for the Prosecution by Agatha Christie
Tickets
4.7/5
-

based on

136

reviews
Booking until: Sunday, 25 September 2022
Running time: 2 hours 15 minutes
Tickets from £14.00
Book tickets
Information
Cheap Tickets
Reviews
News
About Witness for the Prosecution by Agatha Christie
Performance Times
Booking until: Sunday, 25 September 2022
Running time: 2 hours 15 minutes
Witness for the Prosecution by Agatha Christie description
There's nothing quite like the magnificent London County Hall for drama, the ideal venue for an Agatha Christie crime story that has never lost its popularity. Welcome to Christie's gripping story of justice, betrayal and passion, Witness for the Prosecution, played out in a remarkable courtroom-like setting that adds extra sizzle to this already sizzling sausage of a murder mystery.
The Witness for the Prosecution began life as a short story called Traitor's Hands, published in a cheap weekly story magazine called Flynn's in 1925. 1933 saw the tale published in book form for the first time as Witness for the Prosecution, in a collection called The Hound of Death.
What's the plot? Leonard Vole is arrested for the murder of Emily French, his wealthy older lover. French wasn't aware he was married, and made him her heir. When she dies in suspicious circumstances Vole's wife, Romaine, testifies as a witness for the prosecution, as part of a complex plan to get her husband freed. But circumstances ultimately reveal how Vole did actually kill French. Vole's mistress, who only turns up at the end of the play, is about to be arrested for perjury along with Vole, when Romaine grabs a knife and... well, you'll have to come along and see what happens.
This is a landmark stage production and London County Hall, on the South Bank, is the perfect venue. Designed by architect Ralph Knott, it was under construction for 11 years before being opened by King George V and Queen Mary in 1922. It was the HQ of the city's local government for many years, including the infamous GLC, and its unique octagonal chamber and four galleries overlooking it create an incredibly atmospheric setting for the action.
The Daily Mail calls it "Criminally good" and says "The queen of cunning has been brilliantly served". The Arts Desk calls it a delight, confessing to being guilty of a good night out. We're all set for a show that entertains, amuses and unsettles in the exact way Christie intended.
Who is this show for?
This is a complicated crime drama, with admission restricted to people aged five and older. Children under five won't be admitted.
Age restrictions
Parental guidance. Babes in arms are not permitted.
Important Information
Latecomers may not be admitted.
Please note - Gallery Seats are not suitable for those who have difficulties climbing stairs are Vertigo sufferers. Row A has narrow access to seats.
There is no cloakroom at this venue; bags that do not fit comfortably under a single seat will not be permitted.
Next Performances for Witness for the Prosecution by Agatha Christie at London County Hall
tomorrow
29th Jun 2022
7:30pm
Thursday
30th Jun 2022
2:30pm
Thursday
30th Jun 2022
7:30pm
Friday
1st Jul 2022
7:30pm
Saturday
2nd Jul 2022
2:30pm
Saturday
2nd Jul 2022
7:30pm
Witness for the Prosecution by Agatha Christie cheap tickets
We have a great selection of cheap Witness for the Prosecution by Agatha Christie tickets. We can help you save up to 70% on Witness for the Prosecution by Agatha Christie tickets! If you're looking for discount theatre tickets have a look below for our latest offers for Witness for the Prosecution by Agatha Christie at London County Hall.
There are no special offers available at the moment but we still have great ticket prices for Witness for the Prosecution by Agatha Christie at London County Hall.
Witness for the Prosecution by Agatha Christie reviews
4.7 out of 5
based on

136

reviews
What to expect:
Acting
Music
Costumes
Story
Lighting
Recommended for:
Anyone (65%)
Families (71%)
Teenagers (73%)
Couples (90%)
Theatregoers (95%)
Latest customer reviews

Suspense is what I got
Reviewed on 15 June 2022 by Hoi Man, Hong Kong, Hong Kong

Very realist courtroom drama
Gripping story and well performed in a life like stage
Reviewed on 11 June 2022 by Ron, Coleraine, United Kingdom

A good thriller
I enjoyed the show adapted from Agatha Christie's novel. Full of suspense and never expected the outcome at the conclusion.
Reviewed on 14 May 2022 by Siew, Oxted, United Kingdom

Agatha Christie at her best with a final twist you won't see coming
Great acting in a fabulous setting, where you feel like you're part of the action. And if you're chosen as one of the jury, then you ARE part of it.
Reviewed on 13 May 2022 by Janette, Brisbane, Australia

Wonderful acting, great court ambience
It felt so real sitting in the court next to the defense attorney. The actırs were all so talented. Qonderful experience
Reviewed on 12 May 2022 by Gokce, Warsaw, Poland

Impressive
Reviewed on 24 April 2022 by Balla, London, United Kingdom

Wotp
A splendid way to be spend a Saturday afternoon
Reviewed on 06 February 2022 by Jane, Essex, United Kingdom

Dramatic and absorbing
Reviewed on 17 December 2021 by Peter, Hornchurch, United Kingdom

Excellent show!!!
A fantastic show with amazing acting. We absolutely loved this theater and show. Would highly recommend it.
Reviewed on 28 November 2021 by William, Böblingen, Germany

Amazing performance. Excellent seats. Got goosebumps at the end a fantastic play, highly recommended not just for Agatha Christie fans. The cast brought the whole court scene to life brilliant!!!!
Reviewed on 04 November 2021 by Joanne, Listowel, Ireland

Captivating
The show was captivating from beginning to end. The actors were magnificent. I thoroughly enjoyed the play and would definitely recommend going to see it.
Reviewed on 30 October 2021 by Keenan, Montrose, United Kingdom

Nice play
Reviewed on 26 September 2021 by Alan, London, United Kingdom

A good play with many twists and turns
Reviewed on 19 September 2021 by Donna, Lewes, United Kingdom

Entertaining show!
Great performance. Enjoyed the show, talented cast! Would recommend
Reviewed on 18 September 2021 by Ania, Bristol, United Kingdom

A must see
Brilliant show and an amazing set. Well done everyone
Reviewed on 11 March 2020 by Zoe, Wivenhoe, United Kingdom

Atmospheric
Excellent all round experience. Keeps you guessing right to the end.
Reviewed on 07 March 2020 by Lilian, Leyland, United Kingdom

So good!
Reviewed on 03 March 2020 by Nadia, Hamburg, United States Of America

Wow
Reviewed on 03 March 2020 by Nadia, Hamburg, United States Of America

intrigueing
The show was captivating,sometimes funny,A must see. kept you thinking and on the edge of your seat.Makes a great focal talking point.
Reviewed on 01 March 2020 by Martin, Manchester, United Kingdom

Feel the thrill of being part of a real court room drama !
Superb ! Inside London's County Hall lies a time capsule theatre. The building evokes the splendour and grandeur of the 1920's and 1930's. It provides the perfect backdrop and prelude to a wonderfully acted court room drama. A totally immersing experience, with a wonderful twist ! You'll be guessing all the way through !Highly recommended !
Reviewed on 29 February 2020 by Fiona, Basingstoke, United Kingdom

Brilliant
Very clever. Great venue and performances.
Reviewed on 25 February 2020 by Neil, London, United Kingdom

evocative and gripping
A very exciting and interesting production. Perfect for the courtroom.
Reviewed on 20 February 2020 by Phil, Bristol, United Kingdom

A Captivating Experience
I don't think any play will ever be better in my eyes than The Mousetrap, but this is definitely one of the best and unique theatre experiences I've ever had. The actors were all effortlessly on point, and the story was carried with great respect worthy of an Agatha Christie work. There's a sense of graveness from the opening scene. It isn't right to compare it with the more famous Mousetrap because they are two different kinds of experience, I enjoyed both for different reasons, but you still have to keep the secret of the ending!
Reviewed on 18 January 2020 by Greer, Kilsyth, United Kingdom

Great play! A must watch!
Great show but if you're sitting upstairs it's a bit tough to understand the dialogues especially if the actors are facing the other way - would have see it if only a place was available on the same level as the stage if I had known. So book the right seats to enjoy the play better! Well acted and full of suspense if you haven't read the book!
Reviewed on 09 January 2020 by Ranjan, London, United Kingdom

Perfect entertainment if you like murder mystery plots
Suspence and twists all along Highly entertaining Kept us talking for hours afterwards
Reviewed on 30 December 2019 by Cristina, St Albans, United Kingdom

Great whodunnit
Great performance everyone was sat on edge of seat until the end! Great the jury is members of the public so ending could be different on different nights
Reviewed on 19 November 2019 by Pamela, Yeovil, United Kingdom

very enjoable and surprizing
Reviewed on 18 November 2019 by Rachel, Amikam, Israel

Brilliant, very convincing actors, superb setting
Reviewed on 14 November 2019 by Jan, Folkestone, United Kingdom

Great story, well acted (with twists!)
Reviewed on 10 November 2019 by Andy, East Molesey, United Kingdom

great atmosphere with court room theme
cast were brillant and we enjoyed the perfromance
Reviewed on 04 November 2019 by Debbie, Ashford Kent, United Kingdom

Must see
Would have been helpful if we had known that the stalls had a limited view. Otherwise we enjoyed it very much.
Reviewed on 20 October 2019 by Robert, Ellesmere Port, United Kingdom

Compelling!
Reviewed on 09 October 2019 by Fabio, Beckenham, United Kingdom

Poor venue acoustics
I am slightly hearing impaired, however even someone with canine hearing would trouble following the dialog of this production. If the cast was all miked, the tech staff are at fault. If not, most of the primary cast should improve their voice projection and enunciation.
Reviewed on 25 September 2019 by Joel, Palm City, United States Of America

FABULOUS PLAY
Excellent show ; thoroughly enjoyable . Great cast . The venue of County Hall was perfect .
Reviewed on 21 September 2019 by Helen, Bromley, United Kingdom

Great show, a must watch
Reviewed on 20 September 2019 by Jacob, Devon Park, Australia

Courtroom drama!
A perfect setting for this excellent courtroom drama, which could be a genuine re-enactment!
Reviewed on 14 September 2019 by Stuart, Southampton, United Kingdom

Boring
Reviewed on 08 September 2019 by Cathy, Finchampstead, United Kingdom

A realistic trial on stage
Didn't think an Agatha Christie whodunnit could be brought to the stage. I was wrong. Brilliant production for our entire party ranging in age from 76 years to 14. Go see it you won't be disappointed.
Reviewed on 03 September 2019 by Aine, Camberley, United Kingdom

The actor charged with murder was a bit wooden initially but warmed up. Barristers and femme fatale were the stars of the show.
Reviewed on 26 August 2019 by Josephine, Birmingham, United Kingdom

Creative- a must see
Wonderful and creative show. The direction was excellent and kept a court room drama exciting and gripping. The acting, costumes and lighting were wonderful and it was performed in an ideal setting, which made you feel like you were in a courtroom yourself.
Reviewed on 23 August 2019 by Heather, Putney, United Kingdom

Two criticisms: i) The "hubbub" sound effects were good, as they ended when the acting began, but other sound effects and music were imposed on top of the acting. The idea was to contribute to the atmosphere, but the result was very distracting. ii) The African actors/extras were out of place, and "took me out" of the scene and period. If the play was about Zulus, it would be a joke to use English or Japanese actors. Using black people to play white people is just as tedious!
Reviewed on 09 August 2019 by John, Ash Vale, United Kingdom

Hugely atmospheric
Great venue for a murder mystery that relied on the twists and turns of the legal system for a resolution.
Reviewed on 05 August 2019 by Susan, London, United Kingdom

top show
Reviewed on 30 July 2019 by Ian, Dudley, Australia

Enjoyable
Reviewed on 21 July 2019 by Nick, Gloucestershire, United Kingdom

Just Brilliant
Hi one suggestion, I had taken pretty expensive seats, that is the forst seat A4, but honestly the view/experience from that seat wasn't good. Please either not assign these seata to anymore or charge way less for them
Reviewed on 12 July 2019 by Prachetas, Pandara Road, India

True drama
The action takes place in real court. That is awesome!
Reviewed on 15 June 2019 by Anna, Moscow, Russian Federation

A great reconstruction of the film from way back when!
Very well done show. Seating was excellent - most comfortable. A pity they sold food during the intermission as then some people crunched through the second half.
Reviewed on 06 June 2019 by Barbara, Incline Vlg, United States Of America

Classic Agatha Christie in a fabulous interpretation
Reviewed on 05 June 2019 by Maja, Warszawa, Poland

Good plot two unexpected twists enjoyable evening
Reviewed on 03 June 2019 by Marilyn, Tempe, Australia

Excellent plot and interesting play
Excellent acting by the Lawyer for Defence
Reviewed on 26 May 2019 by Connie, Singapore, Singapore

Absorbing
Reviewed on 19 May 2019 by Susan, London, United Kingdom

An excellent setting for a courtroom drama. Bags of atmosphere!
This was a gripping play. The venue was just right for the story. If you have any mobility issues definitely stick with stalls. The upstairs galleries are steep and narrow to get to.
Reviewed on 18 May 2019 by Yvonne, London, United Kingdom

all was great - just the part of Mrs Vole: she's an outstanding actress, but really really has to work on her German accent: it wasn't German at all - German is my first language & grew up bilingual with English. She sounded eastern europeen e.g. polish or croatian or so. She's such a good actress, if she puts her mind to it she will improve it very quickly
Reviewed on 05 May 2019 by Beatrice, Zürich, Switzerland

A must see
Reviewed on 03 May 2019 by Christopher, St. Columb Major, United Kingdom

Great play, great venue, great entertainment
Reviewed on 12 April 2019 by Yvonne, Grantham, United Kingdom

Amazing Acting!
Reviewed on 04 April 2019 by Christelle, London, United Kingdom

Well worth seeing
Typically Agatha Christie - so very written. Performance was excellent although hearing the actors was a little difficult at times. Staging was 10 out of 10, the venue added to the staging. Balcony seats were very uncomfortable, a cushion would fix that though. All in all, well worth it.
Reviewed on 29 March 2019 by Angela, Churchill, Australia

Excellent production
Reviewed on 24 March 2019 by Ian, Stoke-on-trent, United Kingdom

Need some time before getting used to the British accent
When it says the seat had restricted view, it's true
Reviewed on 02 March 2019 by Liya, Amstelveen, Netherlands

Great
Reviewed on 28 February 2019 by Debbie, Crewe, United Kingdom

Amazing
Fantastic atmospheric show, feels like it's completely real. Great historic setting. Not many seats in bar area. Other than that, best show in town
Reviewed on 23 February 2019 by Valerie, Croft, United Kingdom

Compelling
Reviewed on 21 February 2019 by Gillian, Preston, United Kingdom

Excellent acting
Reviewed on 20 February 2019 by Katarina, Fuerth, Germany

A fabulous production.
Great show....in true Christie fashion, a twist at the end. I thoroughly enjoyed it. Great setting for this play. I was in seat C43 gallery. I couldn't see the witness box. But not a problem as sound was good. My seat was only £14.50. Absolutely no complaints! I lost my scarf.....someone handed it in. So a great day all round ?
Reviewed on 10 February 2019 by Sandra, Glasgow, United Kingdom

Brilliant. An enthralling performance. Must see.
Reviewed on 10 February 2019 by Mike, Sturminster Newton, United Kingdom

Awesome show
It's was an awesome show, great acting, smooth stage management and set changes. Really great.
Reviewed on 01 February 2019 by Gemma, White British, United Kingdom

Recommend to watch show just to see difference from the film
The setting and set changes were good but the play had to many modern touches which wouldn't be around in the forties or fifties when this play (book) was first written. Also to many comedic moments. After all, it is about a murder.
Reviewed on 14 January 2019 by Denise, Wallington, United Kingdom

A must see for every mystery-lovers
I read the book a long time ago, so I had a general knowledge of the plot, but even with that I had a few surprises! The actors were all very good, the stage is strickingly on point, ant to top it all, very comfy! Worth every penny!
Reviewed on 26 December 2018 by Violette, Ganshoren, Belgium

Brilliant
Lovely venue - perfect for courtroom drama and comfy seats (stalls) and airy atmosphere. Excellent acting, engaging plot and brilliant twist at the end. The only slight annoyance was Vole's wife's accent which veered from South African to Indian despite her being portrayed as German but a minor point in an otherwise excellent performance by all the actors.
Reviewed on 20 December 2018 by Anne, Oxford, United Kingdom

The acting was excellent. By the interval there were at least 3 ideas forming about what the ending might be so plenty to discuss. Scene changes were excellent too and very quickly done.
Reviewed on 03 December 2018 by Ann, Rickmansworth, United Kingdom

Don't miss this wonderful show!
Fantastic script, wonderful acting, amazing location.
Reviewed on 30 November 2018 by Peter, Mold, United Kingdom

Fitting the play into a "real, old" room and having the stage integrated in the audince was an interesting experience. Well done.
Reviewed on 21 November 2018 by Simone, Zurich, Switzerland

Full of Suspense and twists
Reviewed on 12 November 2018 by Howard, Johannesburg, South Africa

Perfect
Reviewed on 08 November 2018 by Cristian, London, United Kingdom

Good, although we had restricted view and there are pillars but we could see most of the show. Given this is a courtroom drama it's more about the dialogue anyway so it didn't spoil it. Some of the speech was very quiet so could do with better audio. However would recommend, was worth the money (cheap seats!).
Reviewed on 07 October 2018 by Christine, Blackburn, United Kingdom

excellent
Very good show with a twist at the end. Excellent acting and stage effects. Picked up speed all the way through not a boring moment. Good atmosphere changes in every scene. Altogether a good time had.
Reviewed on 24 August 2018 by Amirthakala, Croydon, United Kingdom

Enthralling with a twist(if you hadn't seen the movie)
Courtroom drama with a twist.The LCC building is iconic for those of a certain age,seating in gallery was restricted view but did not ruin entertainment,would recommend to all that like a whodunnit.
Reviewed on 10 August 2018 by Peter, Belfast, United Kingdom

A classic masterpiece!
It's Agatha Christie at her finest and that says it all. The theatre set-up is very fortunate as the seats are laid out as they would be in a real courtroom. The actors would enter from between the audience's seats and that integrates the spectators into the sow. Nice touch with the jury!
Reviewed on 25 July 2018 by Alina, Birmingham, United Kingdom

Europe 2028
Well organised theatre staff, great location and great script and cast. Thank
Reviewed on 22 July 2018 by Jennifer, Rosebud, Australia

Wonderful story beautifully acted
The set was excellent and really drew you into the thrilling story. The acting was excellent and the stage management a joy to watch
Reviewed on 22 July 2018 by Philip, Brighton, United Kingdom

It is must see if in London!
Loved the show, loved being able to take drinks from the bar into the theatre, and loved the ability to pre-order drinks for the break. Only one complaint- it was HOT and humid. No ventilation. Loved watching the great performance, but had to wipe sweat out of my eyes a lot.
Reviewed on 21 July 2018 by Gerald, Amarillo, United States

Must see!
Totally captivated from start to finish in this fine, fine production. I think Agatha Christie herself would have delighted in the setting. Loved being part of the court proceedings which was achieved by actors very skillfully addressing and including the audience from time to time. Am recommending to friends and family as a definite must see!
Reviewed on 19 July 2018 by Karen, Arbroath, United Kingdom

Really different and a great theatre experience
This was a very different production and was set up dramatically from the start. Really, really entertaining. I would definitely recommend
Reviewed on 11 June 2018 by Carol, Romsey, United Kingdom

First Class
I like not to think while watching Agatha Christie stories. I just let the pieces of new information flow fluently completing the whole picture of puzzle. This show was exactly like that. Fluent, interesting, no weak places. The story kept my attention 100% from the begining to the end over two hours. The story had twists in it so that I ended up with my mouth open. Watching Agatha Christie stories (played by professionals) can never be a disappointment.
Reviewed on 31 May 2018 by Mario, Jaklovce, Slovak Republic

Good Show
Reviewed on 18 May 2018 by Chris, Reading, United Kingdom

Outstanding show
As a proven theatre goer this was something very different. Acting and storyline were fantastic. Beautiful setting and building. Would recommend to all without hesitation.
Reviewed on 18 May 2018 by Keith, Stevenage, United Kingdom

loved the show. the acting was superb. definitely one to recommend . storyline great
Reviewed on 09 May 2018 by Mark, Coolangatta, Australia

Fantastic show!
Loved this play! The characters were so believable in looks and demeanour,
Reviewed on 21 April 2018 by Lynne, Brampton, United Kingdom

Loved it
A great play with very talented cast. Interesting theatre. Had a great evening.
Reviewed on 23 March 2018 by Robin, Incline Village, United States

My experience of the show was ruined by the obstructed view from the gallery.
Reviewed on 03 March 2018 by Duncan, New Plymouth, New Zealand

compelling
Reviewed on 15 January 2018 by Gabriel, Earlysville, United States

Excellent play
Excellent play, fantastic setting County Hall was ideal as it had a real courtroom and added to the atmosphere.
Reviewed on 08 January 2018 by Moira, Cork, Ireland

Innovative setting for a popular play
The Actor who played Leonard Vole was a bit weak, and at times inaudible. Christine Vole's acting was a bit over the top. Otherwise a pleasant enough play, good use of the County Hall Chamber as a setting. Not a good idea to sit in the gallery any further back the row B, you're unlikely to see much of the action.
Reviewed on 05 January 2018 by Penelope, Rickmansworth, United Kingdom

Excellent Drama at excellent venue
Reviewed on 04 January 2018 by Anna, Northwood, United Kingdom

Fantastic setting, brilliant plot, great script
A once in a lifetime opportunity to see such a good show in this great setti g
Reviewed on 10 December 2017 by Donagh, Galwaay, Ireland

Superb evening of entertainment
Reviewed on 03 December 2017 by Syed, Battle, United Kingdom

Brilliant plot
Perfect setting for this courtroom drama. All actors brilliant with faultless delivery of this tremendous Agatha Christie plot. If you go to this show try to get seats opposite the judge's chair for best view of all the action.
Reviewed on 26 November 2017 by Alban, Alford, United Kingdom

Definitely see
Excellent all round show. Brilliantly performed and setting in court great. Lovely building for the show to take place.
Reviewed on 26 November 2017 by Patricia, St Neots, United Kingdom
03

May
2022
Review: WITNESS FOR THE PROSECUTION at London County Hall
by Miriam Gibson | Tuesday, May 3 2022, 23:40
Got friends or relatives visiting you in London? Perhaps you're on holiday here yourself? I highly recommend Witness For The Prosecution for visitors to London.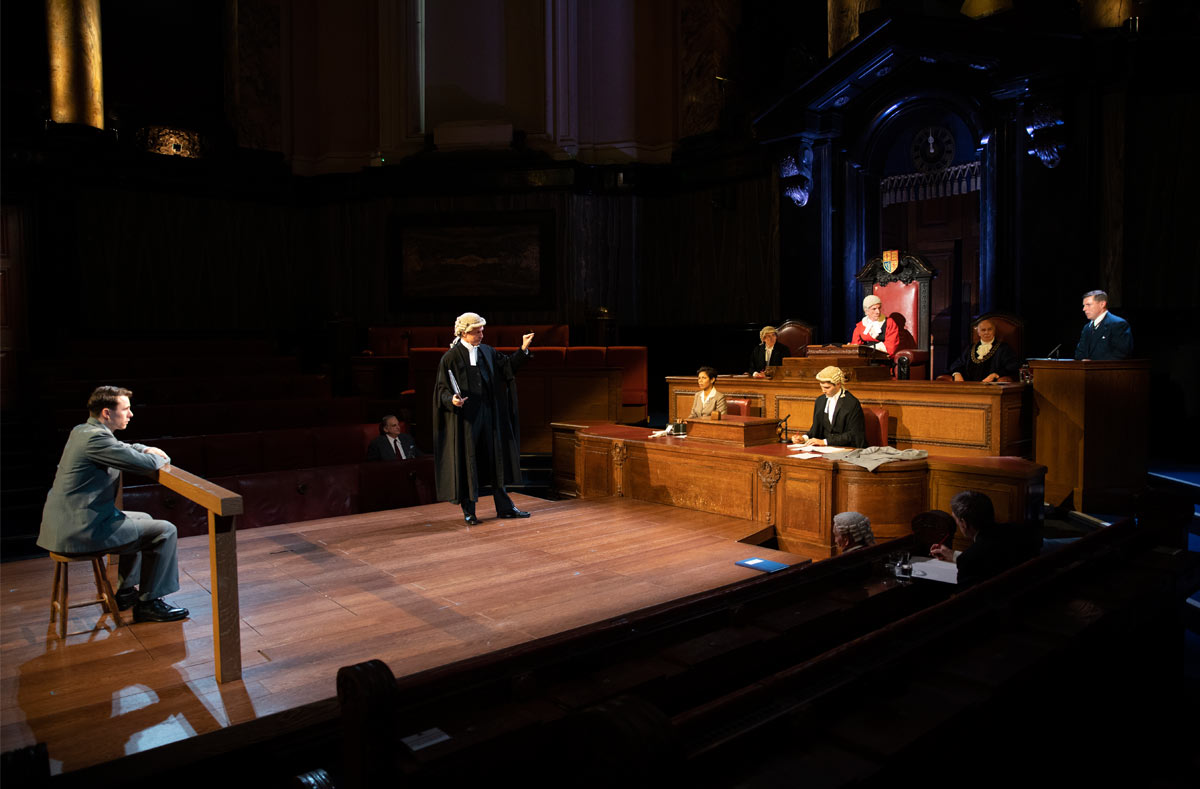 Witness for the Prosecution - Photo by Ellie Kurttz.
Review: WITNESS FOR THE PROSECUTION at London County Hall
16

May
2019

Review: WITNESS FOR THE PROSECUTION at County Hall
by Stuart King | Thursday, May 16 2019, 11:48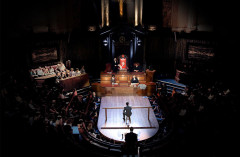 As a youngster, I once experienced the sheer delight of catching a rare television screening of Charles Laughton's turn as Sir Wilfred Robarts - the wily, over-confident defence barrister - in Billy Wilder's definitive 1958 film version.
Review: WITNESS FOR THE PROSECUTION at County Hall
11

Apr
2019

Review: WITNESS FOR THE PROSECUTION at London County Hall
by Phil Willmott | Thursday, April 11 2019, 12:38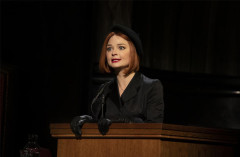 What a brilliant idea director Lucy Bailey and designer William Dudley have had. Simply and cleverly staged in the round this production of Agatha Christie's vintage courtroom drama makes perfect use of the abandoned council chamber in County Hall.
Review: WITNESS FOR THE PROSECUTION at London County Hall