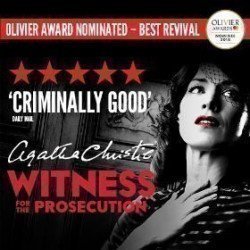 Witness for the Prosecution by Agatha Christie
Tickets
London County Hall
Booking until: Sunday, 31 March 2019
Running time: 2 hours 15 minutes
Book

tickets
Press Reviews
Criminally Good Daily Mail
A palatial interior fit for the Queen of crime The Daily Telegraph
The Perfect Setting. A deliciously enjoyable revival Time Out
Christie's courtroom drama in the grand chamber at County Hall entertains, amuses and unsettles The Daily Telegraph
Agatha Christie's ingenious courtroom drama fits perfectly in County Hall The Guardian
The setting, the playing, the plotting keep you guessing happily throughout The Times
Customer Reviews
What to expect:
Acting
Music
Costumes
Story
Lighting
Recommended for:
Anyone
Families
Teenagers
Couples
Theatregoers
based on 31 reviews
Good, although we had restricted view and there are pillars but we could see most of the show. Given this is a courtroom drama it's more about the dialogue anyway so it didn't spoil it. Some of the speech was very quiet so could do with better audio. However would recommend, was worth the money (cheap seats!).
Christine London Box Office customer
excellent
Very good show with a twist at the end. Excellent acting and stage effects. Picked up speed all the way through not a boring moment. Good atmosphere changes in every scene. Altogether a good time had.
Amirthakala London Box Office customer
Enthralling with a twist(if you hadn't seen the movie)
Courtroom drama with a twist.The LCC building is iconic for those of a certain age,seating in gallery was restricted view but did not ruin entertainment,would recommend to all that like a whodunnit.
peter London Box Office customer
A classic masterpiece!
It's Agatha Christie at her finest and that says it all. The theatre set-up is very fortunate as the seats are laid out as they would be in a real courtroom. The actors would enter from between the audience's seats and that integrates the spectators into the sow. Nice touch with the jury!
Alina London Box Office customer
Europe 2028
Well organised theatre staff, great location and great script and cast. Thank
jennifer London Box Office customer
Wonderful story beautifully acted
The set was excellent and really drew you into the thrilling story. The acting was excellent and the stage management a joy to watch
Philip London Box Office customer
It is must see if in London!
Loved the show, loved being able to take drinks from the bar into the theatre, and loved the ability to pre-order drinks for the break. Only one complaint- it was HOT and humid. No ventilation. Loved watching the great performance, but had to wipe sweat out of my eyes a lot.
Gerald London Box Office customer
Must see!
Totally captivated from start to finish in this fine, fine production. I think Agatha Christie herself would have delighted in the setting. Loved being part of the court proceedings which was achieved by actors very skillfully addressing and including the audience from time to time. Am recommending to friends and family as a definite must see!
Karen London Box Office customer
Really different and a great theatre experience
This was a very different production and was set up dramatically from the start. Really, really entertaining. I would definitely recommend
Carol London Box Office customer
First Class
I like not to think while watching Agatha Christie stories. I just let the pieces of new information flow fluently completing the whole picture of puzzle. This show was exactly like that. Fluent, interesting, no weak places. The story kept my attention 100% from the begining to the end over two hours. The story had twists in it so that I ended up with my mouth open. Watching Agatha Christie stories (played by professionals) can never be a disappointment.
Mario London Box Office customer
Good Show
Chris London Box Office customer
Outstanding show
As a proven theatre goer this was something very different. Acting and storyline were fantastic. Beautiful setting and building. Would recommend to all without hesitation.
Keith London Box Office customer
loved the show. the acting was superb. definitely one to recommend . storyline great
Mark London Box Office customer
Fantastic show!
Loved this play! The characters were so believable in looks and demeanour,
Lynne London Box Office customer
Loved it
A great play with very talented cast. Interesting theatre. Had a great evening.
Robin London Box Office customer
My experience of the show was ruined by the obstructed view from the gallery.
duncan London Box Office customer
compelling
Gabriel London Box Office customer
Excellent play
Excellent play, fantastic setting County Hall was ideal as it had a real courtroom and added to the atmosphere.
Moira London Box Office customer
Innovative setting for a popular play
The Actor who played Leonard Vole was a bit weak, and at times inaudible. Christine Vole's acting was a bit over the top. Otherwise a pleasant enough play, good use of the County Hall Chamber as a setting. Not a good idea to sit in the gallery any further back the row B, you're unlikely to see much of the action.
Penelope London Box Office customer
Excellent Drama at excellent venue
Anna London Box Office customer
Fantastic setting, brilliant plot, great script
A once in a lifetime opportunity to see such a good show in this great setti g
donagh London Box Office customer
Superb evening of entertainment
Syed London Box Office customer
Brilliant plot
Perfect setting for this courtroom drama. All actors brilliant with faultless delivery of this tremendous Agatha Christie plot. If you go to this show try to get seats opposite the judge's chair for best view of all the action.
Alban London Box Office customer
Definitely see
Excellent all round show. Brilliantly performed and setting in court great. Lovely building for the show to take place.
Patricia London Box Office customer
Use the search box at the top left of this page to search for Witness for the Prosecution by Agatha Christie tickets availability.
Quick Facts
Largest Ticket Inventory in the West End
Real time seat availability
Your booking is processed directly into the box office reservation system
Collect your tickets from the theatre for free or get them posted to your address.

Theatre Address
London County Hall
Belvedere Road, London, SE1 7PB GB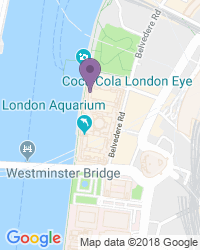 Next Performances