Quick Facts
Largest Ticket Inventory
in the West End
Real time
seat availability
Choose
your seats
Your booking is processed directly into the box office reservation system
This show is now closed.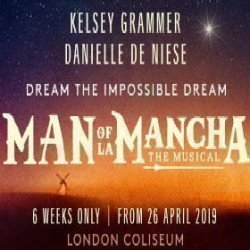 Man of La Mancha
Tickets
4.6/5
-

based on

39

reviews
Starring: Danielle De Niese, Kelsey Grammer
Information
Cheap Tickets
Reviews
News
About Man of La Mancha
Performance Times
Starring:
Danielle De Niese, Kelsey Grammer
Man of La Mancha description
Man of La Mancha – The classic 1965 musical
Man of La Mancha is a classic musical dating back to 1965, inspired by Wasserman's 1959 teleplay, which was in turn inspired by the all-time classic 17th century novel Don Quixote, by Miguel de Cervantes. If Cervantes had known, back in the 1600s, that his story would resonate so powerfully down the ages, he'd be thrilled. And 21st century audiences are about to be thrilled all over again by this ancient, delightfully eccentric, always-relevant story.
Meet the mad old knight Don Quixote, whose story is told by Cervantes to a group of fellow prisoners while they're waiting to be judged by the Spanish Inquisition. The show is packed with magical tunes including The Impossible Dream, so popular it has a place in the American lexicon, known and loved far and wide.
The original 1965 Broadway production ran for more than 2,300 performances and achieved an impressive five Tony Awards including Best Musical. It has been revived on Broadway four times so far. It has made friends and influenced audiences across the world, with foreign language productions in a vast range of languages and dialects including Dutch, French, Hebrew, Irish, Korean, Icelandic, Bengali, Gujarati and Uzbek, as well as nine separate Spanish dialects.
The musical's many show tunes include Man of La Mancha, Food, Wine, Aldonza!, It's All the Same, Dulcinea, I'm Only Thinking of Him, We're Only Thinking of Him, and The Missive, and they're just the tip of the iceberg. This time around it's English National Opera who are bringing the musical to the London Coliseum. It stars Cheers' Kelsey Grammer and the brilliant Australian opera singer Danielle De Niese. And it's on for a limited 6 week run.
Grammer enjoyed his West End London stage debut in 2017, in Big Fish. His first Broadway musical was a dazzling revival of La Cage aux Folles, for which he was nominated for a Tony Award. He also created the roles of Charles Frohman and Captain Hook in Broadway's Finding Neverland.
Danielle De Niese has been singing since childhood, when at nine she won an Aussie TV talent competition Young Talent Time. 2005 saw her playing Cleopatra in a production of Guilio Cesare at Glyndebourne, and since then her voice has taken her around the world. This fantastic production is directed by Lonny Price, of Lady Day at Emerson's Bar and Grill fame.
Who is this show for?
This show is recommended for people aged 13 and over.
Man of La Mancha cheap tickets
We have a great selection of cheap Man of La Mancha tickets. We can help you save up to 70% on Man of La Mancha tickets! If you're looking for discount theatre tickets have a look below for our latest offers for Man of La Mancha at the London Coliseum.
There are no special offers available at the moment but we still have great ticket prices for Man of La Mancha at the London Coliseum.
Man of La Mancha reviews
4.6 out of 5
based on

39

reviews
What to expect:
Acting
Music
Costumes
Story
Lighting
Recommended for:
Anyone (59%)
Families (64%)
Teenagers (62%)
Couples (79%)
Theatregoers (95%)
Latest customer reviews

Incredible
Reviewed on 10 June 2019 by Catrona, Stevenage, United Kingdom

Incredible performance
Reviewed on 08 June 2019 by Gerg, London, United Kingdom

Superlative Performance
Just fabulous! Witty yet emotional. Standing ovation much deserved. Kelsey was outstanding. We loved every minute!
Reviewed on 08 June 2019 by Charlotte, St Peter Port, Guernsey, United Kingdom

Man of La Mancha Merits a View!
Reviewed on 06 June 2019 by David, Worthing, United Kingdom

Interesting
Enjoyed the show but the lead actors singing was outshone by the chorus and Nicholas Lyndhurst was just Rodney! I felt others in the audience were there to see their idols I go to see a SHOW!
Reviewed on 02 June 2019 by Pat, Cheltenham, United Kingdom

creative and good acting
excellent Danielle de Niese
Reviewed on 01 June 2019 by Alejandro, Barcelona, Spain

Great cast and wonderful music!
Reviewed on 01 June 2019 by Diana, Anglemont, British Columbia, Canada, Canada

Terrible do not waste your money. Every aspect was sub standard.
This show needs to be taken off. The set, sound, costumes, presentation is a complete flop. My family all walked out at half time after paying £89. per person. Shameful.
Reviewed on 30 May 2019 by Viiscount, Leigh On Sea, United Kingdom

Relative to the story
Prior to attending, not knowing the theatre, I was concerned at the time booking, that we might not have a very good view, therefore, was very pleasantly surprised when we went in. A lovely theatre. I might have had to bring someone in a wheel chair, in the endI didn', therefore don't know have easy to access the facilities. Thought the ticket prices very a on the high side but overal it was a very enjoyable afternoon. Thank you.
Reviewed on 23 May 2019 by Allan, Huntingdon, United Kingdom

un peu déçu
Don Quichotte a une belle voix parlée , mais je n'ai pas aimé sa voix chantée . Trop fort et sans apporter de rêve ..... peut-être pour moi trop de souvenir de Jacques Brel ... Sancho et Dulcinée sont très bien ... j'ai bien ri avec Rossinante Donc l'impression globale est mitigée . Nous étions merveilleusement bien placés au 1er rang de la corbeille ! ! !
Reviewed on 19 May 2019 by Jean-pierre, Montreuil, France

Brilliant!
I thoroughly enjoyed this show. It was well acted, and had a good storyline, full of twists and turns, and drama, with singing full of passion.
Reviewed on 17 May 2019 by Sharon, London, United Kingdom

Great show
Some reviews had told us not to set our expectations to high but the show was great and the music superb. We thoroughly enjoyed the whole experience.
Reviewed on 17 May 2019 by Cedric, Hastings, United Kingdom

Ignore the critics
After hearing there were mixed reviews was sceptical about going to see this show first seen 50years ago. I had no need to worry. Wonderful show which holds the attention full time. Nicholas Lyndhurst excellent in both his roles. Who knew he could sing so well! Emotional ending and well deserved standing ovation.
Reviewed on 16 May 2019 by Dorothy, Bromley, United Kingdom

Pleasant experience but only average
A couple of good songs, plot a bit slow and acting weak in parts. Danielle de Niese very good and Kelsey Grammer is a good orator and crooner but needs amping up a bit. The guy that sang Little Bird has an excellent singing voice. Orchestra excellent.
Reviewed on 12 May 2019 by Philip, Horsham, United Kingdom

Not to be missed
Fantastic great music Entertaining. Enjoyable
Reviewed on 11 May 2019 by Robert, Tiverton, United Kingdom

Great show
Reviewed on 11 May 2019 by Janet, Slough, United Kingdom

Alive and vivacious
Reviewed on 10 May 2019 by Richard, London, United Kingdom

Positive and upbeat
Reviewed on 10 May 2019 by T, London, United Kingdom

Brilliant!
Reviewed on 07 May 2019 by Elisa, Northampton, United Kingdom

Excellent
Great songs enthusiastically performed. One scene too graphic and ill judged.
Reviewed on 04 May 2019 by Chris, Wheathampstead, United Kingdom

Mediocre, confusing show - disappointing!!
Reviewed on 04 May 2019 by Janice, London, United Kingdom

You will love it
Reviewed on 04 May 2019 by Rita, London, United Kingdom

Stunning performances
Familiar story, great scenery well managed, no weak link anywhere. Danielle marvellous as expected, Kelsey and Nicholas were were great, having never heard either of them sing before. More please!
Reviewed on 03 May 2019 by June, Fareham, United Kingdom

I have seen this show several times over a period of many years. It's a beautiful story and always moves me. I think that the thing with Cervantes and the jail and the going back and forth between fantasy and reality is unnecessary. It's a beautiful story in and of itself and survives the fantasy very well on its own.
Reviewed on 02 May 2019 by Yitzchak, Jerusalem, Israel

Throughly enjoyed this show!
Was not sure what to expect but was really entertained by this show. Well acted, good song writing and good humour dotted throughout. If anyone was thinking about seeing this show I would advise they give it a go!
Reviewed on 29 April 2019 by Jacqui, Barnet, United Kingdom

The best thing I've ever seen
Reviewed on 27 April 2019 by Amy, London, United Kingdom

Wonderful!
Marvellous set, inventive production, multi talented cast, great songs and voices. Absolutely wonderful@
Reviewed on 26 April 2019 by Lydia, Aberdeen, United Kingdom
02

May
2019

Review MAN OF LA MANCHA at the London Coliseum
by Phil Willmott | Thursday, May 2 2019, 13:15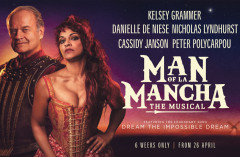 The annual star led musical at the London Coliseum has quickly become a tradition and a treat ensuring busy sales at a venue which otherwise splutters intermittently to life with short runs of opera and ballet for most of the year. Currently in residence for a month is Kelsey Grammer in the title role of 1965's Tony award winning musical, MAN OF LA MANCHA.
Review MAN OF LA MANCHA at the London Coliseum