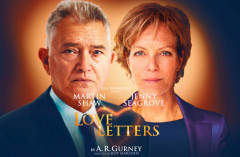 It's just been announced that the slender but artfully crafted play LOVE LETTERS will be returning to Theatre Royal Haymarket from Wednesday 19th May for 32 performances only, starring Martin Shaw and Jenny Seagrove.
It's one of those pieces where its history is every bit as interesting at the play itself. If anyone in theatre can be considered to have stumbled across a copper bottomed, sure fire, guaranteed, ever-green hit formula it's A.R. Gurney.
In 1989 with a hit play, The Cocktail Hour, still successfully running on Broadway he found himself growing weary of theatre. He sat down to write a novel and chose the sort of story that can be told through creating a series of letters. A good examples of this literary form include Les Liaisons Dangereuses and Dracula.
However when he submitted the completed manuscript to a publisher it was rejected on the grounds that the company didn't deal in playscripts. Forced in this way to realise that his new creation hadn't fallen as far from the theatrical tree as he'd hoped, Gurney decided to read out the piece with his wife at a literary evening.
Inspired by the audience's enthusiasm it was decided that this new play would be performed on Sunday and Monday nights at the theatre where The Cocktail Hour was running. New York shows often don't play at these times leaving the stage free. In this way LOVE LETTERS achieved a low-cost Broadway debut.
The key decision at this point was that of director John Tillinger who decided that the lines, i.e the letters, should not be memorised but that the actors should read them out. That started a tradition that has continued ever since. Making it the perfect vehicle for producers because the whole thing is incredibly cheap to stage, requiring just two desks from which the performers read, virtually no rehearsal time and it's also the perfect vehicle both for experienced stage actors or celebrities for whom learning large amounts of text may be a challenge.
Due to Tillinger's stroke of genius the play has a glorious history of being performed all over the world with celebrity casts whenever there is an empty theatre and celebrities have a gap in their schedules.
It's beautifully crafted, very romantic and a reminder of a time when we used to express our feelings in letters rather than with short text messages. So why not take an evening to discover the power of the written word which of course is far more expressive than a winky face emoji can ever be!
Get yourself a ticket and you're guaranteed a shortish, smart, stylish evening illustrating the way that love can develop over the decades and how two people can grow together and then apart and then together again.
You're guaranteed plenty of laughs and perhaps a few tears along the way as we're reminded of how life deals some of us a winning card while others must face greater challenges.
What's the plot of LOVE LETTERS?
Andrew Makepeace Ladd III and Melissa Gardner share a privileged background and letters between the two reveal the course of their love through adolescence, school, college, war, flirtations and marriage to others, family crisis, and the fluctuating fortunes of each as Andrew becomes a successful politician whilst Melissa's life takes a downward spiral. Discover what happens when they do finally begin an affair and the revelations at the end of a life time of correspondence.
Who's appearing in LOVE LETTERS?
The play is ideally suited to any two actors of a certain age that possess personality and charisma. They don't have to learn the lines and so it's a relatively easy gig for any senior performer. On this occasion the play will be performed, or should I say read out, by Martin Shaw and Jenny Seagrove. They are two much loved personalities from television in the 70s and 80s and they've maintained a buoyant stage career ever since mainly due to Seagrove's husband, the powerful producer Bill Kenwright who also produces this.
It's going to be a busy few months for Seagrove as it's also recently been announced that she will be appearing in Kenwright's age-blind production of Hamlet starring Ian McKellen, which will premiere soon at the Theatre Royal Windsor.
Her previous West End credits include starring in Alan Ayckbourn's How The Other Half Loves and Tennessee Williams' Night of the Iguana, David Rabe's Hurly Burly, David Hare's The Secret Rapture, Noël Coward's Present Laughter and Somerset Maugham's The Letter.
Martin Shaw is a skilled and popular West End leading man who's played a number of notable rolls, most memorably for me, the lead in A Man for All Seasons. He's also starred in Oscar Wilde's An Ideal Husband, Alan Bleasdale's Are You Lonesome Tonight, Clifford Odets' The Country Girl, Reginald Rose's Twelve Angry Men and most recently in Gore Vidal's The Best Man.
This pair have already performed plays at this same address last December and so we can be assured of seeing a very polished and consummate professional performance by these two veteran actors.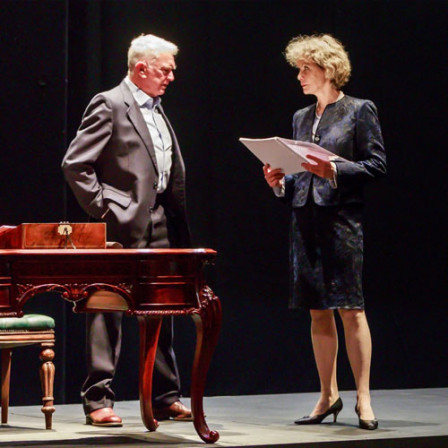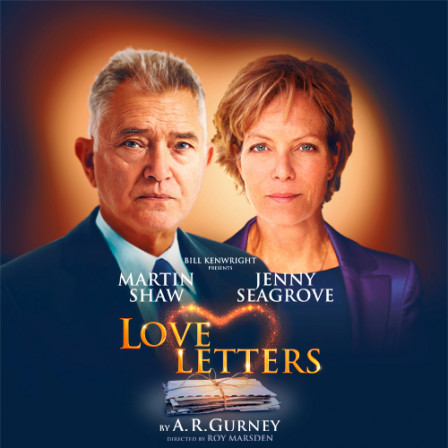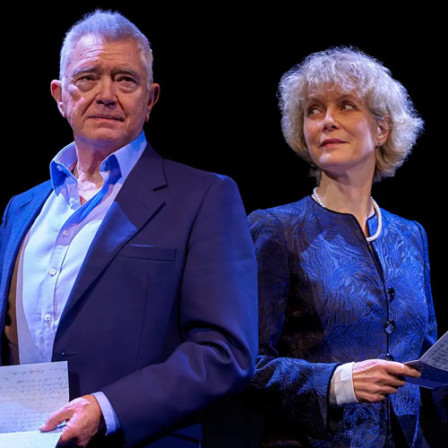 Frequently Asked Questions about LOVE LETTERS
Where and when can I see LOVE LETTERS?
LOVE LETTERS will be performed at the Theatre Royal Haymarket Wednesday 19th May for 32 performances.
The Theatre Royal is an imposing building on the Haymarket right across the street from Her Majesty's Theatre, home to Phantom of the Opera.
The nearest stations are Leicester Square, Piccadilly Circus and Charing Cross and the theatre is a 10 minute walk from each.
Who is LOVE LETTERS for?
This subtle, sophisticated piece is best suited to those old enough to have experienced the ups and downs of romantic love.
Is there a dress code?
No, dress comfortably and as you would for any public space.
Fun facts about LOVE LETTERS
The play is often performed by husband and wife teams. Either real life couples or two people who have famously played husband-and-wife on television or in films.
Notable "couples" include Ryan O'Neill and Ali McGraw who, of course, were first class in the movie Love Story, Patrick Duffy and Linda Gray who for years were sparring husband and wife in the TV show Dallas following in the footsteps of other Dallas alumni Larry Hagman and his co-star Linda Gray. Screen legend Charlton Heston has performed the play with his wife and the 2014 Broadway revival starred a whole host of A listers beginning with Brian Dennehy and Mia Farrow followed by Carol Burnett with Dennehy then Alan Alda and Candice Bergman, then Angelica Houston and Stacey Keech, followed by Diana Rigg and Martin Sheen. Quite a line up and only a fraction of the hundreds of actors who have read the love letters to audiences over the years.