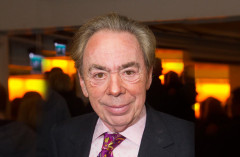 Last night the production of SUNSET BOULEVARD, starring Glenn Close, which Londoners enjoyed last year at the Coliseum opened on Broadway to a sweep of rave reviews.
Coming fast on the back of that it was announced that his latest musical SCHOOL OF ROCK has extended its run at the New London Theatre until January next year.
The Lord must be feeling pretty good about himself over his tea, toast and marmalade this morning.
In addition to these successes PHANTOM OF THE OPERA continues to enthral audiences in London and New York and the Broadway production of CATS, which Londoners also saw first at The London Palladium, has established itself as a popular Broadway hit along with the American production of SCHOOL OF ROCK.
He is also backing a revamp of the St James Theatre, renamed The Other Place, as a home for new shows, musicals in development and the edgy repertoire of contemporary music theatre. A new production of the cult American musical WILD PARTY opens there soon.
Meanwhile back to SCHOOL OF ROCK. This morning's press release describes it as follows -
"Based on the iconic hit movie and with a rocking new score by Andrew Lloyd Webber, School of Rock – The Musical follows slacker and wannabe rock star Dewey Finn turn a class of straight-A 10 year old students into an ear popping, riff scorching, all conquering rock band! Dewey poses as a substitute teacher at a prestigious prep school to make ends meet, and when he discovers his fifth graders' musical talents, he enlists his class to form a rock group and conquer the Battle of the Bands. As Dewey falls for the beautiful headmistress, can he and his students keep this special assignment secret as they learn to fully embrace the power of rock?"
When I saw it a few months ago it was packed with people of all ages having a thoroughly good time. Book now for a guaranteed treat and help Lord Lloyd Webber become even wealthier. He deserves it!
Here's the low down on the latest cast. It's still led by comedy star David Fynn as Dewey Finn, the teacher who gets his uptight class to rock!
Florence Andrews, Oliver Jackson, Preeya Kalidas are joined by Gary Trainor as the alternate Dewey with ensemble members Jonathan Bourne, Nadeem Crowe, Michelle Francis, Rosanna Hyland, Cassandra McCowan, Joel Montague, Andy Rees, Cameron Sharp, Andrew Spillett, Alex Tomkins and Lucy Vandi and swings, Charlotte Bradford, Jason Denton, Cellen Chugg Jones, Alfie Parker and Tasha Sheridan.
Each show is also performed by one of three teams of thirteen young performers who make up Dewey's band.