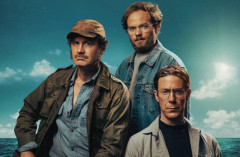 You know for sure a show's going to be an epic experience when it extends its run. That's what's happened to The Shark Is Broken, a touching yet hilarious play taking you behind the scenes during the filming of one of the world's best-loved horror movies, Jaws. Due to popular demand the play is extending until 13th February 2022 at the Ambassadors Theatre, and tickets are on sale now.
Who's involved in The Shark Is Broken?
The Shark Is Broken has already gathered a load of critical acclaim. It completely sold out at the 2019 Edinburgh Festival Fringe, and when it opened at the Ambassadors last month the critics loved it. Ian Shaw plays his dad Robert with affection and skill, and also co-wrote the show along with Joseph Nixon. You can expect a brilliantly funny, deeply moving and memorable experience.
Originally due to end its current run on 15th January
As producer Sonia Friedman said, following the show's success, "We're going to need a bigger run!"
Liam Murray Scott plays Richard Dreyfuss
Demetri Goritsas plays Roy Scheider
Directed by Guy Masterton
The story? The year is 1974, the location is Martha's Vineyard. The three stars are stuck in a boat in terrible weather, the shark has broken, and they're all drunk...
Buy The Shark Is Broken Tickets
Book your The Shark Is Broken tickets online with us and choose the best seats with our Ambassadors Theatre seating plan. We'll send E-tickets to your email address – simply present them at the door on the day.
About the Ambassadors Theatre
The Ambassadors Theatre is the venue where Ivor Novello made his debut stage performance way back in 1921. It was also home to The Mousetrap for an amazing 21 years. Past shows at the Ambassadors Theatre include Sweeney Todd, The Play's The Thing, Little Shop Of Horrors, and Love Song.