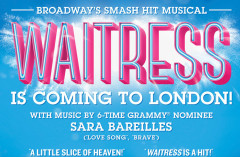 Further casting has been announced for the UK premiere of WAITRESS which opens at the Adelphi Theatre in just under two months, on 8th February.
A musical of this size is likely to get at least 5 weeks rehearsal so the cast will spend Christmas looking forward to an imminent start to full preparations.
Katharine McPhee has played the title character, a young woman in a small town who yearns to enter a pie contest despite an unexpected pregnancy, in New York. McPhee has some following on Broadway but is little known over here.
You'd have thought the producers would surround her with British celebrities to attract publicity so it's to their credit that they've maintained the production's credibility by casting little known West End performers instead, prioritising quality over PR opportunities.
Joining McPhee will be Marisha Wallace (Dreamgirls) who will play Becky alongside Laura Baldwin (Eugenius!) as Dawn, with Peter Hannah (Cockpit) as Earl and David Hunter (Kinky Boots) as Dr Pomatter.
Nope, I've never heard of them either but maybe the fact it's based on a 2007 film of the same name starring Keri Russell gives the financiers confidence that the title alone will attract an audience, that and the show's slew of awards for the U.S. version. It was nominated for four Tony Awards and six Drama Desk Awards, as well as a Grammy Award.
The musical is by Sara Bareilles and Jessie Nelson with choreography by Lorin Latarro and direction by Tony Award-winner Diane Paulus.
We're told further casting for the show is still to be announced so maybe there's still time for the team to sign up a celebrity. I hope they don't. I really admire them for keeping things classy.