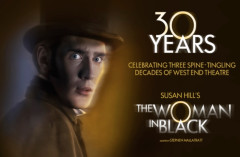 Update for The Woman in Black at the Fortune Theatre
Isn't it fabulous to see so many West End shows returning to the capital? Make your way to the Fortune Theatre from Tuesday 7th September onwards to enjoy the spookily brilliant The Woman in Black, a scary tale that'll have shivers running down your backbone from start to finish. The play celebrated its 30th West End anniversary in summer 2019, confirming its status as one of the best-loved ghost stories of our times.
Who's involved in The Woman in Black?
Stephen Mallatratt's creepy adaptation of Susan Hill's best-selling novel weaves a story you won't forget in a hurry. Don't be surprised if you find yourself unable to sleep with the lights off after you've seen it! This is the tale of the lawyer and the curse he believes has been put on his family. When he finds a young actor to help him exorcise the woman in black, things become seriously eerie as the border between fantasy and reality blurs. This is the cast.
Terence Wilton returns to play Arthur Kipps, a role he played in both 2017 and 2020 at the Fortune Theatre. He is known and loved for brilliant performances in Never So Good at the National Theatre, Treatment at the Donmar, plus War Music and Antony and Cleopatra, both at the Old Vic. He's no stranger to the Royal Shakespeare Company and is also loved for his popular TV roles in The Inspector Alleyn Mysteries, Doctor Who, and The Forsyte Saga.
Max Hutchinson returns as The Actor. He thrilled us in The 39 Steps at the Barn Theatre and Theatre Royal Windsor, and delighted audiences at the Jermyn Street Theatre with The Hound of the Baskervilles and The Notorious Mrs Ebbsmith. He has also appeared in the movies Dream Horse and Downton Abbey.
Buy The Woman in Black Tickets
Book your The Woman in Black tickets online here and enjoy picking the best seats for your party via our accurate, detailed Fortune Theatre seating plan. We'll send E-tickets to your email address for you to show at the door on the way in on the big day.
About the Fortune Theatre
The Fortune Theatre is one of Covent Garden's smallest with just 432 seats. As you can imagine it delivers an unusually intimate experience, perfect for a spooky tale like this. Past shows at the Fortune Theatre include The Woman in Black itself, whose home this has been since 1989. There was a short break in 1993 when the venue presented Lily Savage's Paying The Rent. Now The Woman in Black is back once more.