Quick Facts
Largest Ticket Inventory
in the West End
Real time
seat availability
Choose
your seats
Your booking is processed directly into the box office reservation system
This show is now closed.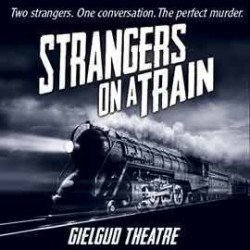 Strangers On A Train
Tickets
4.1/5
-

based on

28

reviews
About Strangers On A Train
Performance Times
Strangers On A Train description
Strangers On A Train – A classic psychological thriller
Laurence Fox and Jack Huston are set to star in the latest stage version of writer Patricia Highsmith's famous thriller, Strangers On A Train, first made into a film by Alfred Hitchcock in 1951, starring Farley Granger and Robert Walker.
Fox and Huston have worked together before, back in 2002, in Mrs Warren's Profession. Miranda Raison and Imogen Stubbs also star in the play, which is produced Barbara Broccoli of James Bond fame. And the respected American film and theatre director Robert Allan Ackerman takes the helm as director, in a welcome return to the West End after a twelve year gap. Welcome back!
Strangers On A Train - The story
Two strangers meet on a train journey that leads to a nightmare of blackmail and psychological horror. In a classic tale that inspired Alfred Hitchcock to create a movie of the same name, the professional tennis player Guy Haines meets the sinister and wealthy Bruno Anthony.
Bruno reads the newspapers, so he already knows all about Guy's mistress Ann Morton, his unfaithful wife Miriam and his unhappy marriage. As the drinks flow, the psychopathic mischief-maker Bruno sets about baiting Guy. He confesses he too is trapped, but by his father, who makes his life a misery. And he comes up with a dastardly idea. What if they exchange murders, with Guy killing Bruno's father and Bruno killing Guy's wife? After all, motiveless murders are much more difficult to solve… they might just get away with it.
It all seems like harmless fun, academic rather than real. When he reaches his stop, Guy bids Bruno a confused farewell, not realising the strange young man has taken the proposition to heart. When his wife is strangled, the full horror of the situation hits Guy like a freight train and his life descends into chaos. Bruno suffers too, as Karma dictates, and both men's lives are ultimately changed forever.
Typical of the kind of story Hitchcock loved, the play's theme exemplifies how, while everything looks perfectly fine on the surface of everyday life, evil lies just underneath. An excellent production with a license to thrill!
Strangers On A Train theatre tickets – What happens when fantasy meets reality…
Want premium, full price or discount Strangers On A Train tickets? We offer great availability on every seat and ticket type, so enjoy the journey!
Strangers On A Train reviews
4.1 out of 5
based on

28

reviews
What to expect:
Acting
Music
Costumes
Story
Lighting
Recommended for:
Anyone (11%)
Families (11%)
Teenagers (14%)
Couples (50%)
Theatregoers (93%)
Latest customer reviews

Strangers
Disliked American accents, which spoiled the show
Reviewed on 20 February 2014 by Anonymous

Excelent theatre production
Reviewed on 19 February 2014 by Anonymous

Well staged but badly let down by absence of Laurence Fox
This was a much looked forward to day out, badly let down by arriving to find Laurence Fox and others "indisposed" We come up to London once every 2 years and the transport chaos, Thames valley floods did not stop us getting there!. Set, music and costumes fantastic This has really put me off. Theatre could not even give us free programmes or a refund and to add insult to injury had to wait like sardines in an overcrowded foyer to get into the auditorium. Terrible rain stopped us waiting outside. Not good enough. Given how much it cost us, theatre should have warned us yesterday morning so we could decide whether to bother.
Reviewed on 13 February 2014 by Anonymous

brilliant performance
Reviewed on 07 February 2014 by Anonymous

Shame about the train strike!
I enjoyed the show but unfortunately missed the beginning because of the train strike and with this play the beginning is all important. As I already knew the story I was able to catch up. Brilliant effects but wonder if it does not sometime distract from the action.
Reviewed on 06 February 2014 by Anonymous

First Rate Excellent Performance!
This performance is excellent, the acting was first class and the story line was brilliant!
Reviewed on 06 February 2014 by Anonymous

Stunningly atmospheric.
Reviewed on 29 January 2014 by Anonymous

Stunningly atmospheric.
Reviewed on 29 January 2014 by Anonymous

Stunningly atmospheric.
Reviewed on 29 January 2014 by Anonymous

Great show, fantastic change of sets
Must see
Reviewed on 12 January 2014 by Anonymous

great
Reviewed on 30 December 2013 by Anonymous

Great acting
Reviewed on 12 December 2013 by Anonymous

Brilliant
Brilliant gripping psychological thriller Did not see the end coming! Quite draining wonderful theatre as I would expect in the West End Disappointed to miss Lawrence Fox however
Reviewed on 08 December 2013 by Anonymous

Disappointing
We were in row S under the circle and slightly difficult to hear actors. Laurence Fox in particular was difficult to understand and I felt his acting in general was poor. The highlight was the set which revolved showing different sets almost each time though that was also confusing sometimes. Just glad we hadn't paid full price for the tickets!
Reviewed on 26 November 2013 by Anonymous

Suitable
Reviewed on 24 November 2013 by Anonymous

Glitzy style over substance
All that glitters isn't necessarily gold. Seems the cinematic treatment is now served up to audiences when a strong story and authentic acting will always triumph. This show flickers but never quite fires the soul.
Reviewed on 23 November 2013 by Anonymous

ON A WET AND COLD DAY IDEAL FOR A THRILLER
GOOD STORY WELL ACTED ONLY FAULT SOUND A BIT QUITE AT THE BEGINING OF PLAY BUT IMPROVED LATER
Reviewed on 21 November 2013 by Anonymous

Deceptively dark
Reviewed on 19 November 2013 by Anonymous

Stylish to watch but boring otherwise.
Reviewed on 15 November 2013 by Anonymous