St Martin's Lane, London, WC2N 4ES GB
Quick Facts
Largest Ticket Inventory
in the West End
Real time
seat availability
Choose
your seats
Your booking is processed directly into the box office reservation system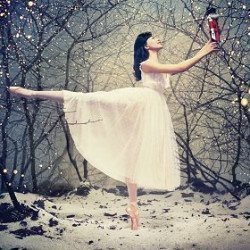 The Nutcracker - English National Ballet
Tickets
4.4/5
-

based on

40

reviews
Opens: Thursday, 16 December 2021
Booking until: Saturday, 8 January 2022
Running time: 2 hours 10 minutes
Tickets from £18.00
Book tickets
About The Nutcracker - English National Ballet
Age restrictions
Children under 5 will not be admitted.
Children under 16 must be accompanied by an adult. 
Important Information
No food or drink purchased off-site including alcohol, soft drinks and water are permitted inside the theatre.
Performance Times
Opens: Thursday, 16 December 2021
Booking until: Saturday, 8 January 2022
Running time: 2 hours 10 minutes
The Nutcracker - English National Ballet description
The Nutcracker ballet is always a hugely popular show for the festive season, ever since the English National Ballet first took it to the Christmas stage in 1950. It's a treat for the entire family, and it's on at the magnificent London Coliseum from mid-December 2021. If you'd like to know more about this magical Christmas tradition, read on.
Can you imagine watching more than 100 dancers and musicians on stage, bringing Nutcracker to sparkling life with their exquisite dancing, deliciously beautiful stage sets and gorgeous score by Tchaikovsky, played live? It's quite something. When our heroine and her brave Nutcracker doll take a hot air balloon ride across London to the glistening Land of Snow, you'll find it hard to believe your eyes. No wonder children adore this ballet so much. When the puppet theatre comes to life, the audience goes wild!
If you're looking for a fabulous festive family treat you can't go wrong with English National Ballet's Nutcracker at the London Coliseum. It sold out in record time during 2017, 2018 and 2019, so grab your tickets while you can.
What's the plot of Nutcracker?
Nutcracker weaves the lovely story of young Clara, who lives in Edwardian London. When she gets a magical Nutcracker doll for Christmas, on the eve of the big day, they begin an epic magical journey together and discover a magical world. Clara wins an epic battle with the Mouse King. She meets a handsome prince and enjoys a spectacular journey to the Land of Sweets, where she meets the Sugar Plum Fairy. When she arrives in the glistening Land of the Snow, it turns out it's only the start of her amazing adventure.
Who is Nutcracker for?
The Nutcracker is recommended for people aged 7 and upwards. Children aged under 5 are not allowed in the auditorium.
Buy tickets for Nutcracker
Our website makes buying tickets for Nutcracker so easy. We'll email your tickets to your email address, and all you do is present them on the door on the day of the performance. Are you ready to book yourself and the family in for some classic festive fun?
Next Performances for The Nutcracker - English National Ballet at the London Coliseum
Thursday
16th Dec 2021
7:30pm
Friday
17th Dec 2021
7:30pm
Saturday
18th Dec 2021
2:30pm
Saturday
18th Dec 2021
7:30pm
Monday
20th Dec 2021
2:30pm
Monday
20th Dec 2021
7:30pm
The Nutcracker - English National Ballet reviews
4.4 out of 5
based on

40

reviews
What to expect:
Acting
Music
Costumes
Story
Lighting
Recommended for:
Anyone (73%)
Families (80%)
Teenagers (75%)
Couples (78%)
Theatregoers (80%)
Latest customer reviews

Different
Some new additions I had not seen before which enhanced the story telling.
Reviewed on 30 December 2018 by Janet, Lutterworth, United Kingdom

There is no highlight of the show
Reviewed on 28 December 2018 by Patricia, Hong Kong, Hong Kong

Nice but a bit boring
Nice show, very classic mise en en scene, but sadly my kids preferred the Arcade games ....
Reviewed on 26 December 2018 by Alexandra, Paris, France

Quintessential Christmas Show
The Coliseum itself is a sight to behold plus a wonderful live orchestra. Dancers of superb quality. Some really lovely stage sets and costumes.
Reviewed on 23 December 2018 by Shelley, Kensington, United States Of America

Really disapoined by the story
This show should be called " story based on Nutcracker". It's complitly difrent to the original story. Apart of the story it's a good show. Acting, dansing, costumes and music are really good. I wish I could wright a better review.
Reviewed on 21 December 2018 by Joanna, London, United Kingdom

Reviewed on 21 December 2018 by Anne, Sevenoaks, United Kingdom

Colourful, moving, beautiful show!
Reviewed on 21 December 2018 by Milena, Lindon, United Kingdom

This was the second time that i had seen this ballet, the first being at the festival hall way back in 1970 before we married. Still has its magic. We treated our son, wife and teenage daughters, their first experience. They thoroughly enjoyed it.
Another slightly different slant on the famous storyline. But still the great story with wonderful effects, some humour and of course fantastic costumes. The orchestra was in top form playing that iconic score too. Dancers beautiful !! What a yuletide treat. and god value for money.
Reviewed on 20 December 2018 by Mike, Swansea, United Kingdom

Must see
Reviewed on 16 December 2018 by Madelene, Maidenhead, United Kingdom

Most enjoyable
Playful, moving, delightful and the dancing was superb.
Reviewed on 14 December 2018 by Helen, Belmont, Australia

Very Entertaining and Colorful
Order intermission drinks before start of the performance - great atmosphere and very worthwhile
Reviewed on 13 December 2018 by Andy, Southampton, United Kingdom

Nice work
Reviewed on 07 January 2018 by Finny, Nijmegen, Netherlands

Reviewed on 01 January 2018 by Chantel, Surrey, United Kingdom

Graceful
We really enjoyed the show especially the end of the first part and the entire second part. All the dancers dance marvellously. We had a great evening, thank you so much.
Reviewed on 29 December 2017 by Emma, Paris, France

Fantastic magical treat
Live ballet performances are so much better then on screen, truly magical story, music is a massive importance to the show
Reviewed on 28 December 2017 by Sharon, Enfield, United Kingdom

Bad show, bad ballet
Reviewed on 24 December 2017 by Aleksandra, Tunbridge Wells, United Kingdom

Magical
Reviewed on 21 December 2017 by Helen, Tunbridge Wells, United Kingdom

Disappointed
The main characters performed very well, but disappointed with some of the cast. Out of time, general lack of finesse form some dances.
Reviewed on 21 December 2017 by Tanya, Ascot, United Kingdom

Spectacular!! A must see!
Reviewed on 18 December 2017 by Ewa, London, United Kingdom

its not christmas unless you see The nut cracker
Reviewed on 18 December 2017 by Keith, Leighton Buzzard, United Kingdom

Costume glory
Impressive performance and the costumes were really superb. (The 'explosions' created some smoke which irritated some people's throats -good idea to have a bottle of water handy.)
Reviewed on 18 December 2017 by Elizabeth, Domerat, France

Amazing performance
Truly captivating. A great way to end the week. Bravo.
Reviewed on 16 December 2017 by Damian, London, United Kingdom

The Nutcracker
Superb Ballet for Xmas!!! Primal Ballerina brilliant!
Reviewed on 14 December 2017 by Paul, Harlow, United Kingdom

Brilliant! Really excellent show!
Reviewed on 04 January 2015 by Anonymous

great performance of the nutcracker
The stage and backdrops were beautiful and all dancers were a joy to watch.
Reviewed on 31 December 2014 by Anonymous

The Nutcracker
Reviewed on 14 December 2014 by Anonymous