O2 Arena
Peninsula Square, London, SE10 0DX GB
Now showing at
the O2 Arena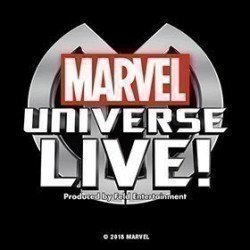 Marvel Universe Live - O2 Arena
O2 Arena
Tickets from £42.00
Marvel fans, assemble for this live, action-packed, legendary battle to defend the universe from evil. Spider-Man, the Avengers and the Guardians of the Galaxy join forces with Doctor Strange, master of the mystic arts, in a race against time to recover the Wand of Watoomb before it falls into Loki's hands. This ancient artifact holds immeasurable mystical power and would allow Loki to achieve his eternal quest to crown himself ruler of Asgard and Earth. This all new show unites some of Marvel's greatest Super Heroes including Iron Man, Captain America, Thor, Black Panther, Hulk and Black Widow against some of the most threatening villains.  Their journey sparks new feuds with old foes, pitting student against mentor, sister against sister and brother against brother.Witness cutting-edge special effects, aerial stunts and video projection in this incredible adventure. Fans of all ages will be immersed in the Marvel Universe and experience it all with their family…LIVE!
Booking until: Sunday, 6 October 2019
Running time: 1 hour 45 minutes
Playing at: O2 Arena
Booking until: Sunday, 6 October 2019
Marvel Universe Live - O2 Arena tickets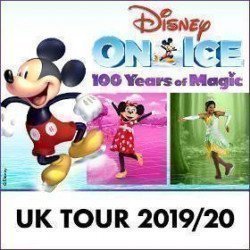 Disney On Ice presents 100 Years of Magic: O2 Arena
O2 Arena
4.6/5
-

based on

5

reviews - (Read reviews)
4.6

5

reviews
Tickets from £35.60
Grab your Mickey ears and get ready for the ultimate Disney experience when Disney On Ice celebrates 100 Years of Magic and skates into a city near you. 
Booking until: Sunday, 5 January 2020
Running time: 2 hours
Playing at: O2 Arena
Booking until: Sunday, 5 January 2020
Disney On Ice presents 100 Years of Magic: O2 Arena tickets
O2 Arena Facilities
Air conditioned
Bar
Disabled toilets
Infrared hearing loop
Restaurant
Toilets
Wheelchair/scooter access
O2 Arena Location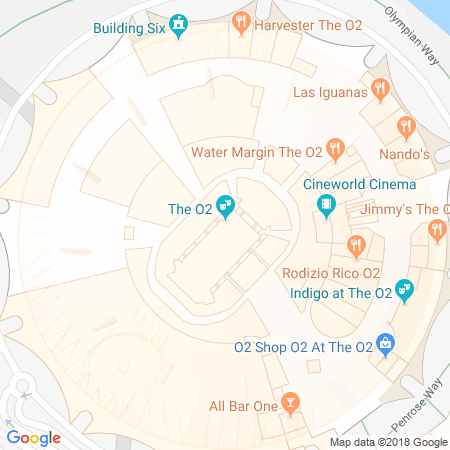 Directions
Travel Information
Day buses
(North Greenwich Station) 129, 132, 108, 161, 188, 422, 472, 486
Night buses
(North Greenwich Station) 108, 188, 472
O2 Arena history
From the outside
The O2 Arena is actually London's famous white Millennium Dome, once home to a year-long celebratory exhibition in the year 2000 and now a world-class entertainment venue that holds as many as 20,000 people.
O2 Arena architecture and history
The dome itself is one of the largest of its kind on earth but when the Millennium Dome opened its doors for the first time, in the year 2000, it was surrounded by controversy. Costing more than £800 million, it was felt to be a waste of money by many people, who thought a permanent landmark would serve the nation much better than a temporary structure.
Designed by the architect Richard Rogers and built by McAlpine and Laing, the building was engineered very cleverly by Buro Happold, with a roof that apparently weighs less than the air inside the building!
When the Dome millennium exhibition closed at the end of 2000 speculation was rife. At one point it was proposed to be converted into a football stadium, but the idea of a national entertainment venue took precedence and soon took shape. After extensive indoor building work, overseen by Meridian Delta Ltd, the transformation was completed and the impressive new venue finally opened its doors in 2007, renamed the O2 Arena.
The O2 has flourished ever since, fast becoming one of the capital's best loved venues for huge stage performances. These days it is bigger than the Manchester Evening News Arena and Madison Square Garden in New York, and has the honour of being the planet's biggest-selling venue, with more than two million visitors every year.
Much more than a simple venue, the O2 Arena is now surrounded by a huge indoor street called Entertainment Avenue, packed with restaurants, cafes and bars. While it's probably best known and loved for staging superstar gigs, it also hosts world class sports, stand-up comedy, movie premieres, ice shows and a lot more. If it's big, it'll probably appear at the O2 Arena!
The building is so huge that its volume is thirteen times the size of the Albert Hall and ten times that of St Paul's cathedral. It's as tall as the famous London landmark, Nelson's Column. And, just to seal its fame for the future, it starred in the opening scenes of the James Bond film, The World is Not Enough.
Past shows at the O2 Arena
Michael Jackson's ill-fated This Is It concerts were supposed to take place at the O2 in 2009 and 2010. X Factor auditions have been held there. Recent shows include appearances by the comedian Alan Carr, Alicia Keys, Andrea Bocelli and Friends, the Arctic Monkeys, US superstar Barry Manilow, Ben Hur Live, Beyonce, Bon Jovi, Boyzone, Britain's Got Talent, Britney Spears and rock genius Bruce Springsteen.
O2 Arena access
The O2 is easy to access for wheelchair users and others with special access needs, with wide entrances and a flat street along Entertainment Avenue. Toilet blocks, lifts and all the other public areas are designed with wheelchair users in mind, and staff are always happy to assist.
O2 Arena tickets
We're your top destination for a wide variety of seat types and prices, with excellent availability on the full range of O2 Arena tickets.