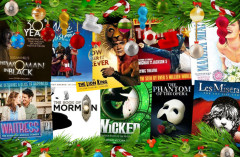 Theatre tickets can make great last minute Christmas presents and can be enjoyed throughout the year but how do you choose the perfect show for the loved ones in your life?
Here's our run down of the week's top selling productions in London, with a guide to who might enjoy them most.
This one won't be around beyond the festive season for obvious reasons. So if you want to treat someone to this vintage celebration of post-war, holiday Americana, with music by the great Irving Berlin, you'd better make it a pre-Christmas treat.
The outrageous sacrilegious humour of this U.S. hit by the writers of South Park is gasp out-loud funny. It also has a terrific set of original songs with pithy lyrics that make it worthy of a place amongst the great Broadway shows, and a set of memorable characters. It's littered with bad language though so don't send anyone who's easily offended.
This uplifting show about female empowerment and friendship is perfect for the teenage girls in your life. It's the back story of the witches from the Wizard of Oz and nothing is quite as black and white as it seemed in the classic MGM film, as they negotiate high school popularity and first love. Great songs and a spectacular staging too.
It's hard to think of anyone who wouldn't get a kick from this long running, hit, stage-adaptation of the much loved Disney classic. There's all the characters from the cartoon and live action re-make that you already know and love, and if that's not enough you can wonder at the artistry that brings everything to life, with beautiful puppetry and puppets interacting with human performers.
There's no story in this show, just a barrage of numbers by pop legend Michael Jackson recreated by stunning West End performers. If you know a Jackson fan they'll be in heaven. Those of us who feel more ambivalent can still wonder at, and admire, the vast range of hit songs he recorded.
This grand old lady of the West End has been running for ever – but there's a reason: it's very, very good. The plot, in which a deformed and masked fugitive pursues his love for a young opera singer is thrilling and perfectly served by one of Andrew-Lloyd Webber's finest scores. I'd recommend tickets as a present for someone who's never seen a West End show before, with its drama and spectacle, it's a perfect introduction.
It's great that this small-town, American love story about ordinary working people has captured the hearts of London theatre goers as it did on Broadway. Our heroine is a humble waitress in a diner trying to untangle the challenges life throws her way in tuneful and affecting songs. Book tickets soon for the romantics in your life, it plays its final performances early next year.
There's nothing like a good story well told and this popular production revels in the simplicity of exactly that. Just two actors conjure up the celebrated ghost story with words, lighting, sound effects and a few little theatrical tricks that'll make you jump out of your seat. Tickets would make a great present for someone who enjoys the power of theatre but isn't into musicals.
This lovely summer holiday of a show has been conceived to appeal across the generations with a tale of a young woman hoping to reconcile her parents in time for her wedding on a Greek island. The music of Abba, which forms the sound track, appeals to all ages too so it's a perfect mesh. There is some bad language though and it challenges conventional ideas of marriage so don't buy tickets for anyone who'd be offended by that.
This epic show gets better every time I see it. It's unrivalled in the West End for epic plot, soaring melodies and characters who'll make you laugh and cry, hope and despair. The producer keeps fiddling around with it to keep it fresh, and it's well cast, so you can guarantee that when ever you treat a friend to a ticket they'll see something world class. But make sure they like musicals first, there's no dialogue and a lot of singing.