Harold Pinter Theatre
6 Panton Street, London, SW1Y 4DN GB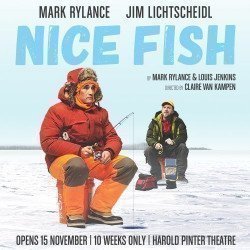 Nice Fish
Tickets
Harold Pinter Theatre
Starring: Mark Rylance, Jim Lichtscheidl
Booking until: Saturday, 11 February 2017
Book

tickets
Performance Times
Mon
Tue
Wed
Thu
Fri
Sat
Sun
14:30
14:30
19:30
19:30
19:30
19:30
19:30
19:30
Show Closed
This show is now closed.
Booking from:
Tuesday, 15 November 2016
Booking until:
Saturday, 11 February 2017
This play was a smash Off Broadway, written by our very own Mark Rylance in combination with one of the popular US poet, Louis Jenkins. Wry, charming and very, very funny, it's director Claire Van Kampen's latest cleverly staged production and it's a real visual knockout, no surprise from the hugely talented wife of Rylance. Welcome to Nice Fish, both the punchline of the play and its title. If you love top class funnies with a sweet touch, this one's for you.
Nice Fish – The story
Two friends are out on a frozen Minnesota lake, trying to catch fish via a couple of holes drilled in the ice. It's the tail end of the fishing season and all around them the melting ice creaks and groans. The lake is vast and stretches as far as the eye can see.
In the distance you can see a road lined with trees and cars, so far off it may as well be a fantasy. It's enough to make anyone feel small in an existential sort of way, and Van Kampen's music plus the fabulously evocative ambient sounds (thanks to Scott W. Edwards) actually make you feel cold.
Erik, played by Jim Lichtscheidl, is a real 'salt of the earth' type, an experienced fisherman and almost fanatical about the sport. Naive Ron, played by Rylance, is less experienced and has a melancholy touch, made absolutely hilarious by th actor's wry, drawled delivery, pure Midwestern in its flatness. He's nailed the accent, no surprise when he actually spent his life from age two to eighteen in Milwaukee.
The pair spend hours on the ice, and eventually fall into that trance-like state that people tend to adopt when spending long stretches of time in solitude. When a feisty young woman and irritating officer from the Minnesota Department of Natural Resources enter the picture, plus an old spear fisherman, more hilarity ensues.
There are some amazing stage effects, particularly during the regular blackout scenes, with winds so powerful they blow the actors sideways. And you'll adore the ending, which we're not going to reveal here! Suffice to say it's totally surreal. Jenkins' poetry unifies the piece, laconic and provocative, and that's what most audience members remember best.
The direction offers a playful touch, with sudden blackouts fuelling the comedy. The set, by Todd Rosenthal, is beautiful and convincing. And seeing Rylance do his hugely funny wide-eyed, thick-voiced thing brings audiences to helpless, delighted laughter. Look out for him wrestling with the tent and you'll be in pieces.
The show is recommended for people aged 9 and above.
Nice Fish tickets – Funny, eccentric, unforgettable
Want premium, full price or discount Nice Fish tickets? We always have great availability and you'll enjoy excellent value for money on the complete range of ticket types and seats, cheap to posh.
Press Reviews
Wonderful performances. Expertly directed. Bewitching New York Times
A chance to see a great actor like Mark Rylance cutting loose. A whimsical, ultimately resonant portrait of lost souls waiting to hook or be hooked Time Out New York
Customer Reviews
What to expect:
Acting:
Music:
Costumes:
Story:
Lighting:
Recommended for:
Anyone:
Families:
Teenagers:
Couples:
Theatregoers:
based on 45 reviews
Outstanding!
Lyn London Box Office customer
Weird and wonderful
Sophie London Box Office customer
Funny and poignant
Peter London Box Office customer
Entertaining Evening
We enjoyed nice fish, it was well worth coming to see and we would certainly recommend. The acting was brilliant, it was very funny if not a little unusual!!. It true that we weren't quite sure what was going on at times but it certainly brought a lot of interesting conversation afterwards, I would recommend.
Jude London Box Office customer
see it while you can
Alison London Box Office customer
Very enjoyable
Quirky and funny play Would highly recommend
Malcolm London Box Office customer
Fun night out!
Chantelle London Box Office customer
Brilliant but bonkers!
Excellent acting, set, staging, absolutely stunning lighting. Intriguing play but a bit unusual! I enjoyed it but don't have a clue what it really meant (if anything)
Vicky London Box Office customer
Vivid design, funny existentialism and interesting use of puppets.
Oliver London Box Office customer
Disappointed
Very disappointed with the play. Not very funny and not enjoyable
Richard London Box Office customer
Creative and contemporary
Kumud London Box Office customer
Don't miss it
What a wonderful touching, really funny show. All the cast were great and Mark Rylance quite superb. We loved it.
Caroline London Box Office customer
Magical Mark Rylance
A thoroughly amusing and entertaining show. Brilliantly acted by all the team especially Mark using minimal props with maximum impact.
Trevor London Box Office customer
Funny, intriguing and brilliantly acted.
Sandra London Box Office customer
Funny, literary, slightly aimless
Oliver London Box Office customer
Bonkers but wondrous bonkers. .
Chose this show for various reasons . . I like Mark Rylance's acting, (though booked before the Sirdom!) I like snow, I like fishing. I was not disappointed on all counts from the stage set with its distant habitation and lighthouse, middle distant shed and doll's house figure fishing at an ice hole. The rambling script and performances were unexpectedly laugh out loud funny and had the right amount of gentle slapstick. Now the ending was just bonkers . . but fantastical bonkers and if anyone asked what it was about I'd have to say 'Go see for yourself!'
Cat London Box Office customer
Give it a miss
The actors are great (especially Mark Ryland and his facial expressions) but I am none the wiser as to what this play was about. I laughed through it. The end seems to be a laugh on the audience laughing at the actors laughing at the audience.....
Claire London Box Office customer
Surreal, inventive, up close and far away.
Kevin London Box Office customer
Strange
John London Box Office customer
'Nice Fish' a Self-indulgent Disappointment
As much as I admire Mark Rylance as an actor, his 'Nice Fish' left me cold. There was no character development, the philosophy was tired and disjointed. Sad to say, the play was boring.
Barry London Box Office customer
Brilliant Sir Mark as usual!!
The play was magnificent. So funny from start to nearly finish and then a twist at the end. Superb acting from all of the cast.
Christine London Box Office customer
Thought provoking comedy
Sir Mark was brilliant. Close to the stage his facial expressions were very easy to observe, relate to and enjoy. The other actors both complemented and added. The story is simple but the messages are not. The comedy is sometimes simple but also subtle. Loved the mechanised puppets, and as a result started to enjoy the evening before anyone got on the stage. I now want to read the play. I'd love to see the play again but I live in North Wales!
Nick London Box Office customer
The most beautiful piece of work !
Felix London Box Office customer
Surrealist
Marie-Claude London Box Office customer
Hilarious!
Book your seat for a great experience! Mark Rylance creates a masterclass in comic timing and human experience.
Pat London Box Office customer
must see
very off the wall production ....with brilliant acting!
sarah London Box Office customer
A Christmas Cracker!
The sublime Mark Rylance and Jim Lichtscheidl are on a frozen lake in Minnesota fishing through holes in the ice. This may sound boring but the humour is deadpan dry, full of irony and cracks you up. So skilfully put together from prose poems of Louis Jenkins by Mark Rylance it had us laughing from start to finish. The background puppetry added another complementary dimension and the play is full of surprises. The Harold Pinter theatre staff add to the theme and give you fish cloakroom tokens to leave your coats and also bar cocktails with a fishy twist! The staff were great. A good deal was if you bought two glasses of wine (there was no interval) you could take your two glasses to your seats and have the rest of the bottle after the show back in the bar - much better value and you could relax whilst everybody else hurried off! Funniest show I have seen since One Man, Two Guvnors.
Barbara London Box Office customer
Some fish? Some turkey!!
Dreadful. Give it a miss. Tedious from the start. Canned laughter necessary. Parlous script and direction sadly. As a regular theatre-goer (not musicals)'expected much more. Really disappointed as Rylance can act really well and was brilliant in Twelfth Night amongst others. Maybe it needed to stay other side of the Pond.
Ailsa London Box Office customer
A novel and quirky show
James London Box Office customer
Reflections in the cold west
This is a set of loosely connected vignettes acted out in great style. There are more reflective moments alongside acutely funny observations. Go with an open mind and be prepared to engage in an intellectual level. Hopefully you will still leave the theatre only a few paces from where you entered.
Nancy London Box Office customer
Interesting....
Julia London Box Office customer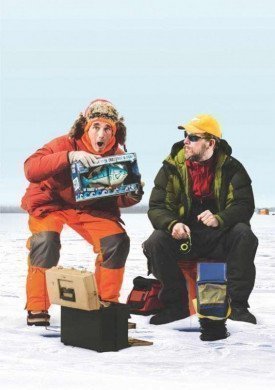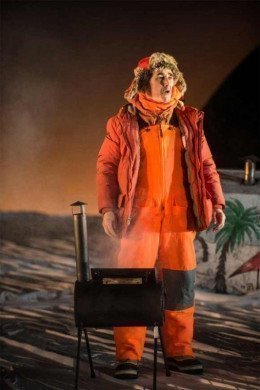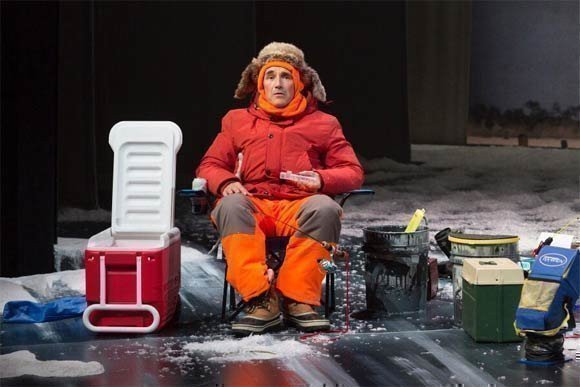 04 Dec 2016 in Reviews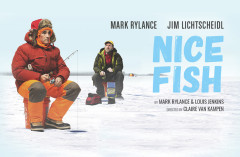 Having just completed a sold out New York run, the hit-comedy show Nice Fish, co-written by Mark Rylance and Louis Jenkins hits the London stage. Rylance performs as a perfect clown, with impeccable comedic timing.
Read more
Use the search box at the top left of this page to search for Nice Fish tickets availability.
Quick Facts
Largest Ticket Inventory in the West End
Real time seat availability
Your booking is processed directly into the box office reservation system
Collect your tickets from the theatre for free or get them posted to your address.

Theatre Address
Harold Pinter Theatre
6 Panton Street, London, SW1Y 4DN GB
Facilities
Air conditioned
Bar
Disabled toilets
Infrared hearing loop
Member of Q-Park scheme
Toilets
Wheelchair/scooter access
Theatre Info
Capacity: 796
Year built: 1881