Quick Facts
Largest Ticket Inventory
in the West End
Real time
seat availability
Choose
your seats
Your booking is processed directly into the box office reservation system
This show is now closed.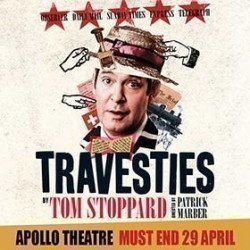 Travesties
Tickets
4.6/5
-

based on

38

reviews
About Travesties
Performance Times
Travesties description
It's about time Travesties returned to delight West End audiences. And with Tom Hollander starring as as Henry Carr alongside Amy Morgan as Gwendolen, Freddie Fox as Tristan Tzara, Clare Foster and Forbes Masson, it's shaping up to be an experience you won't forget in a hurry.
The production quickly sold out for the entire initial run at the Menier and attracted fantastic reviews. The Telegraph claims that Tom Hollander is "hilarious in this mind-bogglingly entertaining Stoppard revival", and as The Independent says, the Director "Marber's ace production revels in the play's riotous plenty". Add design by Tim Hatley, lighting design by Neil Austin, and sound design by Adam Cork, who also penned the original score, and it's looking like a winner.
Travesties – The story
The plot? Travesties mostly takes place in First World War Zürich, Switzerland, and follows English consul official Henry Carr, a resident of the city who's on good terms with a group of fascinating people including Lenin, the Dada art movement founder Tristan Tzara, and the author James Joyce. As Carr fondly remembers his experiences living in the city, at a time when political and artistic revolutions collided head on, he manages to muddle up the folk he actually met in Zurich with the characters from Oscar Wilde's popular comedy, The Importance of Being Earnest.
Underneath all the typical Stoppardian intellectual playfulness there's a powerful running debate about the purpose of art, shot through with scepticism. The result is mischievous, buoyant, energetic and very funny, as the main protagonist Carr re-imagines himself as a pivotal player in the political, artistic and literary revolutions of the time, events that went on to define the 1900s. Travesties won the 1976 New York Drama Critics' Circle Award for Best Play, a Tony for Best Play and the Evening Standard Award for Best Comedy, and it comes highly recommended.
Travesties reviews
4.6 out of 5
based on

38

reviews
What to expect:
Acting
Music
Costumes
Story
Lighting
Recommended for:
Anyone (21%)
Families (21%)
Teenagers (32%)
Couples (58%)
Theatregoers (97%)
Latest customer reviews

Very funny, enhanced by hilarious staging!
Reviewed on 29 April 2017 by Susan, New York, United States

Theatre at its best.
Reviewed on 18 April 2017 by Lucy, London, United Kingdom

Thought For Today
Different layers and levels to enjoy. The immediate comedy,romp and physical fun but with the constant provocation of thinking about what should be questioned................ Art,Politics............its leaders The professional accomplishment and versatility of the actors was splendid.
Reviewed on 17 April 2017 by Jo, Coventry, United Kingdom

Must see!
Travesties was an outstandingly funny and quick-paced production. I left the theatre laughing. At the same time it was thought-provoking and intellectually stimulating.
Reviewed on 16 April 2017 by Paul, London, United Kingdom

We left at the interval
My son and I attended Travesties last night with great expectations of an enjoyable evening. The play's content and humour was not to our taste. We found it tedious and pretentious and not at all amusing. If you are highly intellectual and enjoy this sort of thing, fair enough. But if you are looking for a good belly laugh - look elsewhere. I am in my late 60s and this is only the second time in my life that I have left a play before the end. Very disappointing.
Reviewed on 13 April 2017 by David, Virginia Water, United Kingdom

Energetic totally absorbing
Make sure you read the synopsis This is a faultless experience - superbly acted by the whole cast a fast and furious evening.
Reviewed on 11 April 2017 by Henrietta, Newmarket, United Kingdom

Brilliant clever play
I saw Travesties when it was first staged many years ago. Tom Stoppard is such a clever author - a very funny,intelligent play. The acting was superb and Tom Hollander's performance quite brilliant. A wonderful 2.5 hours of theatre.
Reviewed on 02 April 2017 by Diana, Loughborough, United Kingdom

Unmissable!
Reviewed on 30 March 2017 by Charlotte, Dunkeld, United Kingdom

Brilliantly clever play performed to perfection by highly intelligent actors
A witty literary and historic feast
Reviewed on 25 March 2017 by Jane, Padstow, United Kingdom

amazing acting.
amazing acting by all the actors, especially Tom Hollander whose expressions and mannerisms made the story.
Reviewed on 20 March 2017 by Jane, Cambridgeshire, United Kingdom

Concentrate in case you're tested later
Fast paced brilliant acting, but felt left out of the ' in crowd' Should have prepared....
Reviewed on 19 March 2017 by Lisa, Kidderminster, United Kingdom

Restricted vision
Play was great but seats unsatisfactory. If booking seats with restricted vision be sure to ring the box office to discuss the level of restriction and leg room.
Reviewed on 18 March 2017 by Penny, Ballymena, United Kingdom

Fantastic and thought provoking.
Liked the format of the show and the way it kept restarting and presenting a different point of view. It was very witty, very funny and approachable. Tom Hollander was excellent but all members of the cast were too.
Reviewed on 16 March 2017 by Jackie, Stockton On Tees, United Kingdom

Challenging
This is a very clever play. Intellectually challenging and rapid dialogue means you don't always get the jokes, but they are thick and fast and very funny. Probably worth reading the play or even seeing it again. Very thought provoking. Definitely worth seeing.
Reviewed on 12 March 2017 by Andrew, Horsham, United Kingdom

Witty, unusual, clever
I loved this show. Wasnt sure what to expect and dredged up some rusty history as it went along. I think some foreign visitors could have missed elements of the play and having a programme would be a real advantage, or pre knowledge of Dada, James Joyce etc. Despite the depth all the actors were brilliant, word perfect and multi-talented, being able to play musical instruments too. It was humourous in the asides and facial expressions to the audience. There is the conflict re the validity of art at a time of war and how it enriches life or is a luxury. Great opening scene and coudn't wait to get back for the second half after the interval. Pace was held all the way through. Bad luck those who will not get to see it. A triumph.
Reviewed on 12 March 2017 by Barbara, Harrow Weald, United Kingdom

A briliant piece of theatre
Reviewed on 11 March 2017 by Andrew, St Albans, United Kingdom

Intellectual Fireworks
A brilliantly funny production of Stoppard at his most dense. If you've read Joyce, Lenin, know something about art and above all are familiar with 'The Importance of Being Earnest' you will love this densely allusive philosophical meditation on art/chance/ memory. Freddie Fox is gorgeous, Tom Hollander amazing.. Lenin's wife has an astonishing voice. As a very frequent theatre goer this is one of the best things I've ever seen; great theatrical effects, fast-paced, great set.
Reviewed on 09 March 2017 by Dosha, Nunney, United Kingdom

Challenging and rewarding
Reviewed on 05 March 2017 by Tony, Barry, United Kingdom

Great Fun history lesson
Reviewed on 04 March 2017 by Mervyn, Mortimer, United Kingdom

An exhilarating play which captivates the minds as well as creating helpless laughter and leaps of joy. Miss it at your peril i a grey world.
Reviewed on 01 March 2017 by Carolyn Stewart, Shrewsbury, United Kingdom

Memorable
Reviewed on 26 February 2017 by Ian, Collonge-bellerive, Switzerland

A classic, beautifully written, thought provoking and enormously entertaining.
Travesties is very engaging; best not to lose focus for a second there is so much in the script as well as in the characterisation. It's an interesting and quirky treatment of period of time in 1917 when key personalities cam together in Zürich. Really great play for anyone who has been interested in or bemused by the work of James Joyce. There are insights into the Russian revolution with one or two poignant references to WW!. There is so much in it that I would go again to catch some gems which I'm sure I missed. Although it is not one of Stoppard's recent works, it appears fresh and original.
Reviewed on 24 February 2017 by Margaret, Tewkesbury, United Kingdom

wonderful play, wonderful acting
Tom Stoppard is a staggeringly good writer - his language, allusions, etc are fascinating - it was beautifully produced, a hilarious joy to see One of the best plays and stagings I have seen in ages
Reviewed on 23 February 2017 by Maya, London, United Kingdom

Tom Holland's was as captivating as ever
Reviewed on 19 February 2017 by Martyn, Coventry, United Kingdom
18

Apr
2017

Last Chance to See... - Spring 2017
by Phil Willmott | Tuesday, April 18 2017, 10:54
With so much great theatre on in London it's easy to miss fantastic productions. It can feel as if as soon as you get round to booking to see some critically acclaimed show it's already closing and you've lost your chance. So here's a run down of the top productions with their closing dates which you should book to see right now before they disappear in their current form.
Last Chance to See... - Spring 2017
04

Nov
2016

Enjoy an evening of West End bafflement!
by Phil Willmott | Friday, November 4 2016, 15:37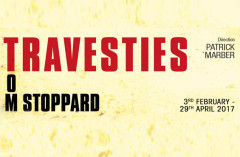 The Menier Chocolate Factory's new production of Tom Stoppard's TRAVESTIES broke their box office records by selling out ahead of its first preview.
If you missed out on tickets there'll be another chance to see it when it transfers to the West End in February next year with TV star Tom Hollander reprising his role as Henry Carr, a minor British diplomat in Zurich in 1917 who encounters a surreal mob of fictional and real life characters.
Enjoy an evening of West End bafflement!