Quick Facts
Largest Ticket Inventory
in the West End
Real time
seat availability
Choose
your seats
Your booking is processed directly into the box office reservation system
This show is now closed.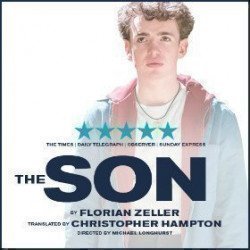 The Son
Tickets
4.3/5
-

based on

32

reviews
Information
Cheap Tickets
Reviews
News
About The Son
Performance Times
The Son description
The Son – A treat in store at the Duke of York's theatre
You like your theatre drenched in emotion? This one's for you, starring the wonderful Laurie Kynaston and written by the French playwright Florian Zeller, who also penned the two previous plays – The Father and The Mother. Together they make up an extraordinary trilogy telling the story of a divorcing couple and the impact the split has on the family members.
The story? Young Nicolas is going through a 'difficult phase' now that his parents have divorced. He has no energy, he just drifts around the place, he tells lies, and he's nicking off school too. In his opinion moving in with his dad, joining his father's new family unit, would help him make a fresh start. But it doesn't work out. Nicolas feels even worse living there, so he tries to move back in with his mum but that's just as difficult. He can't settle, but what on earth will he do when he runs out of places to move to?
The Son has transferred to the Duke of York's theatre for a limited ten week season. The Guardian calls the playwright Zeller 'the most exciting playwright of our time', the director is the award-winning Michael Longhurst, and this, as the final part of the trilogy, ties up all those loose ends to perfection.
The play is translated from the French by Christopher Hampton and stars Amaka Okafor, Amanda Abbington and John Light, all of whom reprise their dazzling roles from the original UK premiere along with Laurie Kynaston.
The Times says 'This final part of Florian Zeller's trilogy is the most powerful of all'. The Observer says it's 'A compulsive, involving, emotionally stirring evening – theatre's answer to a page-turner'. The Daily Mail calls it 'Exceptional', saying it 'fizzes with raw emotion'. The Daily Telegraph claims it has a 'devastating visceral impact' and the Sunday Express believes this is 'one of the finest plays of the past decade'. That's what we call an accolade!
The Son is the Kiln's first West End transfer since their grand reopening in September 2018. If you'd like to experience Zeller's latest play in all its glory, the final part of the trilogy but a play that also stands alone, grab tickets before they're all sold. High drama and plenty of raw emotion awaits you.
Who is this show for? Because The Son deals with issues surrounding mental health in teenagers and contains scenes that some audience members may find upsetting or disturbing, this brilliant play is recommended for people aged 14 or more.
The Son cheap tickets
We have a great selection of cheap The Son tickets. We can help you save up to 70% on The Son tickets! If you're looking for discount theatre tickets have a look below for our latest offers for The Son at the Duke of York's Theatre.
-50%
Was £45.00
Now £22.50
Valid for all performances 28 Sep-02 Nov. Book by 02 Nov 2019
-50%
Was £55.00
Now £27.50
Valid for all performances 28 Sep-02 Nov. Book by 02 Nov 2019
-50%
Was £65.00
Now £32.50
Valid for all performances 28 Sep-02 Nov. Book by 02 Nov 2019
-50%
Was £85.00
Now £42.50
Valid for all performances 28 Sep-02 Nov. Book by 02 Nov 2019
The Son reviews
4.3 out of 5
based on

32

reviews
What to expect:
Acting
Music
Costumes
Story
Lighting
Recommended for:
Anyone (31%)
Families (41%)
Teenagers (56%)
Couples (63%)
Theatregoers (75%)
Latest customer reviews

Extremely moving
Amazing acting, made us all cry, such an important topic
Reviewed on 05 November 2019 by Kerstin, Wimborne, United Kingdom

Challenging viewing
The Son is a challenging piece of theatre for those who want to examine relationships, communication and parenting. It's not for all.
Reviewed on 03 November 2019 by Sarah, London, United Kingdom

Powerful drama
I really enjoyed the show. Few twists and great acting
Reviewed on 02 November 2019 by Wendy, Herts, United Kingdom

Thought provoking play ..
This was an excellent play .. topical,moving .. not quite as fascinating as previous Zeller plays as more straightforward to follow . The acting was good but not all actors (mother and doctor) projected their voices clearly to the Royal Circle. Stage sets generally good but clutter on stage became irritating
Reviewed on 02 November 2019 by Janet, London, United Kingdom

Unmitigated disaster
Reviewed on 01 November 2019 by Panagiotis, London, United Kingdom

A tough play to watch but dealt well with a difficult but vey real modern day issue for many young people and families.
Reviewed on 31 October 2019 by Judith, Harrow, United Kingdom

emotional, touching and bittersweet
It was a great performance. Congratulations to the actors, specially to Laurie Kynaston. His acting made me cry. It was a wonderful show full of different feelings and emotions.
Reviewed on 29 October 2019 by Rebeca, Cuenca, Spain

Brilliant acting! Top top!
Reviewed on 26 October 2019 by Tricia, London, United Kingdom

Food for thought
I thought the play very thought-provoking. It led to a lengthy pub discussion afterwards. I did have some trouble hearing all of the dialogue, particularly the Male lead. Although not deaf by any means, I have some minor hearing loss in line with being over 60.
Reviewed on 22 October 2019 by Lisa, London, United Kingdom

So powerful
Reviewed on 16 October 2019 by Ruth, London Paddington, United Kingdom

ABSOLUTELY BRILLIANT
Reviewed on 12 October 2019 by Eeshaan, London, United Kingdom

Underwhelming. Some average or poor performances
Reviewed on 10 October 2019 by Benedick, London, United Kingdom

Outstanding, beautifully crafted and acted.
Reviewed on 03 October 2019 by Anthony, Nelson, New Zealand

Predictable Outcome
Teenage mental angst with predictable ending. More of the same from beginning to end. No relief for audience. Well acted but play needs more colour in the script. Sets disappointing.
Reviewed on 03 October 2019 by Gerald, London, United Kingdom

An important topic on mental health
If you have children mental issues it's a sensitive play which might be emotionally disturbing
Reviewed on 25 September 2019 by Iris, London, United Kingdom

Show was ok, but not what I thought it would be after reading previous reviews, it was more about mental health issues. Also, very low volume.
Reviewed on 14 September 2019 by Nina, Surrey, United Kingdom

Only if you feel good
A good play though the end is predictable If you feel like a good laugh go to see something else
Reviewed on 09 September 2019 by Christophe, Paris, France

The most gut wrenching play I have seen in years
This play hit me hard. The depiction of all characters was spot on.... the reactions, the doubts. Having experience of mental illness in the family, I relived scenes so familiar it was scary. I cannot praise the play highly enough. The acting was exceptional. I was sobbing... I would recommend any parent of teenagers should see this. I am not sure I would recommend this play to all teenagers; it requires a level of maturity.
Reviewed on 09 September 2019 by Karin, London, United Kingdom

Average story - Average performance
Reviewed on 09 September 2019 by Thomas, London, United Kingdom

The Son
A very important topic and one that should be made aware to the general public.
Reviewed on 01 September 2019 by Wendy, London, United Kingdom
03

Sep
2019

Review: THE SON at Duke of York's Theatre
by Stuart King | Tuesday, September 3 2019, 07:27
Michael Longhurst directs THE SON, the final segment in lauded french playwright Florian Zeller's loose trilogy (The Father, The Mother, The Son) which has just begun a limited West End transfer at The Duke of York's theatre.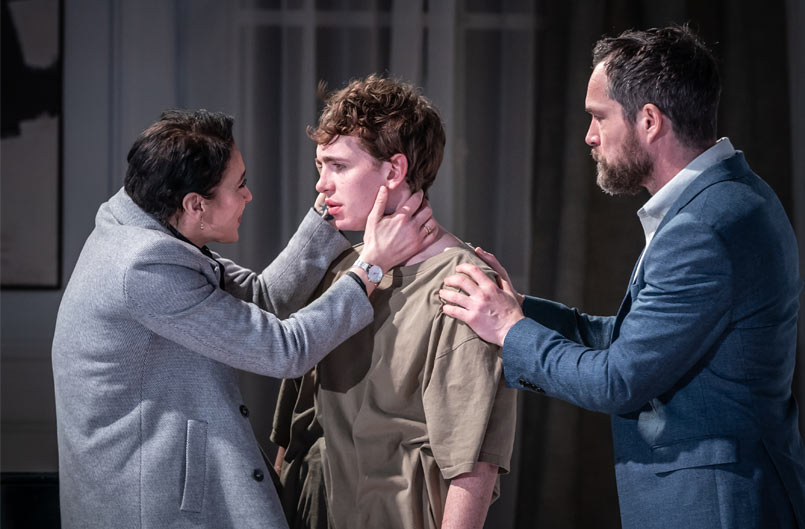 Amanda Abbington (Anne), Laurie Kynaston (Nicolas) and John Light (Pierre). The Son. Photo by Marc Brenner.
Review: THE SON at Duke of York's Theatre