8 Haymarket, London, SW1Y 4HT GB
Quick Facts
Largest Ticket Inventory
in the West End
Real time
seat availability
Choose
your seats
Your booking is processed directly into the box office reservation system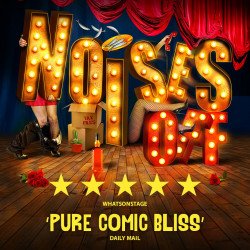 Noises Off
Tickets
4.6/5
-

based on

47

reviews

from

47

verified reviews
Booking until: Saturday, 16 December 2023
Running time: 2h 20m (incl. interval)
Starring: Felicity Kendal
Tickets from £15.00
Tickets refunded if your event is cancelled
Real time seat availability
Largest ticket inventory in the West End
Secure online booking
Information
Cheap Tickets
Reviews
News
About Noises Off Tickets
Starring:
Felicity Kendal
Noises Off description
This brilliant Theatre Royal Bath Production of Michael Frayn's classic comedy play has made its way around key UK venues and delighted critics and audiences every step of the way. Now it's due in the West End for a well-deserved transfer. The fun kicks off at the Theatre Royal Haymarket on 27th September 2023 and it's currently booking through to 16th December 2023.
It's one of the nation's best-loved comedy plays and this latest iteration celebrates its 40th birthday. A multi-award-winning farce dating back to 1982, it remains just as funny four decades down the line. The production stars the multi-award winning actor Felicity Kendal as Dotty Otley and the laughs are beautifully directed by Lindsay Posner, whose recent Bath productions include God of Carnage, Stones in his Pockets, and She Stoops To Conquer. Also starring are Jonathan Coy as Frederick Fellows and Alexander Hanson as Lloyd Dallas. The remaining casting is yet to be announced.
Are you up for a giggle? NOISES OFF has been delighting audiences ever since its 1980s premiere at the Lyric Hammersmith, coming your way with excellent credentials. Prepare yourself for a feel-good show full of timeless fun. The production transferred to the Phoenix Theatre in January 2023 and enjoyed rave reviews for its last West End run. Billed as one of the best comedies by Michael Frayn, it deserves its excellent reputation.
What's the plot of Noises Off?
This is a very British comedy. Noises Off tells the story of an ill-fated touring theatre company as they try their best to produce a play called Nothing On. The final rehearsals are a total shambles. The opening night is a nightmare. The matinee, in Ashton-Under-Lyme, goes horribly wrong, and the final performance, in Stockton-On-Tees, is utterly catastrophic. No wonder audiences cry with laughter.
This play has inspired all manner of comedy classics including the firm West End favourite, THE PLAY THAT GOES WRONG, which also reveals what happens when a theatre group struggles to put on a show.
Who is NOISES OFF for?
Noises Off is recommended for people aged 12 and more.
Buy tickets for NOISES OFF
Our website makes buying tickets for NOISES OFF easy and quick. We'll email the tickets for you to show at the venue on the day.
Useful Information
Booking until:


Saturday, 16 December 2023

Running time:


2h 20m (incl. interval)
Performance Times
Next Performances for Noises Off at the Theatre Royal Haymarket
today
30th Nov 2023
7:30pm
tomorrow
1st Dec 2023
7:30pm
Saturday
2nd Dec 2023
2:30pm
Saturday
2nd Dec 2023
7:30pm
Monday
4th Dec 2023
7:30pm
Tuesday
5th Dec 2023
7:30pm
Noises Off cheap tickets
We have a great selection of cheap Noises Off tickets. We can help you save up to 70% on Noises Off tickets! If you're looking for discount theatre tickets have a look below for our latest offers for Noises Off at the Theatre Royal Haymarket.
-53%
No Booking Fee
Valid for selected performances
Special Offer
Save up to 77% on selected Noises Off tickets
-35%
Was £100.00
Now £65.00
SAVE ON TICKET PRICES Valid all performances 31 October - 16 December 2023. Excludes: 1-2 December, 6 December 2.30pm, 8 December 2023. Book by 11 December 2023.
Noises Off reviews
4.6 out of 5
based on

47

reviews
What to expect:
Acting
Music
Costumes
Story
Lighting
Recommended for:

Couples (87%)

Theatregoers (91%)
Latest customer reviews
Slap stick feel good comedy
Reviewed on 28 November 2023 by Georgina, Liverpool, United Kingdom
Couldn't have asked for a better night
I saw this over 40 years ago, on its London debut and left the theatre with mascara down my face because I was crying with laughter. This time was just as good, although it's obviously evolved a bit. The players were all magnificent, with exquisite timing and delivery. We flew in from France just for one night so that we could see it before it closes. My husband had never seen it and it was as much a delight to me watching his hilarity as it was having the chance to see it myself once more. Thank you all so much.
Reviewed on 26 November 2023 by Heather, La Foret De Tesse, France
Frenetic!
Reviewed on 24 November 2023 by Lindsey, Tonbridge, United Kingdom
Hilarious. If you liked faulty towers, this is even better.
Fast-moving, cleverly written and performed.
Reviewed on 21 November 2023 by Geraldine, Maidstone, United Kingdom
Noisefully Wonderful
This current incarnation of Michael Frayn's classic farce within a farce feels as fresh as ever thanks to an amazing cast and very deft direction. Inherently, the second act is always hard to top in any production, the hilarity and brilliance keeps the audience howling all the way to the very last second. Talk about wanting an encore!
Reviewed on 19 November 2023 by John, London, United Kingdom
a very pleasant way to spend a couple of hours being superbly entertained, lots of laughs, and altogether a vey nice show.
Reviewed on 19 November 2023 by Paul, Sutton, United Kingdom
Hilarious farce
Noises off was a hilarious fast moving farce.All the cast worked so hard and Felicity Kendall was amazing at 77 coping with numerous lines( mainly about sardines!!) and lots of entrance and exits, as did all the cast. It was a real "laugh out loud" show which is so much needed .
Reviewed on 15 November 2023 by Carolyn, Caterham On The Hill, United Kingdom
Stellar comic performance by some of the UK finest actors
Reviewed on 15 November 2023 by Nikki, London, United Kingdom
Meh
Reviewed on 11 November 2023 by Walter, Barrie, Canada
A laugh out loud
A hilariously funny old style British farce. What used to be called good clean fun. Great performances from the cast. We couldn't stop laughing at the end. Best fun time we've had at the theatre for years. Definitely recommend. ??
Reviewed on 09 November 2023 by Keith, Basildon, United Kingdom
Real adult life made up very funny
Reviewed on 01 November 2023 by Melanie, Traunstein, Germany
Funny
The laughter builds and builds. First 15-20 minutes I was having doubts, but it genuinely builds upon itself to such a great finale.
Reviewed on 31 October 2023 by Paul, London, United Kingdom
Great show, great performances
Reviewed on 27 October 2023 by Jonathan, Winterton-on-sea, United Kingdom
Hilarious
Brilliant I haven't laughed so much in ages! And just when I thought it was over- it wasn't
Reviewed on 25 October 2023 by Janet, Axbridge, United Kingdom
Wait for the second act
At the time of the intermission I was regretting choosing this show. However, it turns out that the first act serves to set up the jokes for the second and third acts. I would recommend sticking it out to the second act. It becomes hilarious.
Reviewed on 22 October 2023 by Andrea, Timnath, United States Of America
So much going on I really had a great laugh
Reviewed on 18 October 2023 by Rose, London, United Kingdom
Just builds and builds
Great show we had the youngest who was highly skeptical but she loved it
Reviewed on 17 October 2023 by John, Dunblane, United Kingdom
Very funny great way to forget your troubles
Card only and cans of diet coke a whopping £3 and programme £5 not worth it in terms of reading material, west end is getting expensive
Reviewed on 12 October 2023 by Tom, East Finchley, United Kingdom
Great show!
Very funny, with unexpected twists and turns! Highly recommend!
Reviewed on 09 October 2023 by Dasha, London, United Kingdom
Good fun
An entertaining evening in a wonderful and famous London theatre. The timing was breath taking-opening and closing doors!! I gave the music rating as average, there was no music in the show but I could not leave this option blank.
Reviewed on 05 October 2023 by George, Ongar, United Kingdom
Rib-achingly funny
A last-minute decision to see this show - and what a treat it was! Superb farce, brilliantly acted. Even my French OH was crying with laughter.
Reviewed on 29 September 2023 by Marion, Salisbury, United Kingdom
LOL
fun, farce, lots of proper laugh out loud moments. Recommended
Reviewed on 08 March 2023 by Paul, London, United Kingdom
A hilarious show, which requires the company to be perfectly choreographed and have perfect timing.
Reviewed on 06 March 2023 by David, Purley On Thames, United Kingdom
Technical problem
All was looking good and I was interested to know why the guy next to me said that this was the original play that goes wrong. Ironic as after approx 20 mins a stage director appeared and told cast to clear the stage. I thought it was part of the play. After approx 30 mins show was cancelled. Felt for all staff. I will return.
Reviewed on 02 March 2023 by Jamie, Bramshall, United Kingdom
Splendid farce!
Simply hilarious goodness knows how they remember it all!
Reviewed on 25 February 2023 by Phil, North Shields, United Kingdom
A must see. But not easy to understand everything for a foreigner...
Reviewed on 24 February 2023 by Manuel, Evora, Portugal
Hilarious
Reviewed on 18 February 2023 by Gilian, Filey, United Kingdom
Hilarious
Reviewed on 04 February 2023 by Amanda, London, United Kingdom
Hilarious
So clever and brilliantly funny.
Reviewed on 01 February 2023 by Eileen, London, United Kingdom
2nd half makes it worth a spin
Reviewed on 29 July 2019 by Bruce, London, United Kingdom
Highly professional
See a perfectly well done masterpiece
Reviewed on 22 July 2019 by Matthias, Salzburg, Austria
Funniest play I've seen in a long time
I expected this to be amusing, but it went far beyond that. I was practically weeping with laughter. Full marks to the excellent cast for a superb performance. I really don't know how on earth they did it.
Reviewed on 18 July 2019 by Moira, Tring, United Kingdom
Not very funny
Reviewed on 17 July 2019 by Stephen, Bracknell, United Kingdom
Extremely funny!
Reviewed on 13 July 2019 by Sam, London, United Kingdom
An absolute riot
Cancel all your plans and beg, steal or buy a ticket to see Noises Off. It is quite frankly one of the funniest shows of all time, and this particular production is comedy/farce at its finest. The cast are first rate.
Reviewed on 11 July 2019 by Penelope, London, United Kingdom