Sam's dead at fifteen. It's a social media thing. Or is someone to blame?
Mother and chaplain Thea is battling the fallout from her daughter's suicide. Sam misbehaved online, and Thea did something she will always regret. Blamed by herself and others, she embarks on a mission to comprehend what Sam went through and where, if anywhere, she is now. She's joined by offbeat teen twins Lenny and Billie, plus Gil — a lost soul whose life collides with theirs in a way that will change everything. The most dangerous step towards understanding Sam's death is right around the corner, and Thea's awakening is not at all what she, or anyone, could imagine.
The Girl who Fell is a poignant and darkly funny play about loss, guilt and Snapchat from the "provocative and entertaining" Sarah Rutherford (Telegraph), former Writer in Residence at Park Theatre and writer of sell-out hit Adult Supervision.
★★★★ 'Powerful. Piercing. Laugh-out-loud.' WhatsOnStage
★★★★ 'A warm piece of theatre brimming over with emotional honesty' The Spy in the Stalls
The Girl Who Fell cheap tickets
We have a great selection of cheap The Girl Who Fell tickets. We can help you save up to 70% on The Girl Who Fell tickets! If you're looking for discount theatre tickets have a look below for our latest offers for The Girl Who Fell at Trafalgar Studio Two.
-49%
Was £29.50
Now £15.00
Valid on all performances until 23 Nov 2019.
-43%
Was £35.00
Now £20.00
Valid on all performances until 23 Nov 2019.
21

Oct
2019
Review: THE GIRL WHO FELL at Trafalgar Studios
by Miriam Gibson | Monday, October 21 2019, 10:11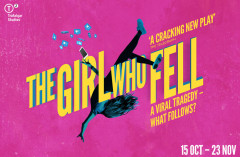 "My friends would think it was less weird if I'd run off to Syria to join ISIS", sighs 15-year-old Billie, explaining her decision to quit social media. Instead, Billie is obsessed with an app which supplies her with facts and quotes, which she's fond of reciting to those around her.
Review: THE GIRL WHO FELL at Trafalgar Studios