Noel Coward Theatre
85-88 St Martin's Lane, London, WC2N 4AU GB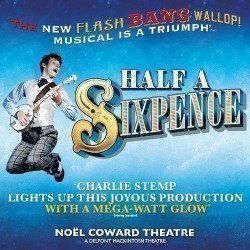 Half a Sixpence
Tickets
Noel Coward Theatre
Starring: Charlie Stemp
Booking from: Saturday, 29 October 2016
Booking until: Saturday, 2 September 2017
Running time: 2 hours 45 minutes (One interval)
Book

tickets
Press Reviews
The musical of the year WhatsOnStage
Charlie Stemp is the stuff of legend Sunday Telegraph
This show is pure gold Daily Telegraph
Simply irresistible Radio Times
What a show! Evening Standard
Hugely entertaining The Times
A tidal wave of cheer Time Out
Customer Reviews
What to expect:
Acting:
Music:
Costumes:
Story:
Lighting:
Recommended for:
Anyone:
Families:
Teenagers:
Couples:
Theatregoers:
based on 32 reviews
High octaine show -such vibrancy and energy.
Just loved, loved the show - one of the most enjoyable I have seen over the last few years. The cast were amazing - all of them. Especially the leading parts. Such energy with all the non-stop (or so it seemed), dancing, singing and acting. I was not disappointed even after remembering Tommy Steele in his heyday.
Lynne London Box Office customer
A joy from start to finish
Anyone who leaves the theatre without a huge smile on their face & an overwhelming desire to dance down the street, singing a simple tune must be souless. Everyone in the company was outstanding.
bernice London Box Office customer
we thought it was a wonderful show, so entertaining & really enjoyable. Great songs & fine singing & dancing. Loved it!
Elaine London Box Office customer
What a Triumph
Martin London Box Office customer
Fabulous
A feel good show full of energy.
Ann London Box Office customer
A great show
Lynne London Box Office customer
light hearted and great fun
Brian London Box Office customer
Uplifting
alan London Box Office customer
Vibrant, fun with lots of energy and a talented cast!
Show was fantastic! Not to be missed!
Kerry London Box Office customer
Extremely pretty and slick
A security guard in the Balcony was extremely rude to me on arrival at the show, which was weird and annoying... But the choreography, orchestra and energy of the show were all terrific. Ambitious and successful staging absolutely made it! The performers were adorable and totally committed throughout. The first half is too long, but the grand numbers paid off handsomely
David London Box Office customer
A must see for all musical theatre lovers.
Charlie Stemp is an amazing performer. You would never guess it was his first major role. A singer, dancer and actor of exceptional ability and a definite star of tomorrow. Supported by a fine cast of talented performers.
Craig London Box Office customer
Amazingly
Was a fantastic performance totally amazing everyone played their part.
Thomas London Box Office customer
Must see
Amazing performances, colourful , energetic, funny, wonderful show
Tracy London Box Office customer
Money well spent !!!!
A slow start but after about 15mins the storyline kicked off and you were immersed into the song & dance of it all
Harvey London Box Office customer
Delightful Must See
Exquisite Must see. The level of enthusiasm and energy displayed by every actor is outstanding. The story although a classic is refreshing and amusing. It is important to be reminded that being true to oneself and being is the best way to happiness and success. The aplause was thundering and a standing ovation was well deserved. We clapt until our hands were hurting:)
Mariana London Box Office customer
Best show ever seen
Pakapong London Box Office customer
Excellent
Robert London Box Office customer
Sensational acting and dancing
A whole family show that is energetic in it's acting and dancing, fantastic singing and a wonderful story that is wrapped up with a few surprises along the way.
Tania London Box Office customer
Stunningly good!
The show was fresh,lively and extremely skilled.We were part of an audience that was enjoying a really good time . The dancing was quite exceptional and it was a delight.
Peter London Box Office customer
Rip off seats b3 and b4 balcony are restricted
Not pissed with them, but I am with LBO. Seats b3 and B4, were bought as non restricted view. Could not see centre stage at all - completely obscured. Sat at an arkward angle and left before the end due to being incredibly uncomfortable, as did many others. Dont buy B3 and B4 if you want a clear view from the Balcony
James London Box Office customer
Energetic and enjoyable
Great show with a Fantastic crescendo. Great lead role and full of energy. Would definitely recommend not to miss this show.
Lorraine London Box Office customer
A feel-good show.
The show was seamless and one scene ran into the next without a hitch. It had plenty of energy from a talented and enthusiastic cast.
Karen London Box Office customer
AMAZING
Absolutely Amazing.
John London Box Office customer
A super afternoon out!
A lovely happy show, well dressed- best show we have seen in the last 10 years.
Vesta London Box Office customer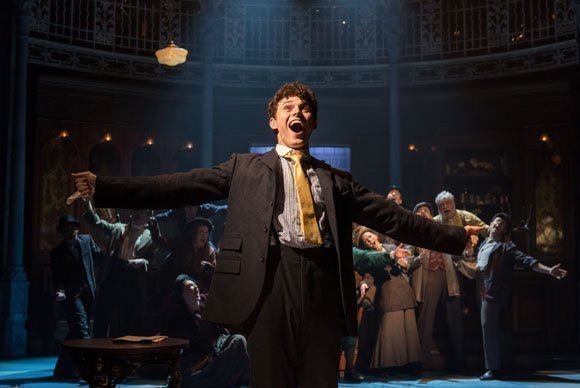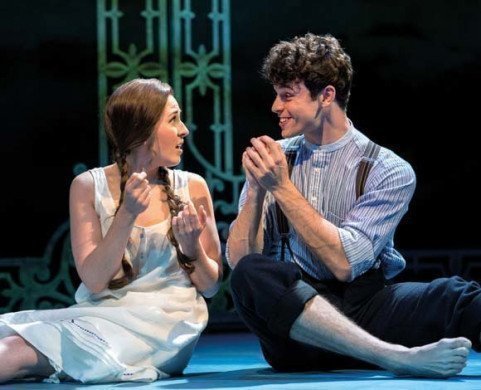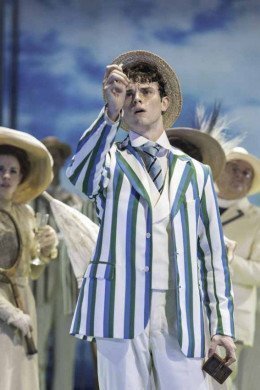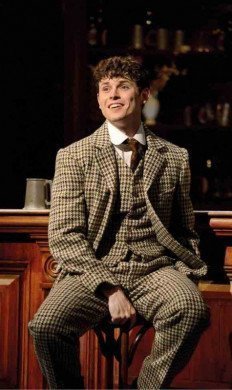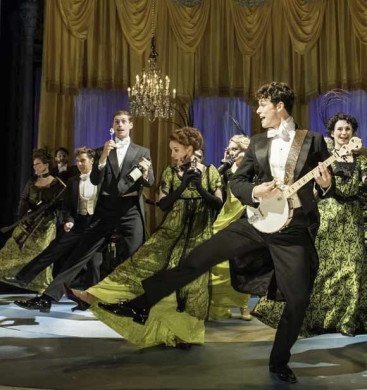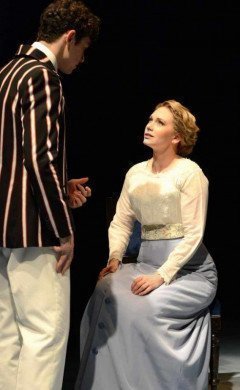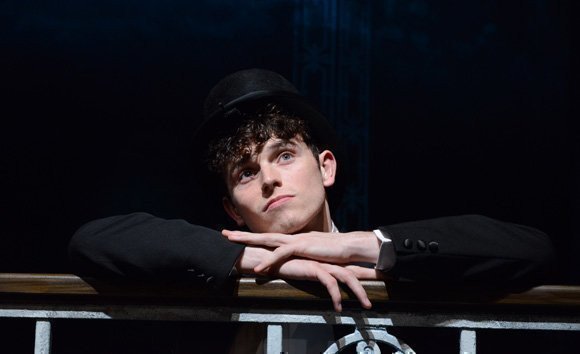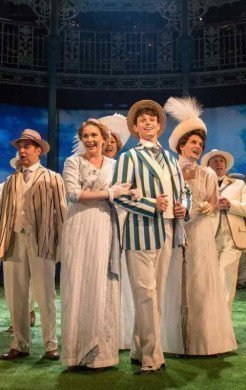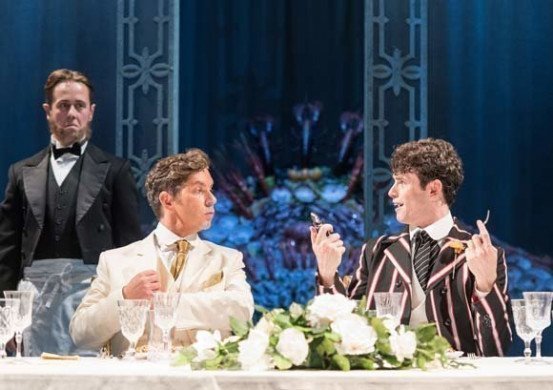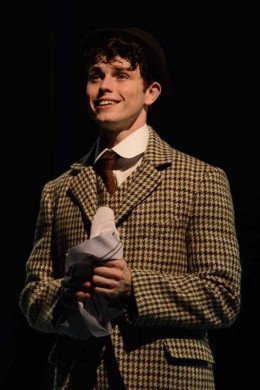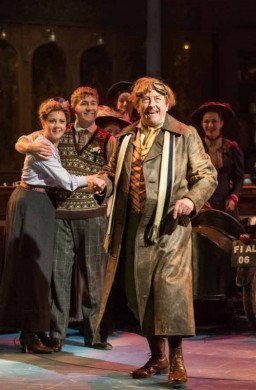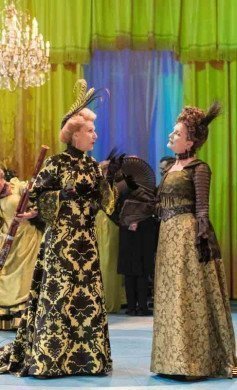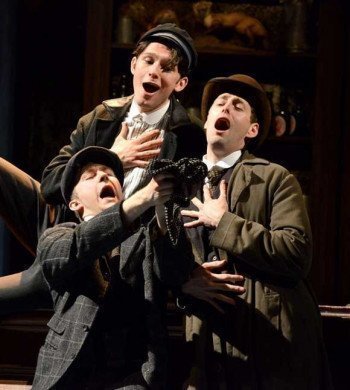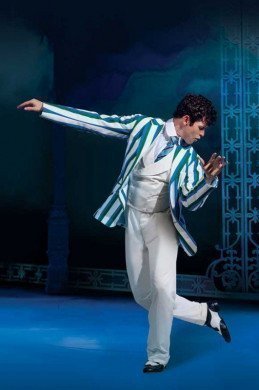 22 Nov 2016 in Reviews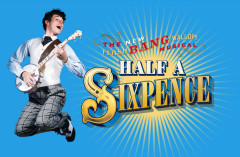 They say the simple pleasures in life are the sweetest and it's certainly true of this revival of a lovely, heartwarming and unpretentious musical from a time when writers and composers simply aspired to make an audience smile and to send them home humming a song from the show.
The very slight plot is based on a novel by H.G Wells in which a shop boy, Arthur Kipps, inherits a fortune, and as a result chooses to marry outside his class before fate intervenes and all works out more satisfactorily. The message that money doesn't bring contentment is always popular for audiences living through tough times.
Read more
14 Nov 2016 in Reviews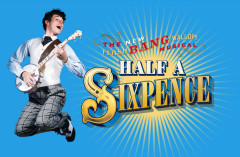 There is no questioning the talent of both the cast and creative team here – everyone is competent and able to execute their roles well. But therein is the problem; the show isn't memorable or extraordinary enough to merit a second viewing.
Read more
Use the search box at the top left of this page to search for Half a Sixpence tickets availability.
Quick Facts
Largest Ticket Inventory in the West End
Real time seat availability
Your booking is processed directly into the box office reservation system
Collect your tickets from the theatre for free or get them posted to your address.

Theatre Address
Noel Coward Theatre
85-88 St Martin's Lane, London, WC2N 4AU GB
Facilities
Air conditioned
Bar
Disabled toilets
Infrared hearing loop
Member of Q-Park scheme
Toilets
Wheelchair/scooter access
Theatre Info
Capacity: 886
Year built: 1903
Next Performances