Quick Facts
Largest Ticket Inventory
in the West End
Real time
seat availability
Choose
your seats
Your booking is processed directly into the box office reservation system
This show is now closed.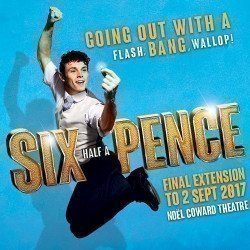 Half a Sixpence
Tickets
4.8/5
-

based on

81

reviews
About Half a Sixpence
Performance Times
Starring:
Charlie Stemp
Half a Sixpence description
This musical rocked the rafters at Chichester through summer 2016, causing such a stir that a London transfer was more or less a foregone conclusion. Everybody involved is delighted, the entire cast is transferring to the capital and tickets are due to sell like hot cakes. Don't miss your chance to see a brilliant new talent in the shape of Charlie Stemp in action. Fabulous.
The wonderful Charlie Stemp plays Arthur Kipps, adding his own unique flavour to the role. Devon-Elise Johnson plays his good childhood friend Ann Pornick, Ian Bartholomew plays Chitterlow and Emma Williams makes a wonderful Helen Walsingham.
This musical has a long history. It first hit the London stage in 1963, with Marti Webb playing Ann and Tommy Steele as Kipps. 1965 saw the show open at Broadway's Broadhurst Theatre, where it ran for for 511 performances with John Cleese as the stockbroker Walsingham. And it was the last pre-Lloyd-Webber West End masterpiece to transfer to New York with any level of success.
In 1967 a film adaptation was made, also starring Tommy Steele, plus Julia Foster and Cyril Ritchard. Lesley Judd, who later became a popular presenter on the children's TV programme Blue Peter, danced in the chorus.
2016 saw a fresh, revived version of the show open at the Chichester Festival Theatre. It gathered a load of instant rave reviews and even generated the ultimate theatre compliment, plenty of standing ovations. Co-produced by Cameron Mackintosh and reuniting his Mary Poppins collaborators, the new book comes from best-selling writer Julian Fellowes. As well as a few of the original show tunes, there's also a raft of excellent new songs from George Stiles and Anthony Drewe.
By all accounts Sir Cameron Mackintosh is thrilled about the transfer, and chuffed that it's going to be on at the Noël Coward Theatre, where the iconic British musical Oliver premièred in 1960. The Noel Coward's stage is huge, the perfect venue to showcase Paul Brown's brilliant design.
Half a Sixpence – The story
Half a Sixpence tells the story of Arthur Kipps, an orphan and draper's assistant. He's a simple soul, and when he unexpectedly inherits a fortune his life changes completely. The show is inspired by HG Wells' semi-autobiographical book Kipps: The Story of a Simple Soul, and it's a charming tale with a happy ending. If you fancy experiencing one of the finest musicals of the year, which has knocked audiences for six in Chichester and promises more of the same in London, walk this way.
Half a Sixpence tickets – Great availability and excellent value for money
Want premium, full price or discount Half a Sixpence tickets? We always have great availability and you'll enjoy excellent value for money on the complete range of ticket types and seats, cheap to posh.
Half a Sixpence reviews
4.8 out of 5
based on

81

reviews
What to expect:
Acting
Music
Costumes
Story
Lighting
Recommended for:
Anyone (89%)
Families (98%)
Teenagers (91%)
Couples (99%)
Theatregoers (99%)
Latest customer reviews

fantastic
Reviewed on 28 August 2017 by John, Sevenoaks, United Kingdom

One of the best musical!
Amazing show and whst a great performence. Really pleased I chose this show.
Reviewed on 27 August 2017 by Andreea-mihaela, Brentford, United Kingdom

A "feel good" show
This musical was excellent from start to finish. I didn't want it to end! All the cast played their parts beautifully. The songs were really catchy and I enjoyed the humour in it too! The scene changes were very slick and cleverly designed. The dancing was amazing , especially Charlie Stemp- such energy! It was very uplifting and made everyone feel happy and wanting to join in! I was most impressed with the final scene when all the cast played their banjos! I would definitely recommend anyone to see it-great fun!
Reviewed on 27 August 2017 by Helen, Preston, United Kingdom

Fun british musical
Reviewed on 25 August 2017 by Erena, Hemel Hempstead, United Kingdom

Joyful, romantic - must see before it closes.
I thoroughly enjoyed this show. I actually saw the understudy in the main role, but he was wonderful. The time flew by and I didn't want it to end. My seat in the Grand Circle Row C was a great view - in spite of the safety rail blocking the view a little bit. I would recommend to see this marvellous show before it closes in a couple of weeks.
Reviewed on 23 August 2017 by Tamra, Hull, United Kingdom

very good theatre show for all the family
Very entertaining show for everyone alike. Suitable for all ages. The story was easy to follow and the singing and dancing was excellent. A must see show
Reviewed on 22 August 2017 by Glyn, Ramsgate, United Kingdom

Timeless!
You really need to see this before it ends.
Reviewed on 20 August 2017 by Rodney, Ely, United Kingdom

a must see
One of the best shows I've seen over recent years. Great value seats with a brilliant view at the rear of the Royal Circle
Reviewed on 06 August 2017 by Gemma, Batley, United Kingdom

Must see
One of the best shows out. Charlie Stemp as Arthur was amazing as were the whole cast. We had a wonderful day out.
Reviewed on 06 August 2017 by Paul, Wembley, United Kingdom

Charming, upbeat, our 13 year old is still humming the tunes
Loved the show! Great tunes! 0ur 13-year-old was singing several of the tunes throughout our time in UK.
Reviewed on 31 July 2017 by Judith, Folsom, United States

Outstanding fun
Reviewed on 30 July 2017 by Kevin, Bromley, United Kingdom

A fantastic impulsive buy! Must see!!
Reviewed on 27 July 2017 by Callum, Auckland, New Zealand

Fabulous
Definitely worth a visit, excellent performance
Reviewed on 17 July 2017 by April, Marylebone, United Kingdom

Great choreography and amazing set!
I was blown away by the set in this show and the choreography was very enjoyable! I went to this performance not knowing anything about it but was very pleased.
Reviewed on 16 July 2017 by Rebecca, Perth, Australia

Fantastic
Storyline, music and choreography are brilliant!
Reviewed on 15 July 2017 by David, Ogden, United States

Brilliant
Best Westend show I have ever seen.
Reviewed on 12 July 2017 by Heather, Hillsborough, United Kingdom

Uplifting and 'feel good'
Reviewed on 06 July 2017 by Simone, Bishop's Stortford, United Kingdom

Half sixpence
It was brilliant from start to finish
Reviewed on 03 July 2017 by Joanne, Nt Newmarket, United Kingdom

Awesome production from beginning to end!
Reviewed on 29 June 2017 by Linda, Topsfield, United States

Exhilarating!
Not to be missed. Exceptional music, singing, choreography, and staging. You will leave the theatre with a spring in your step and a song in your heart.
Reviewed on 20 June 2017 by Michael, Morgantown, United States

fantastic
Just brilliant!!!
Reviewed on 19 June 2017 by Michael, St. Sampsons, United Kingdom

Brilliant. Entertaining from start to finish
Reviewed on 04 June 2017 by Sophia, Nuneaton, United Kingdom

Amazing!!!
Reviewed on 03 June 2017 by Benoit, London, United Kingdom

Brilliant. Very enjoyable
We really enjoyed this not-so-well-known-show at the fairly small Noel Coward Theatre. It made for a cosy atmosphere which the musical filled very well. We particularly liked the little twist at the end. You'll have to go to find out what that is. Happy musicaling.
Reviewed on 01 June 2017 by Roland, Gloucester, United Kingdom

Clatter jang-a ring-a jang-a. Fantastic!!
Full of energy and excellent choreography. Excellent sound & music. Couldn't fault the show!
Reviewed on 27 May 2017 by Alan, Borehamwood, United Kingdom

A superb evening that passed so quickly. A high energy and very entertaining show. A must see.
Reviewed on 23 May 2017 by Douglas, Aberdeen, United Kingdom

A great show in all respects!
Reviewed on 21 May 2017 by Mark, Burien, United States

Slick!!
Great show! Every cast member gave everything in supporting VERY talented principals. A great feel good show.
Reviewed on 21 May 2017 by Richard, Leeds, United Kingdom

A show that will have you leaving the theatre with a smile on your face and a song on your lips
Half a sixpence is the happiest show that I have seen for a long time, The energy that the cast put into the show takes your breath away. The set is a clever one and the scene changes are fast and a pleasure to watch because they are part of the show. The lead male character is on stage for nearly all the show . and his dance routines are a joy to see. Do yourself a favour and see this show as soon as you can, it is wonderful and gets 5 stars in all departments from me.
Reviewed on 19 May 2017 by Clive, Peterborough, United Kingdom

Total entertainment
We booked easily online for the matinee. The theatre was right outside Leicester Square station. The theatre is everything you would expect for a West End classic (seating is a little tight though). The show was excellent, faultless, and the choreography was brilliant, awesomely staged. Great sound system too. We really enjoyed this uplifting oldie. The final couple of numbers, especially "what a picture" are so good we left feeling very pleased indeed. Thanks!!
Reviewed on 18 May 2017 by Julie, Casuarina, Australia

A wonderful evening's entertainment
Reviewed on 10 May 2017 by David, Derby, United Kingdom

Exuberant
A very happy show, all the players were very talented and enthusiastic and came out feeling very cheerful
Reviewed on 05 May 2017 by David, Ewell, Epsom, United Kingdom

Enjoyable
Reviewed on 21 April 2017 by Maxine, Porth, United Kingdom

Magical
Reviewed on 14 April 2017 by Patrick, Newark, United Kingdom

wonderful energetic escapism
What a show!!! From the opening scene to the standing ovation at the end this was a performance to behold!!! The mix of songs from the original musical with the new songs andthe clever workings by Cameron mackintosh with Julian Fellows slight changes to the story only added to the overall production. The energy from the cast was mind blowing and the live music whirling dancing and carried you through the night. I loved every minute of this musical and left the theatre with a feeling of joy.
Reviewed on 08 April 2017 by Amanda, South Queensferry, United Kingdom

High octaine show -such vibrancy and energy.
Just loved, loved the show - one of the most enjoyable I have seen over the last few years. The cast were amazing - all of them. Especially the leading parts. Such energy with all the non-stop (or so it seemed), dancing, singing and acting. I was not disappointed even after remembering Tommy Steele in his heyday.
Reviewed on 19 March 2017 by Lynne, King's Lynn, United Kingdom

A joy from start to finish
Anyone who leaves the theatre without a huge smile on their face & an overwhelming desire to dance down the street, singing a simple tune must be souless. Everyone in the company was outstanding.
Reviewed on 16 March 2017 by Bernice, Plymouth, United Kingdom

we thought it was a wonderful show, so entertaining & really enjoyable. Great songs & fine singing & dancing. Loved it!
Reviewed on 12 March 2017 by Elaine, Kings Lynn, United Kingdom

What a Triumph
Reviewed on 02 March 2017 by Martin, Blackburn, United Kingdom

Fabulous
A feel good show full of energy.
Reviewed on 19 February 2017 by Ann, Sidcup, United Kingdom

A great show
Reviewed on 11 February 2017 by Lynne, Swindon, United Kingdom

light hearted and great fun
Reviewed on 05 February 2017 by Brian, Langtree, Torrington, United Kingdom

Uplifting
Reviewed on 23 January 2017 by Alan, Bury, United Kingdom

Vibrant, fun with lots of energy and a talented cast!
Show was fantastic! Not to be missed!
Reviewed on 22 January 2017 by Kerry, Wallington, United Kingdom

Extremely pretty and slick
A security guard in the Balcony was extremely rude to me on arrival at the show, which was weird and annoying... But the choreography, orchestra and energy of the show were all terrific. Ambitious and successful staging absolutely made it! The performers were adorable and totally committed throughout. The first half is too long, but the grand numbers paid off handsomely
Reviewed on 21 January 2017 by David, London, United Kingdom

A must see for all musical theatre lovers.
Charlie Stemp is an amazing performer. You would never guess it was his first major role. A singer, dancer and actor of exceptional ability and a definite star of tomorrow. Supported by a fine cast of talented performers.
Reviewed on 21 January 2017 by Craig, Codicote, United Kingdom

Amazingly
Was a fantastic performance totally amazing everyone played their part.
Reviewed on 15 January 2017 by Thomas, Chesterfield, United Kingdom

Must see
Amazing performances, colourful , energetic, funny, wonderful show
Reviewed on 15 January 2017 by Tracy, Billericay, United Kingdom

Money well spent !!!!
A slow start but after about 15mins the storyline kicked off and you were immersed into the song & dance of it all
Reviewed on 08 January 2017 by Harvey, Potters Bar, United Kingdom

Delightful Must See
Exquisite Must see. The level of enthusiasm and energy displayed by every actor is outstanding. The story although a classic is refreshing and amusing. It is important to be reminded that being true to oneself and being is the best way to happiness and success. The aplause was thundering and a standing ovation was well deserved. We clapt until our hands were hurting:)
Reviewed on 08 January 2017 by Mariana, La Croix, Switzerland

Best show ever seen
Reviewed on 06 January 2017 by Pakapong, Bangkok, Thailand

Excellent
Reviewed on 01 January 2017 by Robert, Spennymoor, United Kingdom

Sensational acting and dancing
A whole family show that is energetic in it's acting and dancing, fantastic singing and a wonderful story that is wrapped up with a few surprises along the way.
Reviewed on 01 January 2017 by Tania, Worthing, United Kingdom

Stunningly good!
The show was fresh,lively and extremely skilled.We were part of an audience that was enjoying a really good time . The dancing was quite exceptional and it was a delight.
Reviewed on 04 December 2016 by Peter, Warminster, United Kingdom

Rip off seats b3 and b4 balcony are restricted
Not pissed with them, but I am with LBO. Seats b3 and B4, were bought as non restricted view. Could not see centre stage at all - completely obscured. Sat at an arkward angle and left before the end due to being incredibly uncomfortable, as did many others. Dont buy B3 and B4 if you want a clear view from the Balcony
Reviewed on 27 November 2016 by James, Caversham, United Kingdom

Energetic and enjoyable
Great show with a Fantastic crescendo. Great lead role and full of energy. Would definitely recommend not to miss this show.
Reviewed on 22 November 2016 by Lorraine, Kettering, United Kingdom

A feel-good show.
The show was seamless and one scene ran into the next without a hitch. It had plenty of energy from a talented and enthusiastic cast.
Reviewed on 22 November 2016 by Karen, Harlow, United Kingdom

AMAZING
Absolutely Amazing.
Reviewed on 21 November 2016 by John, Crewe, United Kingdom

A super afternoon out!
A lovely happy show, well dressed- best show we have seen in the last 10 years.
Reviewed on 11 November 2016 by Vesta, Kenley, United Kingdom
22

Nov
2016

Review: HALF A SIXPENCE at the Noel Coward Theatre
by Phil Willmott | Tuesday, November 22 2016, 11:47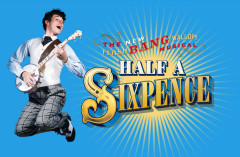 They say the simple pleasures in life are the sweetest and it's certainly true of this revival of a lovely, heartwarming and unpretentious musical from a time when writers and composers simply aspired to make an audience smile and to send them home humming a song from the show.
The very slight plot is based on a novel by H.G Wells in which a shop boy, Arthur Kipps, inherits a fortune, and as a result chooses to marry outside his class before fate intervenes and all works out more satisfactorily. The message that money doesn't bring contentment is always popular for audiences living through tough times.
Review: HALF A SIXPENCE at the Noel Coward Theatre
14

Nov
2016

Review: HALF A SIXPENCE at the Noel Coward Theatre
by Daniel Perks | Monday, November 14 2016, 10:33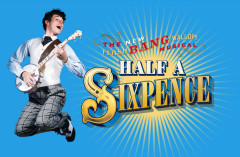 There is no questioning the talent of both the cast and creative team here – everyone is competent and able to execute their roles well. But therein is the problem; the show isn't memorable or extraordinary enough to merit a second viewing.
Review: HALF A SIXPENCE at the Noel Coward Theatre