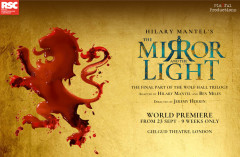 Update for The Mirror and The Light at the Gielgud Theatre
The final novel in Dame Hilary Mantel's award-winning Wolf Hall trilogy, The Mirror and The Light, is due in the West End later this year. It's being billed as a final 'fast-paced final instalment' and it has been beautifully adapted for the stage by Mantel herself, and by Ben Miles who returns to play his dazzling role as Thomas Cromwell himself. The drama unfurls at the Gielgud Theatre from 23rd September to 28th November 2021.
Who's involved in The Mirror and The Light?
This is the world premiere of Mantel's 'brilliant visceral play', following award winning success with the first two parts of the trilogy about Cromwell and Henry 8th, Wolf Hall and Bring Up the Bodies. She is the first woman to win the Man Booker Award twice. Bring Up the Bodies also won the Costa Novel Award, making it the first time a novel has won both awards. Prepare for an historical drama packed with sheer, classy brilliance and you won't be disappointed!
Commissioned and developed for the stage by Playful Productions
Adapted by Hilary Mantel and Ben Miles, who plays Cromwell
Nathaniel Parker plays Henry the 8th
Olivier nominee Jeremy Herrin directs
Scenic and costume design by Christopher Oram
Buy The Mirror and The Light Tickets
Book your The Mirror and The Light tickets online through us and enjoy the perfect seats thanks to our Gielgud Theatre seating plan. We'll send convenient E-tickets to your email address, for you to present on the day.
About the Gielgud Theatre
The magnificent Gielgud Theatre dates back to 1906. You'll find it on Shaftesbury Avenue, on the corner of Rupert Street in the City of Westminster. Past shows at the Gielgud Theatre include Company, Les Miserables the Concert, Girl From the North Country, Upstart Crow, and Aaron Sorkin's adaptation of Harper Lee's To Kill A Mockingbird.