Piccadilly Circus, London, SW1Y 4XA GB
Quick Facts
Largest Ticket Inventory
in the West End
Real time
seat availability
Choose
your seats
Your booking is processed directly into the box office reservation system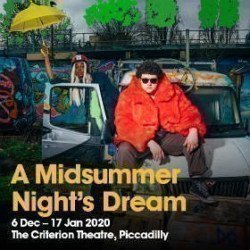 A Midsummer Nights Dream
Tickets
5/5
-

based on

20

reviews
Tickets from £25.00
Show Closed
Information
Cheap Tickets
Reviews
News
About A Midsummer Nights Dream
Show Closed
This show is now closed.
Performance Times
A Midsummer Nights Dream description
The 2019 NYT REP Company present William Shakespeare's A Midsummer Night's Dream. 
Shakespeare's most popular comedy comes to the heart of London's West End, directed by Matt Harrison working in association with Kneehigh.
Inventively and playfully staged and starring Britain's best young talent from the 2019 NYT REP Company, this two-hour abridgement by Kate Kennedy promises to be a dream like no other. Matt Harrison is a former National Theatre New Works Resident Director and Kate Kennedy is a graduate of the NYT REP Company and stared as Helena in BBC One's 2016 A Midsummer Night's Dream.
"Youth Theatre at its most mature and most thrilling" ★★★★ The Guardian on NYT's The Fall directed by Matt Harrison in 2018.
A Midsummer Nights Dream cheap tickets
We have a great selection of cheap A Midsummer Nights Dream tickets. We can help you save up to 70% on A Midsummer Nights Dream tickets! If you're looking for discount theatre tickets have a look below for our latest offers for A Midsummer Nights Dream at the Criterion Theatre.
-39%
Was £24.50
Now £15.00
Valid on all performances till 17 Jan 2020
A Midsummer Nights Dream reviews
5 out of 5
based on

20

reviews
What to expect:
Acting
Music
Costumes
Story
Lighting
Recommended for:
Anyone (80%)
Families (80%)
Teenagers (85%)
Couples (95%)
Theatregoers (100%)
Latest customer reviews

Walliams & Sheridan shine!
Reviewed on 17 November 2013 by Anonymous

Amazing cast, amazing performance
Reviewed on 17 November 2013 by Anonymous

Brilliant
We really enjoyed the show they made it easy to follow the story line
Reviewed on 11 November 2013 by Anonymous

Terrific show. David Walliams was amazing.
Reviewed on 07 November 2013 by Anonymous

outstanding
Reviewed on 06 November 2013 by Anonymous

Truely spectacular Show,
The show was very enjoyable, the staff so friendly, the theatre was old world charm, very special. Came from Ireland. I have seen this play and it was overly professional in their speech it was interesting and enjoyable I would highly recommend this show for a wonderful evening, David Walliams off course was uniquely funny . The actors were amazing, Thank you.
Reviewed on 02 November 2013 by Anonymous

Living the Dream!
This production of The Dream was exceptional. Sheridan Smith, David Walliams and Katherine Kingsley deserve special mention, although everyone was excellent. Loved every minute of it, particularly the spliff loving fairies! Go and see it!
Reviewed on 26 October 2013 by Anonymous

A Great Show!
If you're not a Shakespeare fan and don't think you'll get it this is the production to see. The acting and interpretation was so good it made it easy to understand, incredibly enjoyable and included moments of absolute hilarity. And of course David Walliams' Bottom is a must see!
Reviewed on 24 October 2013 by Anonymous

Midsummer's Night Dream at its very best
An excellent production. David Walliams was perfect as Bottom bringing out all the comedy in the original words. He has superb timing. The 4 actors playing the lovers were excellent. Sheridan Smith as Titania was very good but the part does not really rate the "star" publicity given to her. On e weakness I felt was Padraic Delaney as Oberon/ Theseus who never really rose to the parts and came across as very wooden. Excellent portrayal of Puck by Richard Demsey. All school children studying the play should have the opportunity of seeing a production like this. Shakeseare at its best.
Reviewed on 21 October 2013 by Anonymous

Fantastic show full of laughs
Reviewed on 13 October 2013 by Anonymous

Wicked night out
Sheridan Smith and David Walliams were excellent - a really good interpretation of a Shakespeare classic. I have booked to go again!!
Reviewed on 01 October 2013 by Anonymous

David Walliams camps up his bottom!
I tried to do some 'homework' before attending this show so that I knew the basic storyline, characters etc. However, life took over and that didn't happen! Thankfully due to the fantastic acting the story unfolded and I enjoyed every minute. The set was so clever and the costumes original. Well done to the cast - a truly memorable afternoon.
Reviewed on 27 September 2013 by Anonymous

Worth seeing
It is a fast paced and vivacious show. sheridan Smith is fantastic as Titania as our the actors taht play the four young lovers. Unfortunately David Walliams just plays Frankie Howerd.
Reviewed on 19 September 2013 by Anonymous

Absolutely brilliant
Reviewed on 15 September 2013 by Anonymous

Marvellous
Loved this version of MND !!
Reviewed on 13 September 2013 by Anonymous

Captivating
A really stunning and accessible production. My twelve year old daughter loved it.
Reviewed on 10 September 2013 by Anonymous
04

Jul
2019

Review: A MIDSUMMER NIGHT'S DREAM at Regent's Park Open Air Theatre
by Marian Pashley | Thursday, July 4 2019, 14:43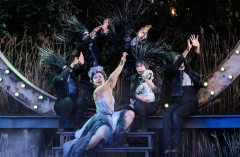 I love the open air theatre in Regent's Park, it is one of London's special places, even when it rains. To see a production of A MIDSUMMER NIGHT'S DREAM on a balmy midsummer night, in a forest (well, the trees do cradle the stage) when so much of its action takes place in such a setting, is a real treat. When the production is also visually striking and the actors not only excellent Shakespearean performers but able to punch the humour to the front of their performance, well, you are really onto a winner.
Review: A MIDSUMMER NIGHT'S DREAM at Regent's Park Open Air Theatre