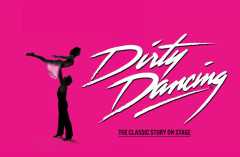 We've got so much exciting news this week, we don't know where to start. First things first... our Black Friday Theatre Week has proved hugely popular. We've secured some of the best ticket offers for London's most popular shows including Wicked, Phantom Of The Opera, Matilda, and Mary Poppins to name just a few, and they've joined in with our un-missable promotion. Hurry while stocks last and book your tickets today to avoid missing out. We've been exceptionally busy over the last few days and the show we're most excited about is Moulin Rouge, one of the most fabulous musicals we've experienced since the West End began reopening. Here's this week's West End Round-Up.
Book bargain Black Friday show tickets here
Check here for a full list of brilliant Black Friday offers, most of which can be booked until Monday 29th November... which means you've still got time. Hurry up, book today, and avoid disappointment.
A Wicked Cast Change
It's all change for Wicked at the Apollo Victoria, with a cast change coming into play for February 2022. Now in its 16th year and one of the most popular musicals of all time, tickets are still selling like hot cakes. See the details of the new cast here. Bargain Wicked tickets are part of our special Black Friday offer, so you might want to take the opportunity to see the show for less.
Three exciting extensions
Extension – Anything Goes
Anything Goes at the Barbican enjoyed a successful run. Now it's extending at the same venue, on stage for a limited season from 15th July to 3rd September 2022. A sold-out musical sensation complete with tap dancing sailors, it features a cast and ensemble of 50 plus a full-size orchestra, and is billed as 'uplifting'.
Extension – The Great Gatsby
The Great Gatsby has extended to 30th October 2022. The producers, Producers Immersive Everywhere, have announced a further extension of the West End's longest running immersive production, created and directed by Alexander Wright and a classic 1920s Art Deco dining experience.
Extension – Hamilton
Hamilton's producers have announced an extension until 3rd April 2022 at the Victoria Palace Theatre, great news for everyone who hasn't yet seen the multi-award winning hip-hop musical and massive Broadway blockbuster telling the story of the USA's founding fathers. Now you've got more time to discover the life and times of Alexander Hamilton for yourself.
Image released - Life of Pi
Wyndham's Theatre is your venue for Life of Pi, and the Press night takes place on Thursday 2nd December at 7pm. If you're wondering what the puppetry is like you'll enjoy seeing the new photo of the show that's just been released, revealing the magnificent tiger puppet in all its glory. This show is steeped in magic. Take a look here.
New booking period – Mamma Mia!
Mamma Mia is on stage at the Novello Theatre, and has just extended its booking until 1st October 2022. The show combines the hits of Abba with a contemporary story of family, friendship and love. It debuted back in 1999 and has delighted audiences ever since with its happy-go-lucky plot and brilliant score.
Three shows with tickets now on sale
On sale – My Fair Lady
My Fair Lady takes to the stage at the London Coliseum and tickets are on sale now. The fun opens on Saturday 7th May 2022 and it's booking through to Sunday 28th August 2022. A classic comedy drama based on the 1964 movie and the book, Pygmalion, this is the first time My Fair Lady has enjoyed a major West End production for 21 years.
On sale - Grease The Musical
Tickets for Grease at the Dominion Theatre are on sale, a production being described as particularly gritty and glamorous. Directed by Nikolai Foster and choreographed by Arlene Philips, it's booking from Tuesday 3rd May 2022, a sing-along treat for the spring.
On sale – Moulin Rouge
Moulin Rouge will take to the stage at the Piccadilly Theatre and we're delighted to say we're finally on sale with Moulin Rouge tickets. As you can imagine they're in huge demand, booking through until 29th May 2022, so check daily for returns.
Can you believe the rumours?
Is it true? Yes, it is! We've just this minute heard that Dirty Dancing will indeed be on its way back to the West End. It'll be on at the Dominion Theatre, and tickets go on sale on Saturday 27th November 2021. The show opens on Wednesday 2nd February 2022 and it's booking until Saturday 16th April 2022.
A classic musical – The Phantom extends
Phantom Of The Opera has been on stage in the West End for an almighty 35 years, so it isn't really a surprise to find out the show has extended yet again, this time until 3rd April 2022. If you haven't yet seen Andrew Lloyd-Webber's haunting love story, why not book now and take advantage of our Black Friday ticket offers?
That's the news for the week. Come back next week for more news from us, your West End theatre experts.