Philip Ridley's modern classic was a huge success when it premiered at Hampstead Theatre in 2001, and a West End smash at Trafalgar Studios in 2007. This year, it returns to Studio 2 as a new production direct from the Park Theatre.
Thrilling, heartbreaking and darkly humorous by turns, it is now seen as one of the most powerful explorations of hate crime - and society's need to crush 'difference' - ever written.
Vincent River cheap tickets
We have a great selection of cheap Vincent River tickets. We can help you save up to 70% on Vincent River tickets! If you're looking for discount theatre tickets have a look below for our latest offers for Vincent River at Trafalgar Studio Two.
-50%
Was £30.00
Now £15.00
Valid on all performances until 22 Jun 2019.
-50%
Was £40.00
Now £20.00
Valid on all performances until 22 Jun 2019.
29

May
2019

Review: VINCENT RIVER at Trafalgar Studio 2
by Max Lewendel | Wednesday, May 29 2019, 11:11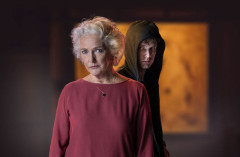 Brutality at its finest… and most intimate – a story of acceptance steeped in tragedy, and a masterclass in acting by Louise Jameson.
Review: VINCENT RIVER at Trafalgar Studio 2