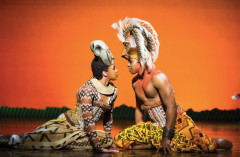 What went on in London's theatreland this week?
With London Theatres slowly reopening to full capacity, the West End is becoming vibrant once again. Even though international tourism is far from recovering to pre-pandemic levels, some West End Classics are enjoying great ticket sales. Some of the weekend performances are completely sold out. Needless to say, The Lion King is definitely one of those shows where you'll need to book your tickets early to avoid disappointment. With the festive season on the way, it's even more important to book in advance.
With all that in mind, here's our round-up of what's been happening in the West End this week, so you don't miss any of the upcoming action. Walk this way for the low-down.
Just opened:
The Shark is Broken at the Ambassadors Theatre was always going to be funny. The play's stint at the Edinburgh Festival, where people were unable to stop giggling, proved its comedy credentials long before it hit the West End. There's something special about being in the middle of a live audience as everyone roars with laughter. It's life affirming and heart-warming, just like this play. Beneath the comedy beats a strong affection for the actors who inspired the play. You can read our review of the show here.
Get Up, Stand Up The Bob Marley Musical at the Lyric Theatre has just opened. And what a joyful opening it was. This show is charged with classic Marley tunes, a dance down memory lane revealing Marley's greatest hits sung with skill. As Bob Marley himself said, "One good thing about music, when it hits you feel no pain." It's true. You won't feel a thing but pleasure all the way through.
Cast announcement:
The cast of Life of Pi has been announced, bringing Yan Martel's surreal play to life. If you've seen the film, you'll know what to expect – and you'll be amazed at the set, the effects, and most of all the puppetry. If you loved War Horse you can expect the same level of magic. This is a potent piece of theatre and every second of the action is memorable.
This week onsale
Don't miss Broken Wings, performed in the round from 21st January to 5th March 2022. It's a musical adaptation of Kahlil Gibran's Broken Wings by Nadim Naaman and Dana Al Fardan, and it's on at the Charing Cross Theatre. The show takes us back to New York City in 1923 where, through poetry and music, the older Gibran transports audiences to turn-of-the-century Beirut, where he meets Selma and they fall in love. Will their love survive?
Cabaret at the Kit Kat Club is on at the Playhouse Theatre from 15th November, whisking us back to Berlin's notorious Kit Kat Club. The star of the show is the Oscar, Golden Globe, BAFTA, Tony and Olivier award winner Eddie Redmayne, who plays the emcee, and Bafta Nominee and British Independent Film award winner Jessie Buckley, who plays Sally Bowles. Come early for pre-show drinks, dining, and entertainment.
New Shows & Extensions
We have lots of new shows for you, either opening for the first time or extending.
Last chance to see
So what are this week's 'your last chance to see' shows?
Blithe Spirit at the Harold Pinter Theatre closes on 6th November 2021 with a special offer available – click here to buy Blithe Spirit tickets. This is one of Noel Coward's funniest plays and this time it stars our National Treasure, Jennifer Saunders. What occurs when a séance takes place and Charles' ex-wife appears in spirit form? Terrible things! Come along and see. It's booking until Saturday 6th November 2021.
Leopoldstadt at Wyndham's Theatre closes on 30th October 2021, bringing this run of Tom Stoppard's new 'masterwork' to an end... for now. Buy Leopoldsdadt tickets here to discover the story of war, revolution, annexation, Nazism, and the tragedy that was the Holocaust.
Satyagraha at the Coliseum closes on 28th October 2021. You can grab last-minute tickets for Satyagraha here. This is opera, but not as we know it. Composer Philip Glass's meditation on Gandhi's early years in South Africa reveals Gandhi's non-violent style of protest as a positive force for change, using minimalist sound to create a mesmerising soundscape. First staged in 2007, Phelim McDermott's acclaimed version also delivers a spectacular visual feast.
Celebrities on stage
It's good to see tickets for Prima Facie, The Glass Menagerie, and David Suchet: Poirot and More go on sale.
Prima Facie stars Jodie Comer, famed for her role in TV's Killing Eve. It's all about what happens when a bright young lawyer, who is very good at defending rapists, is herself raped. The show is booking at the Harold Pinter Theatre from 15th April to 18th July 2022, and you can buy your Prima Facie tickets here.
The Glass Menagerie stars Amy Adams, the winner of seven British Academy Awards and plenty more accolades for her work on TV and stage. This is her West End debut, a story about what happens when your husband abandons you, leaving you with a crushing need to control every aspect of your children's lives. It's booking from 23rd May to 27th August 2022, and you can book your Glass Menagerie tickets here.
David Suchet: Poirot and More is delivered in the actor's typical engaging style at the Harold Pinter Theatre. It's booking from 4th January 2022 to 22nd January 2022. A fond look at David Suchet's career, roles, mistakes and masterpieces, the result is an intimate experience for fans of every age.
You've just missed:
The Last Five Years at the Garrick has just closed. The play, which is told from either end by the two-handed actors and only meets in the middle, weaves the story of two people who fall in love, then out again, over a five year period. It was clever and unusual. Maybe next time?
You've also missed Message in a Bottle a the Peacock Theatre, a dance show featuring songs by The Police, choreography by the ZooNation Company, and a story of three siblings, each facing a unique adventure. With the Artistic Director of ZooNation Kate Pierce at the helm, it's sure to be back.
See you next week for more news and views from London's West End.